The best 5G phones aim to deliver on the hype we've been hearing about 5G long before the new networking standard even launched. With every major carrier having launched 5G in some form and Apple introducing its first 5G phones, it's now time to decide whether it's worth making sure your next smartphone can connect to the new networking standard.
The answer so far? You can get blazing speeds, provided that you're in an area with 5G coverage. But 5G phones have more to offer than just speedier downloads.
Initially, the best 5G phones offered outstanding cameras, big displays and super-sized batteries. That's no surprise really, since many of these phones are really just the best phones overall, only with 5G modems included.
Price is becoming more of a consideration, though, as phone makers start to offer 5G phones that cost $600 and less. These devices don't have the premium features found in flagship phones, but they also won't put a $1,000 dent in your wallet.
If you're in the market for a smartphone this year, the time is right to start looking at a 5G phone, especially with four 5G-ready iPhone 12 models now available. Here are the best 5G phones we've tested so far.
What are the best 5G phones?
Now that we've tested all of Apple's new 5G phones, we think the iPhone 12 Pro Max is the best 5G phone. Not only does it offer an immersive screen, it turned in the best battery life of any iPhone 12 model in our testing.
We also like the iPhone 12 Pro and the iPhone 12, which offers many of the Pro Max's great features including extensive 5G support while also costing less. We're also impressed that Apple managed to include 5G support with the compact iPhone 12 mini.
If you prefer Android to IOS devices, we like the Galaxy S20 Plus. It works with every kind of 5G network, while sporting a big OLED panel, vastly improved cameras and above-average battery life. It just edges the more expensive Galaxy Note 20 Ultra, though gamers should consider that phablet for its compatibility with Microsoft's streaming game service.
The OnePlus 8 Pro is also a top-ranked 5G smartphone, but it lacks support for mmWave-based 5G networks. As good as the phone is, if 5G is your primary concern, you should only get the OnePlus 8 Pro if you're planning to use the phone with a network carrier whose network primarily relies on low-band spectrum to deliver broad 5G coverage. The OnePlus Nord N10 5G faces the same restriction, but it figures to be one of the cheapest 5G phones you can get.
While Samsung and OnePlus are dominating the selection of 5G phones thus far, don't overlook LG, which offers a pair of 5G phones, and the LG Velvet is the best of the bunch, largely because of its $599 price tag. If you want one of the best performing cameras on a 5G phone, consider the Google Pixel 4a 5G.
The best 5G phones you can buy right now
The iPhone 12 Pro Max doesn't just have the most 5G bands of any phone. You'll be able to enjoy those speeds for a long time, thanks to this phone's large battery. In fact, the iPhone 12 Pro Max lasted nearly 11 hours on our web surfing battery test over 5G. Apple's Smart Data mode can also help you save some juice, as it can automatically toggle between 5G and 4G when you're performing less intensive tasks (like streaming music with the screen off.) This is the best 5G phone you can buy period.
This big-screen phone impresses in other ways, including its brilliant and immersive 6.7-inch OLED display that's ideal for video streaming and showing off the photos you take with the Pro Max's stellar cameras. The main camera boasts large 1.7μm pixels for up to an 87% increase in low-light performance, and you get a 2.5x telephoto zoom for getting closer to your subject. Add in a tough Ceramic Shield display that can shrug off drops, a seamless MagSafe wireless charging system and a superfast A14 Bionic chip, and you have a truly excellent and future-proof 5G phone.
Read our full iPhone 12 Pro Max review.
Apple says it's squeezed more 5G bands into its latest iPhone models like the iPhone 12 Pro than any other phone out there. That allows the iPhone to work with 5G in most places, regardless of what kind of 5G network a wireless carrier has built. And that should also allow the iPhone 12 Pro to get the best of 5G going forward, making this an excellent option if you're looking for a 5G phone.
The 5G connectivity comes at a price, with the iPhone 12 Pro taking a hit on battery life when it connects to the faster network. (When we turned off 5G, the iPhone 12 lasted nearly 90 minutes longer on our battery test.) But Apple has added a number of other features that make this a very appealing 5G phone, from a powerful A14 processor that outperforms any chipset found in an Android phone to a gorgeous 6.1-inch OLED screen.
The iPhone 12 Pro also boasts features that make it a great phone overall, not just the best 5G phone. The phone's three rear cameras are augmented by a LiDAR sensor, producing some of the best shots we've seen from a smartphone. And the phone's new MagSafe charging system makes it easy to wirelessly power up the battery on your iPhone 12 Pro.
Read our full iPhone 12 Pro review.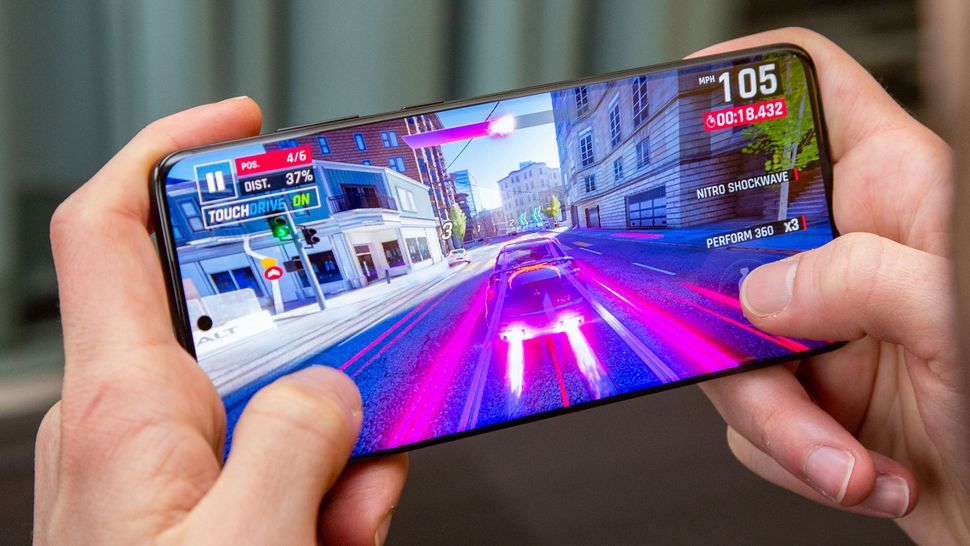 Samsung's Galaxy S20 Plus is the best 5G phone Android users can buy because it works on every type of 5G network. The Snapdragon 865 processor that makes 5G connectivity possible also delivers performance that can match any Android phone.
The biggest knock on the Galaxy S20 Plus is its price. At $1,199, this is not a device for those on a budget. But you get a lot of phone for that hefty price. The QHD AMOLED screen lets you opt for a 120Hz refresh rate for smoother scrolling and more immersive gaming. (Just be aware that the faster refresh rate can drain the phone's battery at a faster clip.) Samsung has also made significant improvements to the four rear cameras, with the 64MP megapixel telephoto lens standing out in particular for its super-crisp zoom shots.
Cheaper 5G phones are now widely available, but only the Galaxy S20 Plus offers a great balance between features and price.
Read our full Samsung Galaxy S20 Plus review.
The Galaxy Note 20 Ultra is Samsung's most versatile big-screen phone, and that includes its approach to 5G. This 6.9-inch phablet works with every available 5G network, and its dynamic 120Hz display adjust the refresh rate to squeeze more battery life while also delivering smoother scrolling and more immersive gaming.
It's the gaming aspect of the Note 20 Ultra that makes it one of the best 5G phones, and not just because it runs on a powerful Snapdragon 865 Plus chipset. The Galaxy Note 20 Ultra works with Microsoft's xCloud game streaming to let you play more than 100 Xbox games on your phone. With 5G connectivity, gameplay should be a delight.
You'll pay a bit more for the Galaxy Note 20 Ultra than you would for some of Samsung's other 5G phones, like the Galaxy S20 Plus. But you'll find it's well worth the premium price.
Read our full Samsung Galaxy Note 20 Ultra review.
A 5G phone doesn't have to be humongous to house all the antennas needed to connect you to the next-generation network. The iPhone 12 mini features a compact 5.4-inch OLED panel, and even though the phone itself is actually smaller than Apple's own iPhone SE, it can still connect to every type of 5G network — even Verizon's mmWave-based 5G towers.
You'll get Apple's class-leading A14 Bionic processor with the iPhone 12 mini, as well as the same camera setup found in the iPhone 12. That means you can expect great pictures from Apple's smallest iPhone. The battery inside the iPhone 12 mini is pretty taxed by 5G connectivity, but the relatively low $699 starting price means you can experience 5G without having to pay up for the privilege.
Read our full iPhone 12 mini review.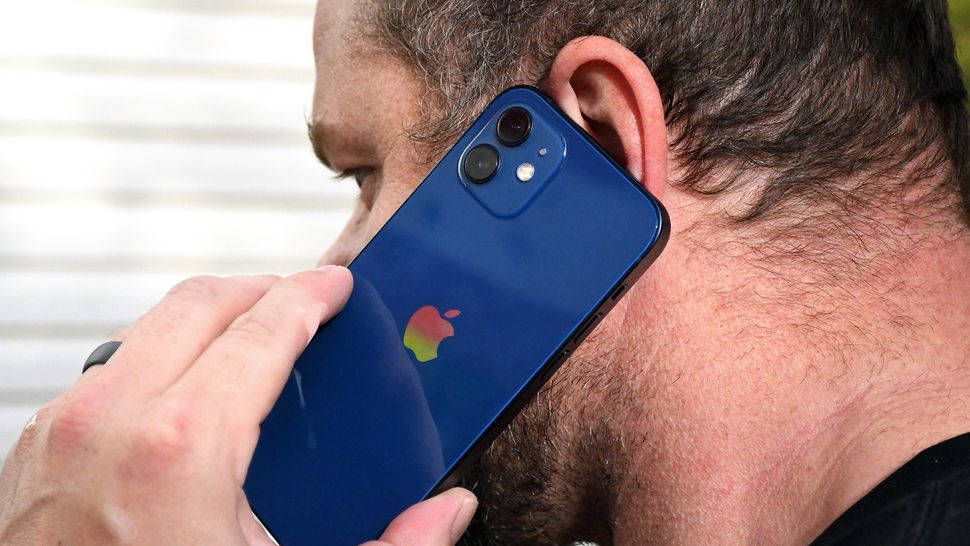 If you don't want to pay up for a 5G phone, the iPhone 12 is an attractive proposition, costing $799. That's $200 less than the iPhone 12 Pro, though you're still getting many of the features that make Apple's Pro model so appealing — a fast A14 Bionic processor, a 6.1-inch OLED screen and 5G connectivity with just about any network you can think of.
As with the iPhone 12 Pro, 5G connectivity puts a strain on the iPhone 12's battery, as we saw when we switched off 5G and saw battery life improve by nearly two hours on our battery test. The iPhone 12 features a Smart Data Mode to intelligently switch between LTE and 5G depending on whether or not the device really needs the extra speed.
Read our full iPhone 12 review.
The OnePlus 8 Pro is one of the best Android phones you can get, and it's $300 cheaper than the Galaxy S20 Plus. But for the purposes of 5G, the OnePlus 8 Pro is more limited than some of its rival phones. The phone is only available unlocked, so you can't buy it through a specific wireless carrier.
More significantly, the OnePlus 8 only works on sub-6Hz-based 5G networks. That means it can't benefit from the higher speeds of mmWave-based 5G. Verizon customers will want to look for another phone, as that carrier's 5G network relies heavily on mmWave.
That's less of a concern on T-Mobile, which built its nationwide network on sub-6Ghz 5G. (AT&T customers report that the OnePlus 8 Pro doesn't support AT&T's 5G bands, even though that carrier primarily uses low-band 5G as well.) If the OnePlus 8 Pro is compatible with your carrier, you'll get a phone with a vibrant and smooth 120Hz screen, very good quad cameras and a ridiculously fast charging speed even when you juice up your phone wirelessly.
Read our full OnePlus 8 Pro review.
The OnePlus Nord made a splash when it debuted this summer, delivering premium features at a very low cost. Just one problem — OnePlus didn't ship the phone outside of Europe or India. That's changing with the OnePlus Nord N10 5G, another 5G-ready device. And while the processor isn't as powerful in this phone, you still get some premium features like a display with a 90Hz refresh rate.
We're particularly impressed by the battery life on the OnePlus Nord N10 5G. Even though 5G demands a lot of power, the 4,300 mAh battery kept the phone powered up for more than 11.5 hours on our battery test. The Nord N10 5G's four rear cameras won't make anyone forget about the best camera phones, but they still deliver competent shots.
You won't be able to connect to mmWave-based 5G networks — that's not supported by the X51 modem included with the Nord N10. But if you're looking for a low-cost way to get started with 5G, this phone's an appealing option.
Read our full OnePlus Nord N10 5G review.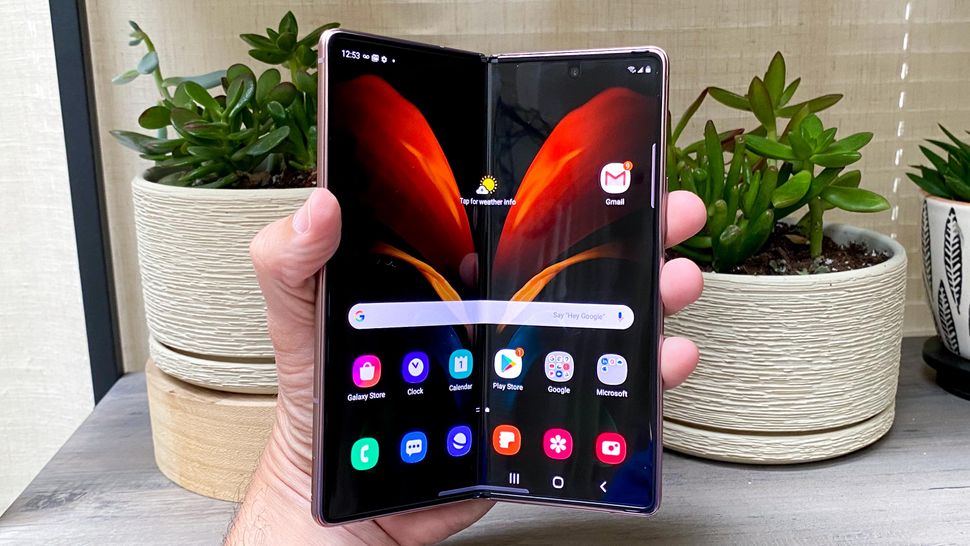 5G phones may be getting cheaper, but the Galaxy Z Fold 2 goes in the opposite direction. At $1,999, this is the most expensive 5G phone you can buy, but Samsung has packed plenty of value into its Galaxy Fold follow-up.
First, there's the Snapdragon 865 Plus processor, which not only delivers superior performance, but allows the Galaxy Z Fold 2 to connect to any type of 5G network. The phone opens up to reveal a 7.6-inch screen, which is ideal for streaming video over 5G's faster network speeds. Any obsessed with productivity will also appreciate how that big screen allows you to do more, from multitasking with three apps to taking advantage of apps optimized for the full display.
In addition to not being cheap, the Galaxy Z Fold 2 is not a slender device when folded up. You'll want to carry this phone around in a coat pocket. And if you do, you're getting the best foldable around that also happens to work with 5G.
Read our full Samsung Galaxy Z Fold 2 review.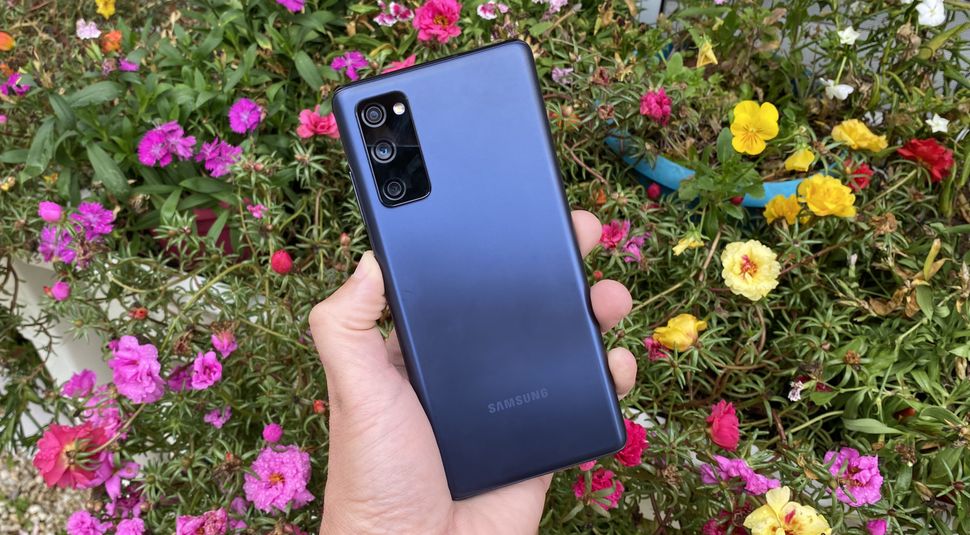 If you want 5G connectivity and a lower-cost Samsung phone, you've now got options. The Galaxy A71 5G is available for $599 and uses the Snapdragon 765 chipset, but if you can spend the extra $100, we'd recommend the $699 Galaxy S20 FE. This phone features the same Snapdragon 865 chipset Samsung uses in all its Galaxy S20 models, and it boasts an OLED screen with a fast 120Hz refresh rate, too.
Battery life could be better on the Galaxy S20 FE, which fell about an hour shy of the smartphone average in our testing. But you'll appreciate that expansive, immersive 6.5-inch display and the fact that the Galaxy S20 FE is compatible with all kinds of 5G networks.
Read our full Samsung Galaxy S20 FE review.
As good a 5G phone as the Pixel 5 is, the Pixel 4a 5G is every bit as good. No, you don't get the 90Hz refresh rate found on the Pixel 5's display, but for the features that matter like top-performing cameras, the Pixel 4a 5G matches Google's flagship while costing $200 less.
The Pixel 4a 5G's cameras are exactly the same as the 12MP main shooter and 16MP ultrawide angle lens found on the Pixel 5. Even better, the software is the same, too, so you'll get the AI-powered software features that set Google phones apart from the crowd.
While the Pixel 4a 5G works with every 5G network, know that you'll need to pay $100 extra for the version that works with Verizon's high-speed 5G towers. Even then, this is a bargain of a 5G device.
Read our full Google Pixel 4a 5G review.
The prices of 5G phones are falling, and the LG Velvet is just one of many new handsets offering 5G connectivity for less than $600. But you're not getting a cheap-looking phone for that price by any means — the Velvet features a stylish design with a bright, colorful display whose looks put many more expensive rivals to shame.
Powered by a Snapdragon 765G processor, the LG Velvet delivers solid performance at this price, and its cameras are just as capable, with the possible exception of when the light drop down low.
While the LG Velvet works with both AT&T and Verizon — a T-Mobile version is coming soon — you will need to pay a $50 premium for the model that works on LG's high-speed 5G signal. At least, you'll be toting around one of the best-looking 5G phones currently available.
Like the LG V60 ThinQ 5G, the LG Velvet is compatible with LG's Dual Screen attachment — a case that provides a second screen for your 5G phone.
Read our full LG Velvet review.
How to choose the best 5G phone for you
When looking for a 5G phone, you'll want to consider which wireless carrier will be providing your cell phone service. Different service providers are taking different approaches to their 5G rollouts.
Verizon, for example, has placed an emphasis on mmWave-based technology at the beginning, so if you plan on getting your phone service from Big Red, you had best make sure that your 5G phone is capable of connecting to mmWave towers. Likewise, while T-Mobile and AT&T have a few mmWave deployments, the vast majority of their network relies on sub-6GHz technology for initial coverage. That's not as fast as mmWave, but it covers a wider area. An OpenSignal report on 5G network performance found that Verizon had the fastest 5G speeds, but the lowest 5G availability. T-Mobile's 5G reach is the most extensive, though its speeds are only slightly faster than LTE.
Apart from what 5G networks a phone supports, the criteria for picking a 5G phone is about the same as it would be for any handset. Consider the processor, screen size, cameras and other features. Battery is especially important — 5G can draw some serious power, and you'll want a phone that's able to handle the added demands on its battery.
Price remains an important distinguishing factor, and it's going to get more so as lower-cost 5G phones roll out later this year. In 2019, you had to pay anywhere from $850 to $1,299 for a 5G phone. Even with the Galaxy Z Fold 2 costing $2,000 — a price that has more to do with its foldable design than its 5G support — the price range for 5G phones has begun to creep down a little, led by the $699 OnePlus 8. We're expecting to see more 5G phones for around $500 as devices make use of Qualcomm's lower-cost Snapdragon 765 and Snapdragon 768G chipsets, both of which include 5G modems. The Snapdragon 690 should mean even cheaper phones by the end of the year, though they won't be compatible with mmWave-based 5G.
How we test 5G phones
To test phones with 5G connectivity, we take them out into the field to measure download speeds with the Speedtest.net app. When possible, we compare that speed to a comparable phone on the same wireless network to try and gauge the improvement that 5G has to offer. We also take note of how the phone performs when 5G coverage isn't available.
Because so much of that 5G performance hinges on the wireless network and not the phone itself, though, we give greater weight to the criteria by which we judge all phones. We run an array of benchmarks on every phone — both synthetic benchmarks as well as real-world tests like transcoding a 4K video to 1080p and timing how long it takes. Our lab also measures the brightness and color accuracy of each phone's display. Our proprietary battery test determines longevity on a charge by endlessly streaming web pages over an LTE network; we then recharge the tested phones to see how quickly they charge in 15-minute intervals.
To measure camera performance, we shoot images under a variety of conditions, comparing the results to photos produced by cameras in the same price range.
For 5G phones, we also consider the price of the device compared to comparable LTE handsets.