Apple's AirPods Max headphones are among one of my favorite pairs of headphones right now for one mind-blowing reason: spatial audio. Allow me to explain.
I confess, I've not always been a fan of the model that's been a mainstay in our best over-ear headphones roundup since it launched. Firstly, there's the $549 price, which although regularly discounted via online retailers, still seems disproportionately high when compared to many of the best AirPods Max alternatives out there.
Then there's the styling with the rectangular and chunky earcups that to my mind are completely at odds with the softer, easy-on-the-eye rounded earcup designs sported by the majority of over-ear headphone models out there. The wide, netted frame of the headband is also a design stumble. This all adds up to the AirPods Max looking a bit cheap, despite being anything but, when compared to the more conventional designs I favor that offer a more luxurious look and feel for less.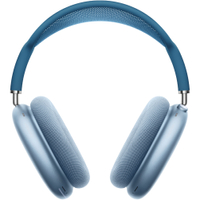 Apple AirPods Max: was $549 now $422 @ Amazon
The AirPods Max are Apple's premium, retro-style headphones. They feature large, over-ear cushions, active noise cancelation, Spatial Audio, head tracking, and 20-hour battery life. Note: Pricing and stock varies by color.
Don't get me wrong, I'm not calling out the levels of build or comfort the AirPods Max achieve. Just that the style doesn't feel right for me, to the point where you're extremely unlikely to see me wearing a pair in public or favoring them as a pair of headphones to take on my travels.
It's important to point out though, that none of the factors that turn me off has had any sway with others. Apple fans love them, and they appear to be more popular than ever, popping up on the heads of fellow train commuters and even being mistakenly worn by gym-goers. Clearly not everyone is as concerned by the AirPods Max looks, or the price, as I am.
No. For me, the AirPods Max are strictly for home listening, and spatial audio content is where they excel.
Apple AirPods Max: where spatial audio becomes fully effective
While my colleague Kate Kozuch enjoyed the crisp and balanced sound the AirPods Max delivered, our AirPods Max review remarked that spatial audio was the killer feature. And I agree! At the time, though, there were limited tracks available to thoroughly experience spatial audio across a wide range of content, but today the number of spatial audio tracks are increasing daily, and it's estimated that around 80% of new recordings are currently getting a simultaneous spatial audio version release.
Another confession is that I've been skeptical about the benefits that spatial audio can bring to music played through true stereo speaker systems and headphones. I'm a big fan of traditional stereo recordings that, with the right equipment, can produce a solid 3D soundstage right between the ears. So you see, anything that starts to mess with that for the purposes of creating a more immersive sound is going to be hit and miss in my view.
And so it goes. Although the AirPods Max deliver a mind-blowingly immersive effect with some spatial audio content, not everything works as well as it might. There are certain recordings where spatial audio makes the mix of a track sound more punchy, layered, and detailed, to the point where you can more easily follow individual strands of the mix and instruments within a recording. And then there are some tracks where the spatial audio version sounds almost unfamiliar, and like an entirely different version of the tune altogether, losing some of its original character along the way to getting the spatial audio treatment.
Whether a spatial audio version of a track works as well as the version you already know and love though, isn't down to the AirPods Max. It's down to the way spatial audio content is put together, and the AirPods Max make a compelling tool at highlighting the transitions. Which is one of the reasons I love them.
How to hear spatial audio if you don't have AirPods Max
From Apple's own headphones to the latest HomePod 2 smart speaker, the idea of spatial audio seems to be finding its way into all kinds of products. Indeed, it's a fundamental part of the distinctive design behind the new Sonos Era 300 smart speaker, which officially goes on sale on March 27.
It is no surprise, then, that spatial audio music is taking off, with both old and new recordings being given the spatial audio treatment and popping up on streaming services such as Amazon Music Unlimited, Apple Music, and Tidal.
In addition to the AirPods Max, you can also experience the full effect of spatial audio content on the AirPods Pro 2, or Beats Fit Pro, or the new Apple HomePod 2. And along with the Sonos Era 300, there are likely to be more products arriving that offer full spatial audio support as the format gets more widely known.
In the meantime, if you're an iOS user and Apple Music subscriber, this third-party music library tracker automatically discovers which of the tracks and albums in your Apple Music library have a spatial audio version without having to carry out lengthy searches of your favorite artist's back catalog.
I found it particularly useful with getting to grips with spatial audio content in my own library, rather than relying on Apple Music's playlist of Spatial Audio tracks, and made experiencing the latest immersive sound via the AirPods Max far more accessible.
More from Tom's Guide