While Apple's AirPods may set the high bar when it comes to personalized audio features, battery life isn't among their strengths. At around 6 hours for the buds and 30 hours in total including the charging case for the AirPods Pro 2, there are plenty of wireless earbud models that offer stronger battery performance, and many cost considerably less.
If you're anything like me, you're forgetful when it comes to keeping your wireless earbuds topped up. It's one of the reasons I carry several wireless earbuds in my work and gym bags so that I always have a pair with some charge remaining. I find it frustrating to have to give some wireless earbuds more frequent top ups than others.
To find which models enable you to go the longest between recharges, read on for my recommendations with the strongest battery life.
Best battery life, sound, and features overall
1. Sony WF-1000XM4
Battery life: 8 hours (ANC on), 12 hours (ANC off)
Charging case: up to 36 hours
Despite being launched in in 2021, Sony's WF-1000XM4 continue to offer some of the strongest battery life we've seen from a pair of wireless earbuds. These buds give you up to 8 hours with ANC on, which can be extended to 12 hours when switched off. Factoring in volume, heavy streaming, and calling, playtimes drop by about 45 minutes to 1 hour, which is still longer than the AirPods Pro 2 at around 6 hours.
In our original Sony WF-1000XM4 review, we found they had better battery optimization than many rivals, squeezing every bit of juice out before having to recharge. And if you're the type who hates hearing low battery notifications, these buds come with some of the strongest quick-charging technology out there: a 5-minute charge equals 1 hour of use.
The charging case also receives a generous bump in total playtime, holding between 24 to 36 hours, depending on how you use the buds. That's impressive when considering how much smaller this case is. Qi-enabled wireless charging comes part of the package too, though be mindful that the case gets extremely hot when using wireless charging.
The Sony WF-1000XM4 earbuds are priced at $279, £199, AU$348 (although they can regularly be found discounted to around $199 at several online retailers), and continue to be regarded as one of the best wireless earbuds overall.
Best battery life for audiophiles
2. Campfire Audio Orbit
Battery life: 8 hours
Charging case: up to 30 hours
At 8 hours per charge, the Campfire Audio Orbit last longer than most luxury models. The lightweight, sleek-looking charging case holds up to 30 hours of additional playtime. Wireless charging comes part of the package, but not quick charging. There aren't many battery-draining features like ANC or voice activation to worry about, meaning you'll get a good 2-3 days of moderate use before recharging. That's a generous amount of battery life to pack into a stylish and unique design.
Priced at $249 / £249 / AU$429, they compete directly with the AirPods Pro 2, but ditch the personalization and spatial audio features in favor of higher grade audio components. The spec sheet consists of custom 10mm dynamic drivers, liquid crystal polymer (LCP) diaphragms, and Bluetooth 5.2 with aptX codec support to help elevate sound across all media platforms.
The cool-looking design and generous playtime (per charge) also add to their appeal. However, Campfire's audio-first approach means the Orbit is less focused on other areas, including connectivity, software, and special features, which will need to be taken into consideration before you buy.
Best battery life with luxe sound
3. Sennheiser CX Plus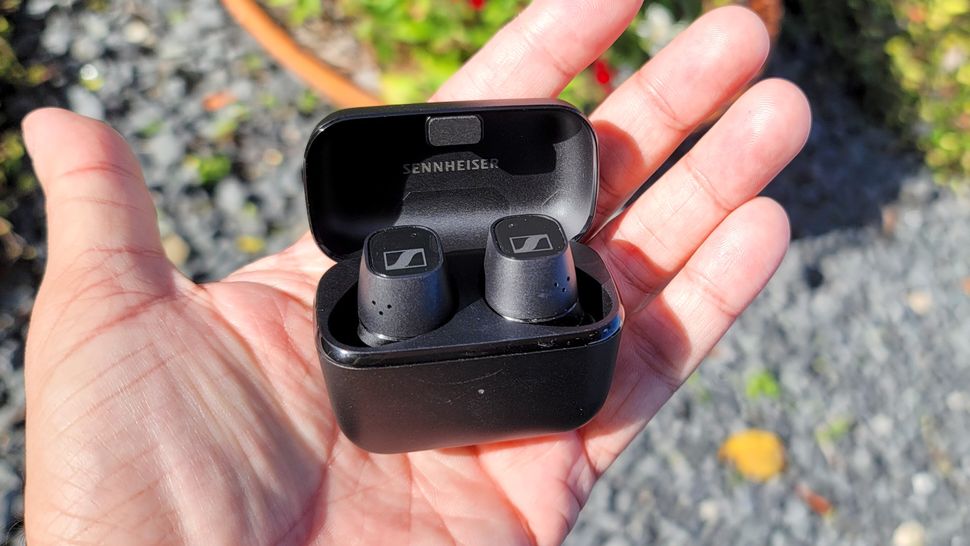 Battery life: 8 hours (ANC on), 9 hours (ANC off)
Charging case: up to 24 hours
The Sennheiser CX Plus earbuds are rated at 8 hours with ANC on, but it's really 6 hours when factoring in high volume and streaming, which is admittedly close to the AirPods Pro 2 but cost considerably less. In our Sennheiser CX Plus review, we managed to achieve up to three days of moderate use (2 hours daily) before recharging. You can extend use to 9 hours by disabling ANC. You'll get up to 24 hours from the charging case, and a 10-minute quick charge will net you 1 hour of use.
These mid-priced buds have an MSRP of $180 / £129, but are currently being discounted to $99 at Amazon. Sonically, the CX Plus have Sennheiser's flagship sound profile in a mid-range pair of earbuds, and continue to rank among the best-sounding mid-priced wireless earbuds in our best noise cancelling earbuds page.
Sennheiser's 7mm drivers are masterfully engineered to produce audio worthy of the brand name. Right out of the box, you get a well-balanced mix of emotive lows, rich mids, and crisp highs. Very few buds at this price range offer this. In fact, I can name a few luxury models that struggle to produce sound as detailed as the CX Plus.
The only downside I can think of is that there's no wireless charging.
Best battery life in a cheap noise canceller
4. Sony WF-C700N
Battery life: 7.5 hours (ANC on), 10 hours (ANC off)
Charging case: up to 28 hours
The Sony WF-C700N are the ANC version of budget WF-C500 that bring upgrades to battery life and the design. They're a sweet pickup for brand enthusiasts looking for lengthy playtimes and runs to 7.5 hours with ANC enabled and up to 10 hours without. The charging case offers up to a maximum of 28 hours and a 10-minute quick charge generates 1 hour of use.
Priced at $119 / £99 / AU$199, they're a great entry into Sony's earbud line up. They have Sony's characteristic punchy low end sound, which handles complex bass-filled tracks with ease. They deliver a refined soundstage and make highs sound prominent, too. Furthermore, with Sony's Headphones Connect app you'll get plenty of sound customization via EQ to help you get the sound balance you like, while DSEE helps to boost fidelity on lo-fi recordings.
Ultimately, the WF-C700N have strong sound, call quality, and more features than their predecessor. ANC is robust to hear music and movies in peace, while enabling 360 Reality Audio on compatible streaming services creates an immersive listening experience. There's no support for wireless charging, but that's hardly surprising from the big-name brand at the price.
Best battery life for active lifestyles
5. JLab Epic Air Sport ANC (2nd Gen)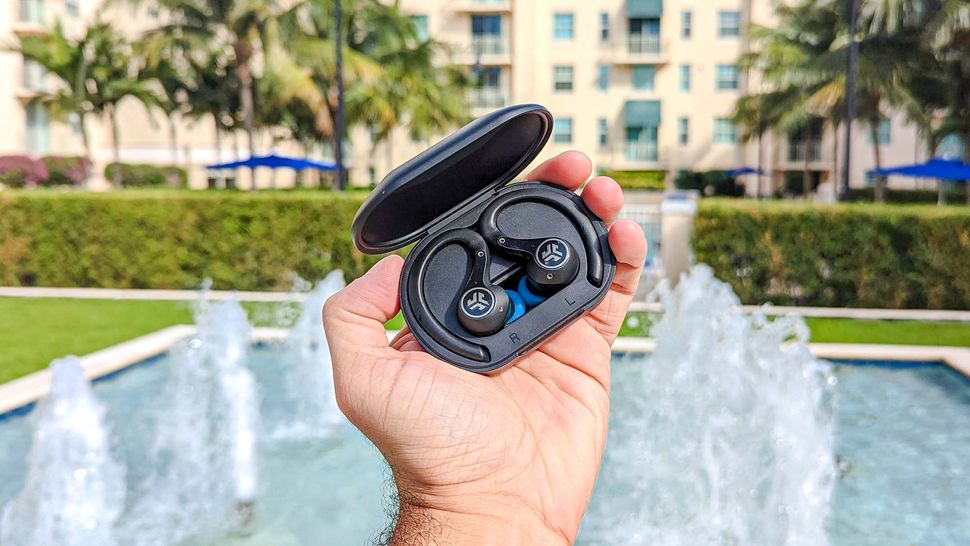 Battery life: 11 hours (ANC on), 15 hours (ANC off)
Charging case: up to 70 hours
The Epic Air Sport ANC (2nd Gen) replace their older sibling as one of the best sport headphones available. Priced at $99, they're available exclusively on JLab's website. Aimed at budget-conscious exercisers that need reliable buds to get through intense workouts, battery life for this second generation is rated at 11 hours with ANC on and 15 hours with ANC off.
In our JLab Epic Air Sport ANC (2nd Gen) review, we mentioned that our testing saw these playtimes fall a little short of the maker's claims, but even so these buds still grant the highest playtimes in the category. Our reviewer used them over the course of a week for 2 hours daily and recharged them on the sixth day; we usually only get around 2 days before needing to recharge the AirPods Pro 2 (5.5 to 7 hours) or Beats Fit Pro (6 to 7) in their cases.
The integrated charging cable is a bit of a nuisance due to USB-A charging no longer being the standard charging solution, but a 15-minute charge can generate 1 hour of listening time. At least JLab also provides wireless charging via the Qi-enabled charging case, and you can get up to 70 hours of playtime from a fully charged case.
Battery life specifications compared
Swipe to scroll horizontally
| Header Cell - Column 0 | Sony WF-1000XM4 | Campfire Audio Orbit | Sennheiser CX Plus | Sony WF-C700N | JLab Epic Air Sport ANC |
| --- | --- | --- | --- | --- | --- |
| Price | $279, £199, AU$348 | $249 / £249 / AU$429 | $180 / £129 | $119 / £99 / AU$199 | $99 |
| ANC | Yes | No | Yes | Yes | Yes |
| Battery life with ANC (rated) | 8 hours, 24 hours (with charging case) | N/A | 8 hours; 24 hours (charging case) | 7.5 hours; 24 hours (charging case ) | 11 hours; 70 hours (charging case) |
| Battery life without ANC (rated) | 12 hours, 35 hours (charging case) | 8.5 hours; 30 hours (charging case) | Not specified | 10 hours; 28 hours (charging case) | 15 hours; 70 hours (charging case) |
| Quick charge (rated) | 5-minute charge = 1 hour of use | No | 10-minute charge = 1 hour of use | 10-minute charge = 1 hour of use | 15-minute charge = 1 hour of use |
| Wireless charging | Yes | Yes | No | No | Yes |
More from Tom's Guide