I switched from Android to iPhone last year when I bought an iPhone 13 Pro, and that turned out to be one of the best decisions I ever made. That's saying a lot, considering I had been an avid Samsung phone user for nine years prior to my switch.
Well, it's been a full year, and I thought I'd revisit that Android-to-iPhone switch. After all that time, I'm still never going back to Android — even the best Samsung phones don't tempt me.
Why have I become so enamored with the iPhone? Its ease of use and snappy user interface are key reasons, along with the iPhone 13 Pro's amazing battery life. I also love the solid build quality which makes the phone a joy to hold. Beyond that, the iPhone has made my life easier in many small ways that make a big difference.
Below, I'll detail my experience with the iPhone 13 Pro over the past year and why I'm sticking with iPhones for the foreseeable future.
The iPhone pulled me into the Apple ecosystem
The iPhone 13 Pro has been great on its own but its interoperability with other Apple devices is what's made it so invaluable to me. I know that's not saying much — after all, the Apple ecosystem is a big draw for Apple users. But as a relative newbie to this ecosystem, I'm still amazed by how well the company's products work with each other. My iPhone is the key that unlocks the ecosystem's full potential.
I originally used a pair of Lenovo wireless earbuds with my iPhone. They worked well enough most of the time, but there were instances where the phone wouldn't respond when I tried to pause a song or raise the volume. I resolved that issue by getting a pair of AirPods Pro, which naturally work great with an iPhone. They're comfortable to wear for long periods of time and they do an excellent job of canceling out a noisy subway station or busy streets.
The Apple Watch SE was my next major purchase. I mainly bought the watch to use New York City's OMNY contactless fare payment system. Instead of using a Metro Card or even my iPhone to pay for public transportation, I just tap the watch's face on the OMNY screen. This saves me precious seconds I might need to catch a train.
The watch also shows me notifications from my iPhone. Now I can quickly see which messages I should respond to or which I can save for later.
Using a MacBook Pro 16-inch (2021) to send texts on iMessenger is another handy feature since I type much faster on a keyboard than on a phone's display. I used to keep messages as brief as possible when texting, but now I can comfortably type out a long message if I want. This feature isn't unique to Apple as Windows has the equivalent Phone Link app that lets you send and receive messages from Android phones. But as an iPhone user, texting on a MacBook is awesome.
Accessories
The iPhone's MagSafe feature is something I make full use of — especially when I'm out and about. With respect to Apple, I didn't buy the official Apple MagSafe Charger or Apple MagSafe Wallet. Instead, I bought Anker's MagSafe charger and the Spigen MagSafe wallet. Like the products discussed above, these have been game changers.
The Spigen MagSafe wallet has been particularly useful for several reasons. The most obvious is that I don't have to carry a wallet in my pocket. And since the Spigen wallet can only hold three cards, it's forced me to only carry what I need — namely my ID, a credit card and my office keycard. Having the latter in my wallet means I can just tap my phone on the building's entrance reader instead of pulling the entire keycard out.
One official accessory I still use is the Apple iPhone 13 Pro Silicone Case with MagSafe. I bought a Spigen Tough Armor case and used it for a few months, but ultimately settled on the Silicone case because it doesn't add much bulk to the iPhone 13 Pro. Not only that, but it also just feels really good to hold. And as I can attest from personal experience, Apple's case protects your phone if you accidentally drop it.
Cameras and battery life
This might be obvious since the last phone I owned was a Samsung Galaxy S7, and technology has leapt ahead in the ensuing years. But the iPhone 13 Pro's excellent cameras and long battery life continue to amaze me.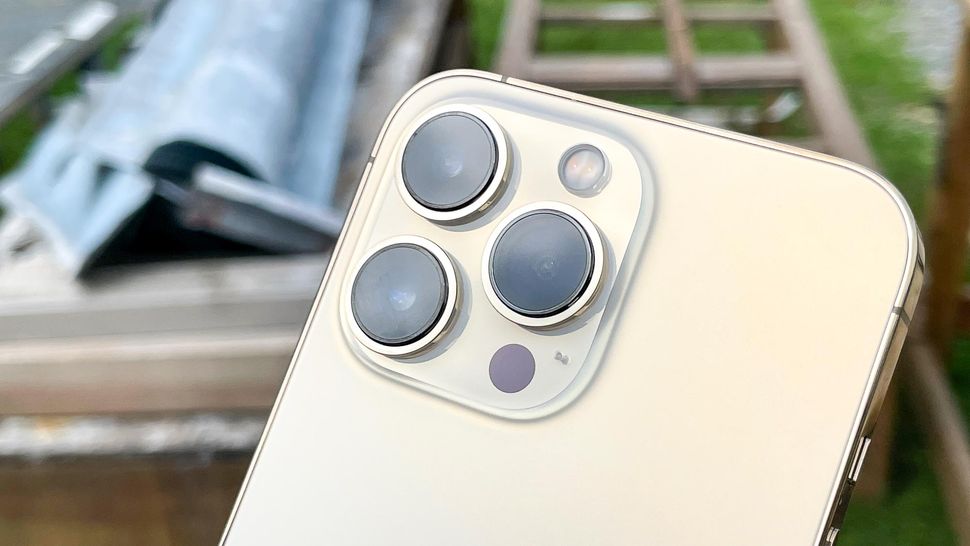 I no longer have to worry about how my photos will turn out when i capture them with the iPhone 13 Pro. Even at night, I know the iPhone 13 Pro will take sharp and clear images thanks to its rear 12MP cameras. Taking such clean and vivid images for my own purposes has been beneficial, but I've gotten the most use of the camera for work, where I frequently need to photograph products at events or for reviews. As long as I have a steady hand, I know my photos will turn out great.
As for battery life, my phone typically lasts for a full waking day, which is roughly 16 hours. I always carry the aforementioned portable charger with me but I've rarely used it thanks to the phone's exceptional battery life. Unless I forget to charge my phone before bed, battery life isn't a major concern.
In the interest of fairness, I used to get about a day and a half of battery life initially. After installing apps and with frequent use throughout the day, the phone now lasts about a day. Considering how its battery life has consistantly remained that way for the better part of a year, I can't complain. At time of writing, its battery capacity is still at 100%, which I think is pretty remarkable.
I'm still not going back to Android
After a year of iPhone use, I have very few complaints about the iPhone 13 Pro. In fact, the main criticism I can lobby against the phone is that I need a Lightning cable to charge it — and even that point is somewhat moot thanks to MagSafe charging. I'm so happy with this phone that I'll probably keep using it until Apple either stops supporting it with iOS updates or we finally get an iPhone with a USB-C port.
Will I ever go back to an Android phone? I don't want to dismiss the notion, but as things stand, I don't see it happening. The ease of use between Apple products has been far too useful. I realize I can get a semblance of interoperability with other products, but I'd rather not go through the hassle when I'm already settled into Apple's ecosystem.
And since I don't want to upset my friends by forcing them to see green text bubbles in iMessage again, I'll remain an iPhone user for the foreseeable future.
More from Tom's Guide