Western Digital has revealed its new lineup of officially-licensed storage Expansion Cards designed for the Xbox Series X and Xbox Series S, and these WD_Black SSDs will end Segate's monopoly on the Xbox expansion card market.
The WD_Black C50 Expansion Card for Xbox launches today (Tuesday, June 6) and comes in two storage sizes: 512GB and 1TB. The 512GB card will retail for $79, while the larger 1TB model will cost a fairly pricey $149. As an extra sweetener, you get a free month of Xbox Game Pass Ultimate when you purchase either of these cards.
Both expansion cards are available to purchase via Western Digital and we expect retailers such as Amazon, Best Buy and Walmart to stock them imminently.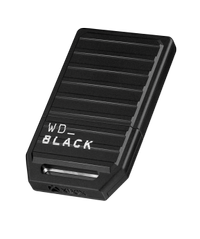 WD_Black C50 1TB Expansion Card for Xbox: $149 @ Western Digital
The WD_Black C50 Expansion Card is an officially-licensed Xbox accessory that boosts the internal storage of your cost. This 1TB drive costs $149 and doubles the hard drive space of the Xbox Series X. It can be used to both store and play current-gen games. It's a simple "plug and play" SSD, just slot in the Xbox storage expansion port found on the back of the console, and you're ready to game.
Designed to increase your Xbox's internal storage, the WD_Black C50 Expansion Card can be conveniently plugged into the storage expansion slot found at the rear of the Xbox Series X and Xbox Series S consoles. The cards are "plug and play" meaning you don't need to worry about screws, removing parts of the console or researching compatibility requirements — just slot the card into the relevant port, and you're good to go.
The only way to boost your Xbox's internal storage is via a proprietary storage expansion card, so we're pleased to see fresh options hitting retailers, especially from a company like Western Digital which has a solid reputation for producing excellent storage products.
Until now, Seagate has had a stranglehold on the Xbox expansion card market being the only game in town. However, this Western Digital range now adds some much-needed choice for consumers. The Seagate Storage Expansion Cards initially launch in 2020 with a 1TB model costing an eyewatering $219. Fortunately, prices have dropped since then and you can now score a 1TB card on sale for around $149.
But PS5 SSDs are still cheaper
We're definitely pleased to see another manufacturer enter the market, but adding additional Xbox internal storage remains significantly more expensive than it is on PS5. That's because Sony wisely opted for a more open system that allowed any M.2 SSD that meets a set of basic requirements to be installed in its flagship gaming console.
This less restrictive system has resulted in the cost of PS5-compatible SSDs dropping significantly over the past two years as manufacturers compete to offer the best value. For example, last month, we saw the popular 1TB WD_Black SN850X SSD on sale for just $79, and we've regularly seen 2TB PS5 SSDs for as low as $179. Meanwhile, a 2TB Seagate Xbox Expansion Card will cost you $279 on sale, and as much as $399 at full retail price.
For too long Seagate was able to dictate the cost of Xbox expansion cards due to a lack of competitors, but that's no longer the case thanks to these WD_Black C50 cards. We're also hoping that more Xbox-compatible SSDs launch in the near future in order to further drive down prices and offer even more choice for Xbox gamers.
More from Tom's Guide