Sony has revealed the PlayStation Plus April catalog for subscribers at the Extra and Premium tiers, and the lineup is surprisingly strong. While Xbox Game Pass often gets all the plaudits, PlayStation's subscription service has been quietly making a compelling case for itself since its revamp last summer.
On Tuesday, April 18, PlayStation Plus members at either the Extra or Premium tier will get access to almost a dozen games, including a charming puzzle platformer set in a Pixar-like world and a selection of top-tier first-person shooters in the Doom and Wolfenstein franchises. Plus, if you have a PlayStation Plus Premium account you'll get five additional games including the original Doom trilogy.
We've compiled the full list of what's available in the PlayStation Plus April catalog down below, but with so many excellent PS5 games to choose from we've picked our four favorites from the lineup to give you a starting point. So, whether you're looking to blast some demons back to hell or bike race down on a mountain at breakneck speeds, these are the PlayStation Plus games you should play first this month.
PlayStation Plus April catalog — top picks
Kena: Bridge of Spirits
Playing Kena: Bridge of Spirits feels like stepping into a Pixar movie. The first game from animation studio Ember Lab, Kena is set within a lushly detailed world that is a true joy to explore. But while the game might look kid-friendly, it's actually deceptively tough, with challenging combat that will really test your ability to juggle multiple moves and equipment. Outside of enemy encounters, you'll complete simple platforming sequences and solve mostly-satisfying puzzles. Kena: Bridge of Spirits is a delightful experience that definitely deserves more attention — its inclusion in April's PlayStation Plus offering should hopefully help on that front.
Doom Eternal
Doom Eternal is a direct sequel to the 2016 reboot of the iconic shooter franchise, and it is every bit as relentless as its predecessor. You once again step into the boots of the Doom Slayer on a mission to send the spawns of hell back to where they came from. With an arsenal of overpowered weaponry, and the ability to literally rip foes in half with your bare hands, Doom Eternal is a video game power fantasy on steroids. Just be warned that some of the later missions ratchet up the difficulty considerably. You'll need to not alone play aggressively but also utilize all the abilities at your disposal rather than just shoot blindly.
Riders Republic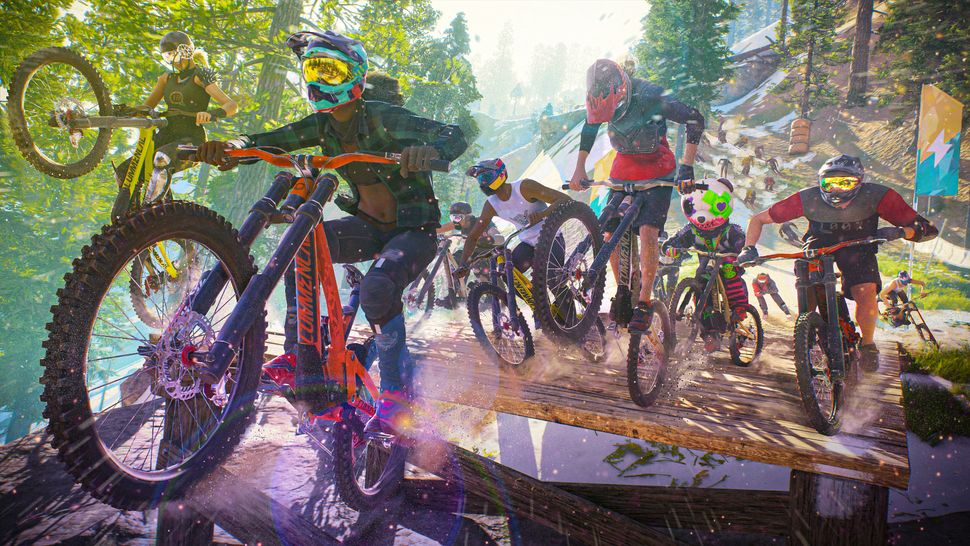 Riders Republic feels like a throwback to the days when extreme sports video games dominated the market, but it's still got enough modern gameplay elements to feel like a current-generation title. This open-world game lets you explore its vast map via mountain bike, snowboard, skis, wingsuit, or even a rocket-powered jet pack. And if aimless exploration doesn't appeal to you, don't worry, there are hundreds of events to complete from races to trick competitions. Plus, there are various online modes including the very fun Mass Races that pit you against 64 other players and usually devolve into absolute carnage as everybody crashes into each other.
The Evil Within
If you've recently completed Resident Evil 4 and are looking for your next survival horror fix, The Evil Within will delight and terrify you in equal measure. Hailing from the mind of Shinji Mikami (the famed director of the original Resi 4), The Evil Within sees you play a detective who gets drawn into a nightmarish world after investigating a disturbance at a local hospital. Hunted by grotesque enemies, and with very limited resources to fight back, The Evil Within is an anxiety-inducing experience that blends horror and action in a highly-compelling package.
PlayStation Plus April catalog — Extra/Premium
Kena: Bridge of Spirits
Doom Eternal
Riders Republic
Wolfenstein II: The New Colossus
Slay the Spire
Monster Boy and the Cursed Kingdom
The Evil Within
Wolfenstein: The Old Blood
Bassmaster Fishing
Paradise Killer
Sackboy: A Big Adventure
PlayStation Plus April catalog — Premium
Doom
Doom II
Doom 64
Doom 3
Dishonored: Definitive Edition
---
It's definitely a strong lineup on PlayStation Plus this month. Although, we will admit, it is a little heavy on shooters. However, if you've got your eye on a particular game, it might be included in the ongoing PlayStation Spring Sale which recently got even bigger thanks to a second wave of discounts.
And if you're a PlayStation Plus member at the base Essential level, your three monthly games are already available to download and play right now. This month, you can claim Sackboy: A Big Adventure, Meet Your Maker and Tails of Iron.
More from Tom's Guide