A sizzling lineup of new movies on Hulu arrived this month (June 2023). Hulu's enviable library of films is one of the reasons why we rank it among the best streaming services.
Every month, dozens of movies drop on Hulu for your enjoyment. Some are streaming on Hulu for the first time, while others are returning to the service after playing elsewhere. Perusing all the new options could take hours, maybe days — and nobody has time for that!
That's why I've selected seven titles that I know are worth watching, and worth consideration for the best Hulu movies. I've seen them all and vouch for them. Your next movie night is solved; you're welcome.
3:10 to Yuma (2007)
As a screen genre, the Western continues to endure (see the current success of the Yellowstone on television). Some forays are better than others. This adaptation of Elmore Leonard's 1953 short story ranks at the top of the class, thanks to incendiary performances from leads Christian Bale and Russell Crowe.
Outlaw Ben Wade (Crowe) is infamous for terrorizing Arizona, but he's finally caught after robbing a stagecoach. Impoverished rancher Dan Evans (Bale) agrees to the job of escorting Wade to a train that will take him to prison. With Wade's crew in pursuit, the journey is a dangerous one, but a grudging respect begins to grow between the men.
Genre: Western
Rotten Tomatoes score: 89%
Stream on Hulu
Attack the Block (2011)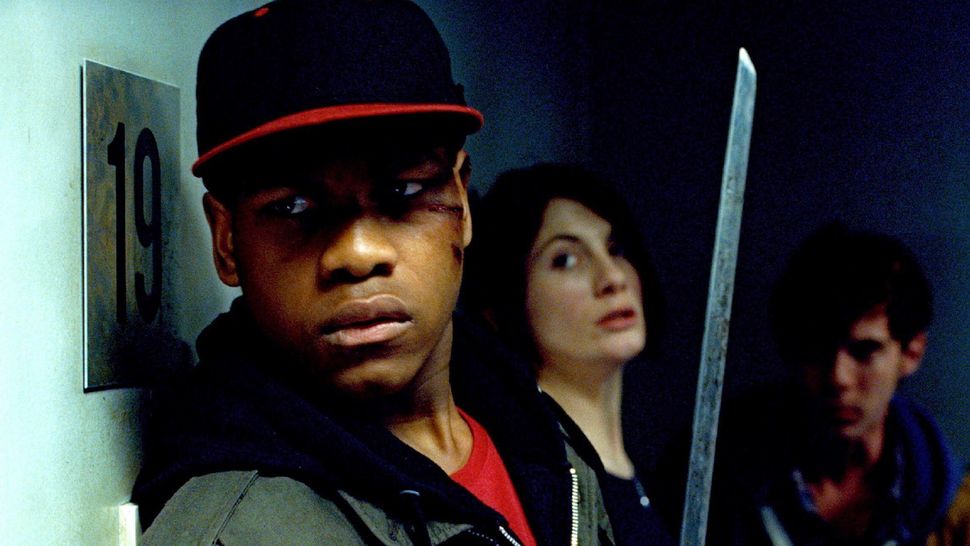 Before he was Finn in the Star Wars sequel trilogy, John Boyega broke out in this highly entertaining alien invasion thriller that mixes suspense, witty humor and satirical commentary about race and class.
On Guy Fawkes Night, South London teen hoodlum Moses (John Boyega) and friends mug nurse Samantha (Jodie Whittaker). Suddenly, meteorites start falling from the sky, bringing with them fearsome aliens. In an unlikely turn, the gang teams up with Samantha to fend off the creatures and protect their neighborhood.
Genre: Sci-fi horror/comedy
Rotten Tomatoes score: 90%
Stream on Hulu
Borat! (2006)
Very nice! As ridiculous and outrageous of a character as Borat is, he's also weirdly kind of lovable. So much so that Kazakhstan, which initially banned Sacha Baron Cohen's portrayal of one of their natives, adopted Borat's motto as their own.
The faux shockumentary follows the eponymous reporter from Kazakhstan as he travels around the United States chronicling American culture. After watching Baywatch, Borat falls in love with actress Pamela Anderson and decides to marry her. Along the cross-country journey to find his bride, he manages to offend just about everyone he meets.
Genre: Mockumentary comedy
Rotten Tomatoes score: 90%
Stream on Hulu
Dune (2021)
The length and sweeping scope of Frank Herbert's sci-fi opus has made it very difficult to adapt for the screen. David Lynch tried and had an epic fail with his 1984 film. A 2000 mini-series on the Sci Fi channel fared a little better, but still didn't take off. This time, Denis Villeneuve has given it a go, with an assist from basically every star in Hollywood.
And it's been a rousing success. Critics lauded the gorgeous visuals and outsized action setpieces, fans demonstrated their favor at the box office. Villeneuve was able to walk the tricky line between fidelity to the source material and not getting bogged down in exposition. What he doesn't do is try to whittle down the entire 900-page behemoth into a single film, which is why Dune: Part Two is coming this November.
Genre: Science fiction epic
Rotten Tomatoes score: 83%
Stream on Hulu
The Goonies (1985)
When two brothers find out they might lose their house they are desperate to find a way to keep their home. They find a treasure map and bring some friends along to find it. They are all out looking for the "X" and trying to get away from a group of bad guys who also want the treasure.
Genre: Adventure
Rotten Tomatoes score: 77%
Stream on Hulu
Man on Wire (2008)
Fair warning, this exhilarating documentary might make you experience extreme vertigo. Filmmaker James Marsh mingles archival footage with reenactments to depict daredevil Philippe Petit's 1974 stunt: walking across a thin wire strung between the Twin Towers of the World Trade Center.
Because Petit didn't have permission to perform this stunt, the doc is formatted like a heist movie. The feat requires precise planning, subterfuge, many hours of practice and the help of a motley group of friends to get building access, string up the wire and allow Petit time to perform his thrilling act.
Genre: Documentary
Rotten Tomatoes score: 100%
Stream on Hulu
Three Identical Strangers (2018)
Real life is often stranger than fiction, as superbly illustrated in this documentary about identical triplet brothers who were separated at birth and reunited by chance as adults. It's a gripping tale, with surprises around every corner. It's also deeply moving and infuriating at the same time.
Filmmaker Tim Wardle uses interviews, archival footage and reenacted scenes to introduce Edward Galland, David Kellman, and Robert Shafran, the triplets adopted as infants by different families. At the age of 19, two of them happened to attend the same college in New York City. The third found them due to the resulting publicity. Over time, they learn about the reasons for their separation and ponder the effects on their mental health.
Genre: Documentary
Rotten Tomatoes score: 96%
Stream on Hulu
More from Tom's Guide