Stack the iPhone 12 and iPhone 12 mini side by side, and you'll get quite a contrast to any iPhone 12 Pro vs. iPhone 12 Pro Max comparison. While there are a number of differences between Apple's now-discontinued iPhone 12 Pro models, an iPhone 12 vs. iPhone 12 mini face-off will lead you to conclude that the two phones are pretty much identical.
Oh, there are some obvious differences — the iPhone 12 is the bigger of the two, as the iPhone 12 mini's name would suggest. The iPhone 12 mini debuted at the lowest price of any iPhone 12 model in 2020. But in terms of the things that determine how a phone performs in everyday use, these two iPhone 12 models share a lot of the same parts, from the processor to the camera setup.
While the focus is shifting to the iPhone 13 vs. iPhone 13 mini, as those two phones replace the iPhone 12 models, our iPhone 12 vs. iPhone 12 mini face-off details the similarities and differences between the iPhone 13's predecessors.
iPhone 12 vs. iPhone 12 mini specs
Swipe to scroll horizontally
| | | |
| --- | --- | --- |
| Row 0 - Cell 0 | iPhone 12 mini | iPhone |
| Debut price | $599 | $699 |
| Screen size (Resolution) | 5.4-inch OLED (2340 x 1080) | 6.1-inch OLED (2532x1170) |
| CPU | A14 Bionic | A14 Bionic |
| Storage | 64GB, 128GB, 256GB | 64GB, 128GB, 256GB |
| Rear cameras | 12MP wide (ƒ/1.6), 16MP ultrawide (ƒ/2.4) | 12MP wide (ƒ/1.6), 16MP ultrawide (ƒ/2.4) |
| Front camera | 12MP (ƒ/2.2) | 12MP (ƒ/2.2) |
| Battery life (Hrs:Mins) | 7:28 | 8:25 |
| Size | 5.18 x 2.53 x 0.29 inches | 5.78 x 2.81 x 0.29 inches |
| Weight | 4.76 ounces | 5.78 ounces |
| 5G compatibility | Sub 6Ghz, mmWave | Sub 6Ghz, mmWave |
| Colors | White, black, blue, green, purple, [Product] Red | White, black, blue, green, purple, [Product] Red |
iPhone 12 vs. iPhone 12 mini: What's the same
The iPhone 12 and iPhone 12 mini have some differences, as we'll get to. But on balance, these two phones have a lot in common, from the way they look to how they perform. Here's a look at the iPhone 12 vs. iPhone 12 mini similarities.
Processor: The A14 Bionic powers each and every member of the iPhone 12 family, from the mini all the way up to the iPhone 12 Pro Max. So the two phones perform similarly, especially since Apple includes equal amounts of RAM in each device. (Or at least, that's what teardowns reveal, since Apple doesn't issue official numbers on the amount of memory in its phones.)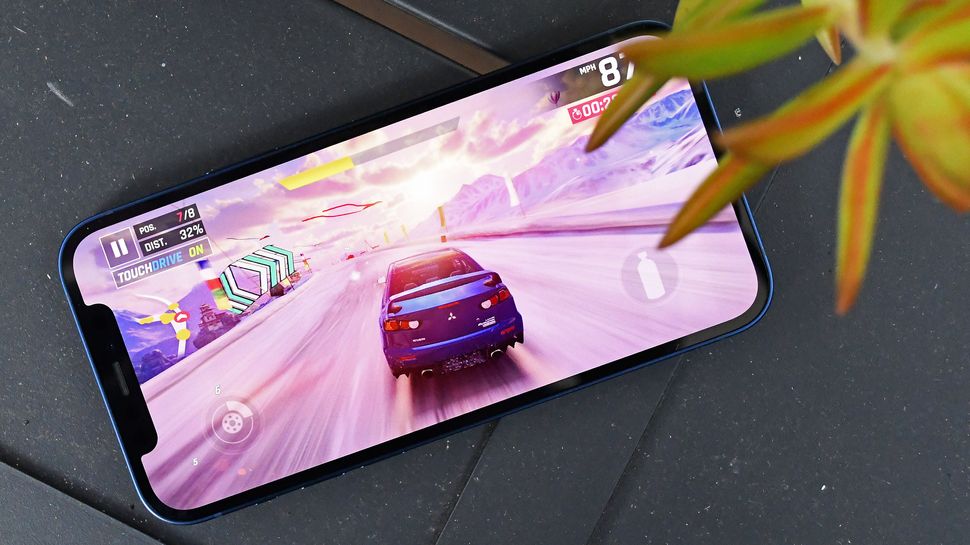 We've run iPhone 12 benchmark tests on both phones. On the Geekbench 5 general performance, the iPhone 12 posted single- and multicore scores of 1,593 and 3,859, respectively.
The iPhone 12 mini posted a higher multicore score at 4,123 points, but the phones turned in essentially equal times when we had them transcode a 4K video using Adobe Premiere Rush. (The iPhone 12 did it in 26 seconds, the iPhone 12 mini took 27 seconds.)
Put another way, if you perform the same tasks on an iPhone 12 and iPhone 12 mini, you won't spot any difference in how these phones run your favorite apps. Even you get the less expensive iPhone 12 mini, you can expect performance that matches any iPhone 12 model.
5G connectivity: Just as all the iPhone 12 models run on the A14 Bionic, they also all connect to 5G. That means every kind of 5G, as Apple included support for a wide variety of bands.
So both the iPhone 12 and iPhone 12 mini can connect to any kind of 5G network, whether it's built on the far-reaching sub-6GHz spectrum or uses faster mmWave technology.
Cameras: Apple made subtle changes to the different lenses used by the iPhone 12 Pro models, which produces some differences on shots that use the telephoto lenses. But there's no such distinction with the iPhone 12 and iPhone mini.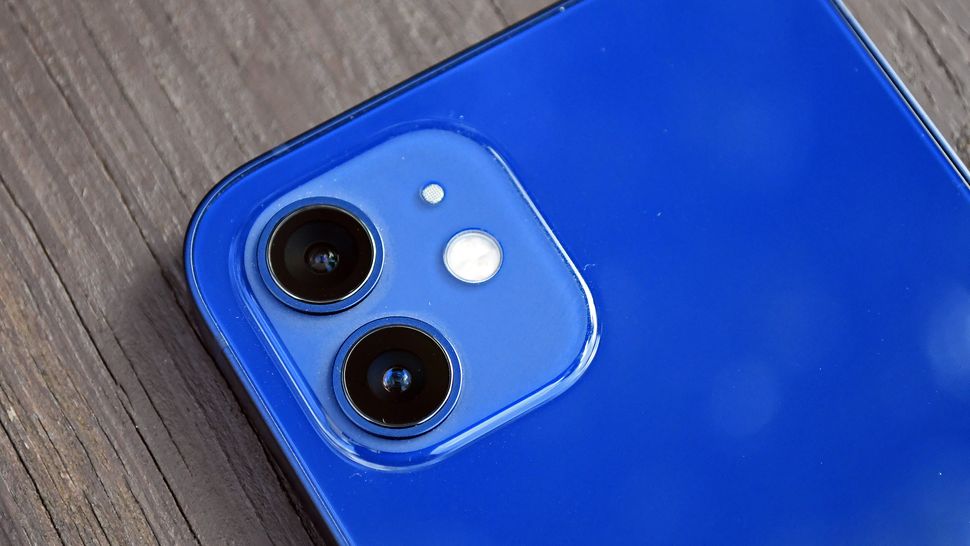 The iPhone 12 and iPhone 12 mini each feature two rear cameras — a 12MP wide angle lens with a larger f/1.6 aperture and a 12MP ultrawide angle lens. Along with the f/1.6 aperture on the main camera, Apple now uses a 7-element lens, and those changes should improve low-light performance by 27%.
Software changes are the same across both phones as well. Both the iPhone 12 and iPhone 12 mini support the enhancements Apple's made to Deep Fusion and Smart HDR for more detailed images than previous iPhones could capture.
Displays: Ignore the size difference for a moment, and focus on the fact that Apple now uses OLED panels across its entire iPhone lineup. That's a change from past years when phones like the iPhone 11 and iPhone XR still made do with an LCD screen.
Both the iPhone 12 and iPhone 12 mini offer a 60Hz refresh rate — a similarity you probably wish they didn't have in a world where a growing number of phones offer faster refresh rates for smoother scrolling. (Our Samsung Galaxy S21 vs. iPhone 12 face-off reveals what a difference a faster refresh rate makes.)
Both the iPhone 13 and iPhone 13 mini miss out on faster refreshing, but the iPhone 13 Pro and iPhone 13 Pro Max did get 120Hz refresh rates. (For more, read our guide to the 120Hz display on the iPhone 13 Pro.)
Getting back to the iPhone 12, lab results from display testing revealed two essentially identical devices. The iPhone 12 captured 114.5% of the sRGB color spectrum to 117.8% for the iPhone 12 mini.
About the biggest difference is brightness, with the iPhone 12 just a bit brighter when we measured it using a light meter. We tallied 569 nits on the iPhone 12, versus 505 nits for the iPhone 12 mini.
Design: Apple didn't skimp on the design flourishes for the less expensive iPhone 12 mini. It's made out of the same materials as the iPhone 12, including the Ceramic Shield display which Apple claims is four times more likely to survive a drop than previous phones. The iPhone 12 and iPhone 12 mini both have Apple's improved IP68 water resistance rating, allowing them to survive in up to 6 meters of water for 30 minutes.
Software: Both phones run the same software — the latest version of iOS 14 — so you'll get the same software features whether you own an iPhone 12 or iPhone 12 mini. That continues to be the case now that iOS 15 is available, as both phones support the update (as you'd imagine new iPhones would). We've been running the iOS 15 beta on the iPhone 12 without an issue — check our our iOS 15 beta review.
iPhone 12 vs. iPhone 12 mini: What's different
As much as the two phones have in common, there are some noteworthy differences between the iPhone 12 and iPhone 12 mini.
Price: The larger screen and bigger battery translate to a $100 price difference for the iPhone 12, which is currently available for $699 (or $729 if you buy the phone unlocked). The iPhone 12 mini matches the iPhone 11's old starting price of $599 ($629 for an unlocked iPhone 12 mini).
Both phones are available from Apple, where you can buy them unlocked or through a carrier. While the either the standard iPhone 12 or the mini version are among the best unlocked iPhones, you will pay an extra $30 for either unlocked model over the price of a carrier-tied phone.
We're tracking the best iPhone 12 deals, which include savings on both the 5.4- and 6.1-inch phones. Buy your phone from Apple and you can get a rebate when you trade-in your current handset — between $70 to $540 off when you trade in an iPhone 7 or newer.
Screen Size: As we've noted, the iPhone 12 features a 6.1-inch display, and the iPhone 12 mini goes small with a 5.4-inch display that will surely appeal to compact phone fans. In fact, Apple pulled off a neat trick with the iPhone 12 mini: even though it's got a bigger display than the iPhone SE Apple released a year ago, the mini is both shorter and not as wide as that latter phone.
As you might imagine, the different screens require different-sized phones to accommodate them. The 5.8 x 2.8 x 0.29-inch iPhone 12 is noticeably taller and wider than the 5.2 x 2.5 x 0.29-inch iPhone 12 mini. The iPhone 12 also outweighs the mini by more than 1 ounce.
Battery size: Here's one difference that's not visible to the naked eye — the iPhone 12 mini has a smaller battery than the iPhone 12. That's not official, as Apple doesn't announce battery sizes. But again teardowns have come to our rescue, confirming that the mini uses a 2,227 mAh power pack to the iPhone 12's 2815 mAh battery.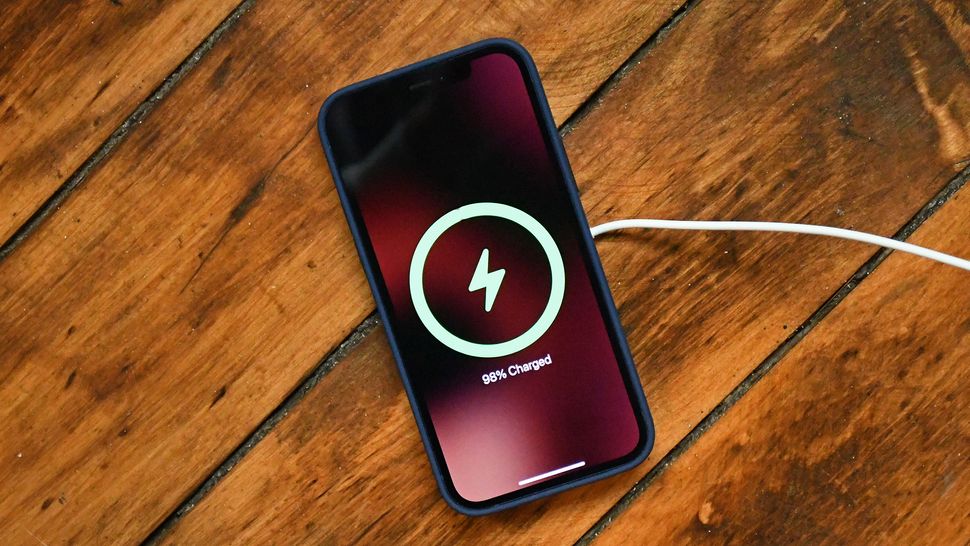 As you'd imagine, that doesn't translate to much battery life for the iPhone 12 mini. In our tests, it lasted a meager 7 hours and 28 minutes. Not only was that 2.5 hours less than the average smartphone, it also trailed the iPhone 12's time of 8 hours and 25 minutes.
We should note that battery life improves when you turn off 5G connectivity. Retesting the iPhone 12 with 5G disabled, the phone turned in a better-than-average time of nearly 10.5 hours. Of course, 5G is a major addition to all the iPhone 12 models, so we can't imagine too many people going so far as to turn off 5G connectivity for better battery life, unless they live somewhere without much 5G coverage.
MagSafe charging speed: One iPhone 12 vs. iPhone 12 mini difference outline in an Apple support document, is that the phones charge at different speeds when using the new MagSafe accessories. While MagSafe has a top speed of 15 watts, the iPhone 12 mini tops out at 12 watts.
There's no official reason given for the difference, but we suspect it has something to do with preventing the smaller phone from overheating when charging.
iPhone 12 vs. iPhone 12 mini: Which one should you get?
Our iPhone 12 vs. iPhone 12 mini face-off finds two phones so evenly matched that the device you buy will ultimately come down to your personal preference — if you even want an iPhone 12 at all at this point. After all, the iPhone 13 is arriving shortly.
But many of the same comparisons apply here. If you like phones with small screens or you want to pay the least amount possible and still walk away with all the key upgrades, the iPhone 12 mini model is for you. But fans of larger screens will find the 6.1-inch display on the iPhone 12 more to their liking.