Apple's iPad Pro could receive a major overhaul in 2024. In his latest Power On newsletter, Bloomberg's Mark Gurman claims that the rumored tablet will get its "first major update to the product since 2018."
If accurate, this would align with Gurman's previous claim that 2024 would be a big year for Apple iPads. Regarding the iPad Pro, the premium tablet will reportedly come in a new size, feature an OLED panel and pack the rumored Apple M3 chip.
Gurman said recent iPad Pro iterations like the iPad Pro 2022 have been "especially minor as of late." If what he's claiming about 2024's iPad Pro is true, it could be one of the best iPads ever. Here's what we know about the iPad Pro 2024 so far.
iPad Pro 2024: Rumored release date and price
The new iPad Pro will reportedly arrive in 2024. Apple usually hosts the software-focused WWDC in spring but it has previously unveiled hardware like the MacBook Air M2 and MacBook Air 15-inch at the event. The company could potentially announce the tablet at WWDC 2024 or perhaps wait until its fall event later that year. Gurman believes we'll get an announcement either in spring or summer 2024.
As for cost, the OLED iPad Pro could get a price hike. Granted, the iPad Pro models have never been cheap, offering a distinct specs advantage and a 120Hz display over their iPad Air and iPad siblings. But according to tech tipster Revegnus on Twitter, adding an OLED display could see the price of a 13-inch iPad Pro hit as high as $1,800.
Sibling site Laptop Mag crunched the numbers and concluded that the way Apple has a reported 50% markup for producing its tablets to selling them, we could see OLED-equipped iPad Pros jump in price by some $500 to $700. Based on that, we would see prices of $1,500 and $1,800 for the 11- and 13-inch iPad Pro models, respectively.
This is before we factor in the cost of the Apple Magic Keyboard and Apple Pencil, which currently cost $349 and $129 (respectively). That pricing would put it on par with the best laptops and best MacBooks, but for now it's important to remember that these are just rumors.
iPad Pro 2024: Design and display
The biggest design change reportedly coming to the iPad Pro is an OLED display. This specific rumor has been making the rounds for a while but it seems it will finally happen in 2024.
OLED screen technology would be a significant improvement on the current mini-LED tech in the 12.9-inch model, with Gurman saying the panels should be "crisper and brighter" and "reproduce colors more accurately." Gurman also claims the 12.9-inch iPad Pro will get bumped up to a 13-inch screen. The 11-inch tablet will reportedly not receive an increase in size. Display analyst Ross Young also made this claim back in January.
The next iPad Pro could also sport a new glass body. Gurman previously said this change would be coming to the current iPad Pro. but it could be introduced with the iPad Pro 2024. Moving to a glass back would allow you to charge the upcoming iPad Pro wirelessly but also offer a form of reverse wireless charging.
iPad Pro 2024: Rumored specs
The iPad Pro 2024 will reportedly be powered by Apple's new M3 chip. Gurman claims Apple will reveal new M3-powered MacBooks first, followed by iPads.
The M3 chip is set to be manufactured using TSMC's 3nm process, which should mean big improvements in efficiency as well as speed. The current iPad Pro is no slouch with its M2 processor, but this could be a significant advance. We'll know how big a deal this chip is once the M3 MacBooks emerge for benchmarking.
iPad Pro 2024: Magic Keyboard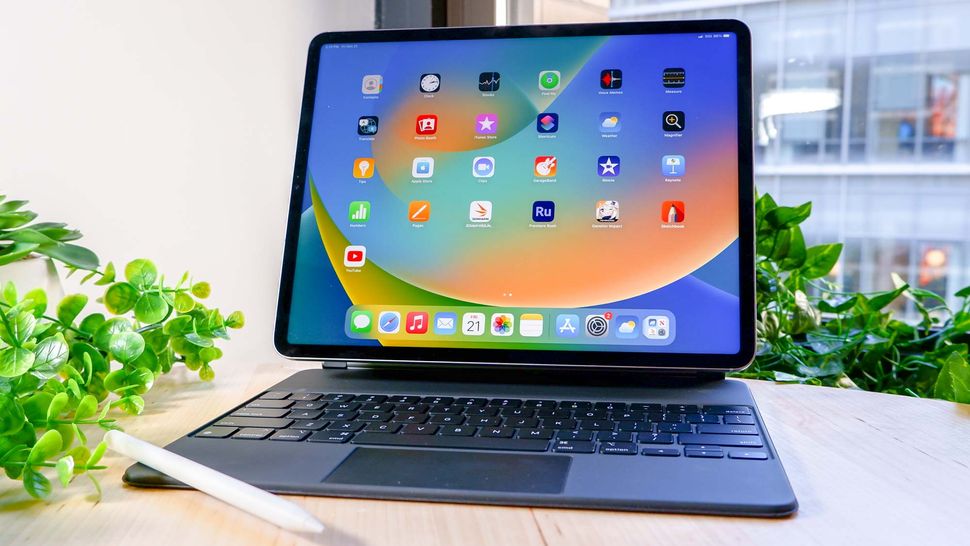 Along with the iPad Pro, the Apple Magic Keyboard will also reportedly receive an update. According to Gurman, Apple plans to revamp the peripheral to make "the iPad Pro look even more like a laptop than the current setup" while adding a "larger trackpad."
The Bloomberg reporter didn't go into more detail, but adding a larger trackpad to the iPad Pro would certainly be a welcome update. The Magic Keyboard's trackpad is fairly responsive, but its small size can be a hindrance for those of us with larger hands.
iPad Pro 2024: Outlook
If the rumors are true, the iPad Pro 2024 seems poised to be the most significant update for the iPad lineup in years. Tablets like the Samsung Galaxy Tab S9 Ultra sport gorgeous OLED panels, so it'd be great to see an iPad Pro utilize the same technology. Wireless charging would also be a welcome upgrade, as would the power the M3 chip could potentially offer.
That's all the information we have on the iPad Pro 2024 but check back to this page as we'll update it with the latest news and rumors.
More from Tom's Guide