Apple gave us our first look at iOS 17 at WWDC 2023 and the slew of new features iPhone users can expect. And none are more important than Check In, which automatically lets your family and friends know you've arrived safe and sound at your destination.
The Check In feature automatically sends your location and other important information to selected contacts. That way if you promise to text your friends or family when you get home safely but it slips your mind, your iPhone can take care of the rest. The feature also works with your wearable if you have one of the best Apple watches.
Check In is able to trace the route you're taking on your trip and send alerts to your contacts if you've been delayed, taken a detour, or don't make it to your destination at all. Your chosen contact will be able to see your device's location, battery life, or cellular signal levels depending on your settings. That way they can check the status of your journey for some peace of mind.
It's one of several iOS 17 phone upgrades designed to make your life easier. Apple has said the information shared with Check In will be encrypted. And it's all set up by the user on a per-contact basis, so you can pick and choose what information you want to automatically share with your friends and family at any given time.
How to use Check In with iOS 17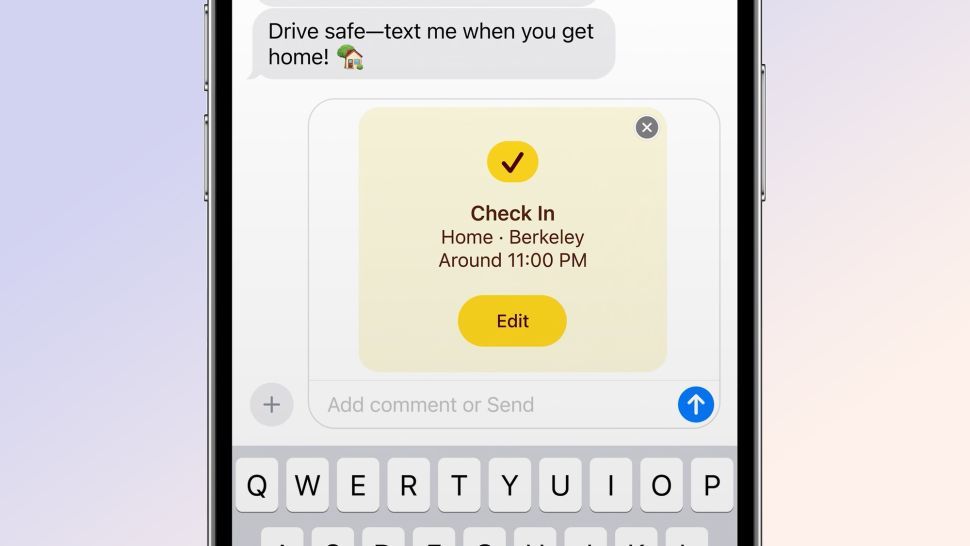 Check In is one of several big changes coming to the Messages app with iOS 17. To bring it up, head to the Messages app and tap the conversation that you want to use Check In with. Hit the + sign to the left of the iMessage chat bar, then tap More and select Check In from the list.
If it's your first time using Check In, just follow the on-screen steps to get through the rundown. To start, you'll need to decide whether to grant Limited or Full data-sharing access. Limited shares location data, battery life and network signal to your chosen contact, while Full includes all that plus information on your route and location data from when you last unlocked your iPhone or removed your Apple Watch.
You can adjust the Check In details of your message by tapping Edit. You'll have the option to toggle the time you anticipate it will take to reach your destination depending on your mode of transport. To finish the process, hit Done followed by Send. You can cancel or add extra time afterward if you decide to make a stop or two along the way. When you arrive at your destination, Check In automatically sends out a message to your chosen contact to let them know you made it there safely.
If for whatever reason you don't get there in the designated timeframe, a prompt on your iPhone will pop up asking if everything's OK. If you fail to respond to the prompt within 15 minutes, Check In will send an alert to your chosen contact that something may be wrong.
Currently, iOS 17 is only available as a developer beta, with the first public beta scheduled to roll out later this summer. If you're eager to play around with Check In or any of the other features coming with this update, here's how to download and install the iOS 17 beta right now.
More from Tom's Guide