WWDC 2023 recap: All the big announcements
Here's all the big news from WWDC 2023, including Apple's very first mixed-reality headset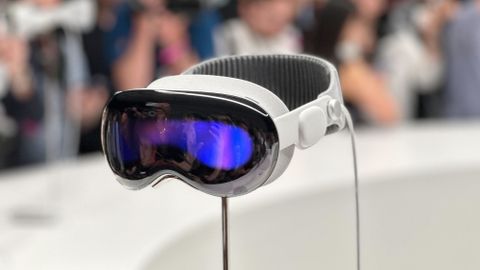 (Image: © Tom's Guide)
The WWDC 2023 keynote today (June 5) gave Apple a chance to spell out its vision for the future — both short-term in the form of software updates that will be coming later this year and longer-term as represented by its brand new mixed-reality headset.
It's that product, dubbed the Apple Vision Pro, that figures to be the most remembered announcement from today's news-packed keynote, even though the headset won't ship until next year at a if-you-have-to-ask-you-can't-afford-it price of $3,499. Apple says the Vision Pro is the first step in a new product category it's called spatial computing, and really this first headset seems like a way to get developers interested in building software for a virtual world.
Whether consumers share that interest won't be evident until the Vision Pro goes on sale in early 2024, but Apple touts it as a multipurpose device, letting you watch movies in more immersive way, have video chats with people floating right in front of you and capturing photos and videos that are more layered — all without shutting you off from the real world.
But Vision Pro was just one product shown off by Apple. The company also rolled out three new Macs, completing the transition of its computers from Intel chips to Apple silicon. And we saw previews of the software coming to iPhones, iPads, Macs, Apple Watches and Apple TV set-top boxes later this fall.
Here's a round-up of all the big WWDC 2023 announcements.
WWDC 2023: What Apple announced
Apple Vision Pro: Apple's $3,499 mixed reality headset isn't going to wind up adorning everyone's head — not at that price — but it's an intriguing entry into the world of augmented reality. While the headset allows you to immerse yourself in a virtual world to watch movies on a giant virtual screen, with the twirl of a digital crown, you can also see the world around you.
The Vision Pro runs on the new visionOS software and you control the headset with gestures as well through voice commands and eye-tracking. A separate battery pack keeps the device powered up, without weighing down the Apple Vision Pro on your head.
MacBook Air 15-inch: Apple has gone with a bigger-screen version of its popular Air laptop. The design is similar to current MacBook Air models, but with a larger 15.3-inch display. At 11.5mm, Apple says this is the thinnest 15-inch laptop available, and it weighs in at a lightweight 3.3 pounds. Starting at $1,299, the 15-inch MacBook Air comes in a choice of four finishes while running on an M2 chip.
Mac Studio: The second edition of this desktop has been upgraded to run on your choice of an M2 Max or M2 Ultra chip. The latter is a new member of the M2 family, powered by 24 CPU cores and up to 76 GPU cores. HDMI connectivity is also improved on the Mac Studio, which keeps the original's $1,999 starting price.
Mac Pro: The Mac Pro desktop is the last Mac to get Apple silicon, completing Apple's transition away from Intel chips. It runs on the M2 Ultra chip and features more connectivity — there are eight built-in Thunderbolt ports, doubling the amount on the old Mac Pro. Apple's desktop also has six open expansion slots. The Mac Pro's starting price is $6,999.
iOS 17: This year's iPhone software update isn't as extensive as what we've seen in recent years, but there are still some noteworthy changes in iOS 17. There's a new Journal app that prompts you to record your observations and feelings, while a Standby feature turns your iPhone into a smart screen. The Phone, Message and FaceTime apps also see notable upgrades, while the Health app adds a focus on mental health.
iPadOS 17: Those same features you see in iOS 17 are also making their way to the iPad, which is adopting some of the best elements of iOS 16 for Apple's tablets. With iPadOS 17, you'll be able to customize your lock screen and add widgets. Even better, the widgets are interactive. The Health app is coming to the iPad as well, and the Notes app is gaining the ability to edit PDFs.
macOS Sonoma: We now know the official name for macOS 14. We also know the updated Mac software will let you drag widgets out of the notification center. In addition, video effects are coming to FaceTime, user profiles are coming to Safari and a Game Mode should improve the Mac gaming experience.
watchOS 10: The Apple Watch software is redesigning how you interact with the watch via widgets. Turn the watch's digital crown, and you'll get a smart stack of widgets showing things like activity, weather, and more. A long press lets you add a widget to the stack. In addition, the Health is getting a mental health focus by letting you long your mood in the Mindfulness app.
tvOS 17: If you were expecting a minor tweak to tvOS, you were in for a surprise. The Apple TV software is adding FaceTime support that lets you move FaceTime conversations from your iPhone or iPad to the big screen. Other additions include the ability to find your remote from your phone and a new control center.
Watch the WWDC 2023 keynote
If you missed the keynote, you can go back and watch the event on YouTube.