Battlefield 2042 is coming this fall, although it'll be a little later in 2021 than we first thought as it's been delayed an extra month. The game has been revealed in full, with both a debut trailer and gameplay trailer having been shown off to give us a solid idea of what to expect from the sixth main entry into the Battlefield series.
Developer Dice is leaving the World War I and II settings behind for a near-future setting, in which it appears that stateless soldiers are battling it out in a world somewhat starved of resources and in the midst of an economic collapse.
Battlefield 2042 will be a multiplayer-only game and will be the first new Battlefield game to debut on the PS5 and Xbox Series X. But it's also coming to the PC, Xbox One and PS4.
Players eager to jump into the fray won't have long to wait either as the Battlefield 2042 Open Beta now has a confirmed launch date, and it's very soon. Those who pre-order the game will get early access to the beta as well. If you can't wait until next week for the beta, then read on for everything currently we know about Battlefield 2042.
Battlefield 2042 news (updated October 26)
Battlefield 2042 release date
Battlefield 2042 was originally set to release on October 22 on PC, PS5 and Xbox Series X, as well as the PS4 and Xbox One. However, due to the ongoing effects of the coronavirus pandemic the development team at Dice has announced the game will not be ready in time to make that date.
Instead, Battlefield 2042 will now release on November 19. This represents a delay of exactly one month, which isn't too hard to swallow all things considered. Especially when plenty of games this year have been delayed into 2022 such as Horizon: Forbidden West and Hogwarts Legacy. At least, we'll still be playing Battlefield 2042 in 2021.
Subscribers to EA Play should still get early access to the full game now on November 12, as well as early access to the open beta, though EA has no release date for that yet. Though we'd expect to receive more information imminently as the beta was originally scheduled for this month but may have also been delayed now.
Battlefield 2042 open beta
The Battlefield 2042 open beta arrived earlier this month and gave players a chance to experience the future of warfare first-hand. It offered four Specialists in the Conquest game mode on the Orbital map but has now unfortunately concluded.
Our very own Rory Mellon gave the Battlefield 2042 open beta a go, and while he reckons there's a lot of promise to the multiplayer game, he encountered a heck of a lot of bugs and glitches. This is an indication that developer DICE will need to apply a good bit of polish to the game before it's released and go on a bit of a bug hunt.
Battlefield 2042 trailer
As we draw closer to the release of Battlefield 2042, more promotional trailers are coming. But it seems like the latest one rather missed the mark. According to fans, the new live-action trailer seems to go in the opposite direction of the more gritty Battlefield 2042 tone.
There's a slapstick element to the trailer for a game that's meant to be set in a world where resources are scarce and everything is very serious. Take a look at the trailer below and let us know what you think.
A more recent Battlefield 2042 gameplay trailer showcased at EA Play Live 2021, showed off the Battlefield Portal; more on that below.
A new trailer for the currently under-wraps Hazard Mode has been scheduled for Thursday, October 14 at 11 a.m. ET. According to developer Dice this mode will offer an experience "where every bullet, every skirmish, and every decision counts." It's been speculated that this will be the game's rumored Battle Royale mode.
Battlefield 2042 setting and gameplay
In the run up to the reveal of Battlefield 2042, we'd heard a lot of rumors that it will take place in a futuristic setting.
That setting has now been confirmed in the reveal trailer, which showcased some near-future weapons, tanks, jets, as well as some wingsuit-based flying action.
And there's a robot dog that looks like a militarized version of a Boston Dynamics Spot robot.
While a lot of Battlefield 2042's action will revolve around running and gunning down enemies, and also leaping into near-future tanks, helicopters and jets, the addition of changing weather effects like massive tornadoes and sandstorms that mix up the action on a map.
On the game mechanics front, we can expect Battlefield 2042 to be an evolution of its predecessor with large multiplayer battles fought over control points and across varied maps with different structures and terrain features.
There will be no single-player campaign, unlike the last two Battlefield installments, with Battlefield 2042 focusing strictly on multiplayer gaming.
From the footage so far, it's tricky to predict if Battlefield 2042 will bring a great deal to mix-up the rather established formula of the series. But we'd like to see something done to refresh it; maybe naval battles or close-quarter battles taking place in submarines or in fortresses. The wingsuit action and the ability to zipline between buildings in urban maps (see the trailer above) looks to add a lot of verticality to the game.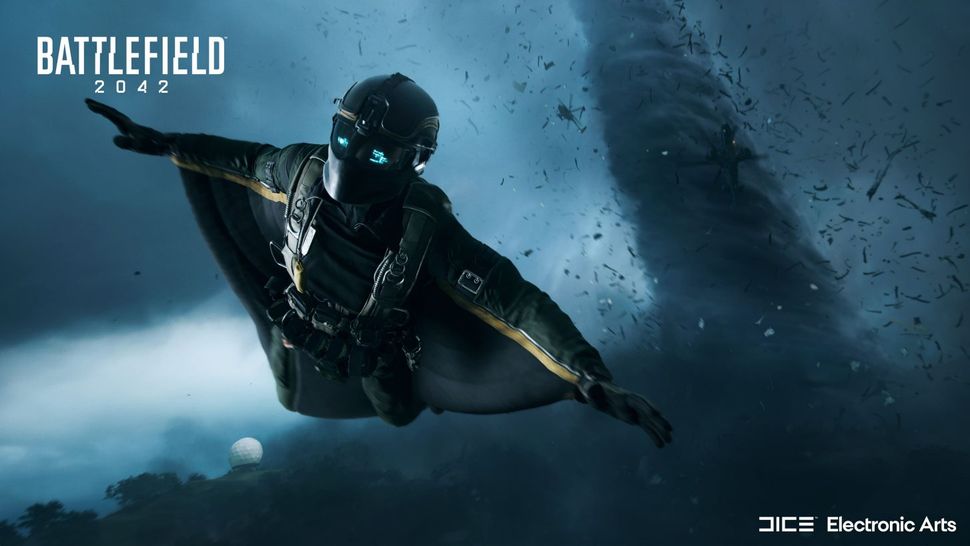 As mentioned, dynamic weather will mix up map combat, as the gameplay trailer showed off a tornadoes and sandstorms sweeping into maps to mic up the combat zone.
It's here where the grappling hooks and wingsuits of various "Specialists," aka game classes, will come into their own, allowing players to leap off buildings and swoop to the ground or gain some height to get a vantage point.
Customization of weapons looks to play a big part in Battlefield 2042. Going by the game footage this could be done on-the-fly, potentially adding particular scopes or silencers onto weapons to suit changing situations.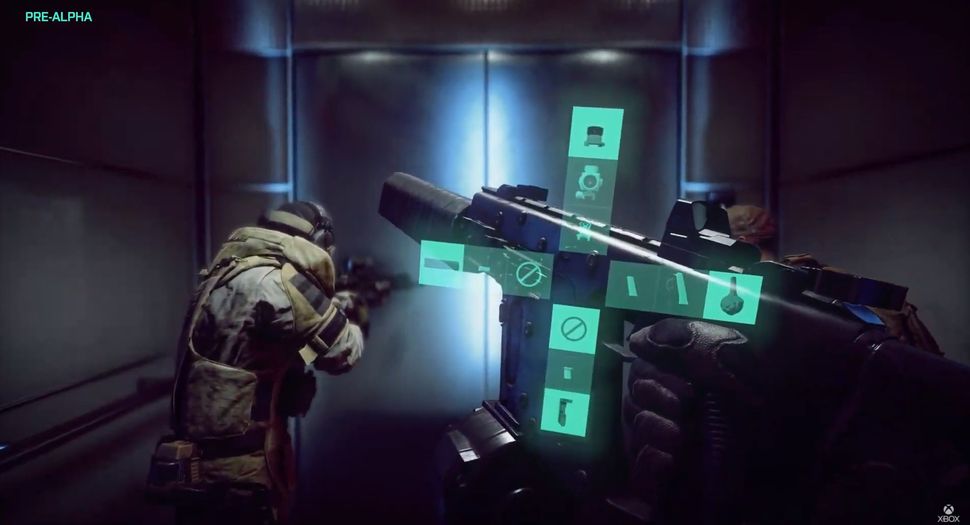 In technical terms, we'd expect Battlefield 2042 to come with a myriad of options for PC gamers. While on the PS5 and Xbox Series X side, we'd expect to see some form of ray tracing, the ability to have high-refresh-rate display modes and super-fast loading times.
In the latest earnings call, Wilson said Battlefield 2042 "takes full advantage of the power of next-generation platforms to bring massive and immersive battles to life with more players than ever."
That suggests the game will be designed with the new console hardware in mind, preventing it from being bottlenecked by older hardware, though we'd expect the PS4 and Xbox One to still run it.
We'd also like to see support for cross-platform multiplayer, a larger suite of game modes, and support for cinematic sound like Dolby Atmos. Whatever, Dice does it will need to ensure it moved the needle when it comes to the next Battlefield game.
We also selected 7 things we'd like to see from Battlefield 2042. Hopefully, DICE will meet a few of our expectations.
Battlefield 2042 multiplayer
With no single-player campaign mode, Battlefield 2042 will focus solely on multiplayer modes, of which there will be three main ones: All-out Warfare, Hazard Zone, and [Redacted].
The All-out Warfare mode will take you on 128-player battles, tohugh on the PS4 smaller maps with as 64 player count will be included in this mode, presumably to not overwhelm the console's older hardware. Hazard will let you drop into the Hazard Zone, offering "an all-new, high stakes multiplayer experience."
So far we know there will be seven multiplayer maps, spanning multiple countries, from India to Egypt, and Antarctica to Singapore.
These maps appear to range from glistening, near-future urban environments, to rusty shipyards and an agriculture technology centre. And in them map-specific environmental events will take place to mix up the action.
Classes from the previous games are gone and "Specialists" fill their place offering unique speciality and trait. The former could involve the use of a grappling hook, recon drone or health vial-firing pistol. The latter offers abilities such as the speed for assault specialists and the ability to restore a comrade's health for support specialists.
Battlefield 2042: Battlefield Portal
One of the most intriguing parts of Battlefield 2042 is the Battlefield Portal feature, which will let players "mix and match" content from previous games, including Battlefield 1942 and Battlefield 3.
That means you'll be able to take on an enemy player wielding a FG42 with some near-future assault rifle from the year 2042. That also extends to vehicles as well, so we can expect to see some odd mashups of Panzer tanks having a showdown with high-tech choppers and jets.
The maps will also blend those of near-future 20242 and the snowy and muddy lands of World War Two Europe. It looks like a rather strange and asymmetric mix of combat, especially when you see a Spitfire chase a modern-day jet. But it certainly looks like a neat way to enjoy a bevy of content from older games all dressed up in the latest graphics engine from Dice.
Battlefield 2042 cross-play for PS5 and Xbox Series X
In a recent a Q&AEA confirmed that Battlefield 2042 will allow players on PS5, Xbox Series X and PC to play together via cross-play.
This is positive news as Battlefield 2042 will be the first game in the series to offer lobbies of up to 128-players, so having cross-play could ensure lobbies always have plyers in then and ready to do battle.
Battlefield 2042 will have AI bots to fill any vacant spots, but cross-play might render this unnecessary if there are enough human player to fill out a map or server.
Battlefield 2042 PC system requirements
Battlefield 2042's system requirements have been revealed and while the minimum specs are pretty achievable, the recommended system requirements are rather demanding, to the extent you might want to find where to buy a Nvidia GeForce RTX 3060.
Minimum specs:
Recommended specs:
Battlefield 2042 story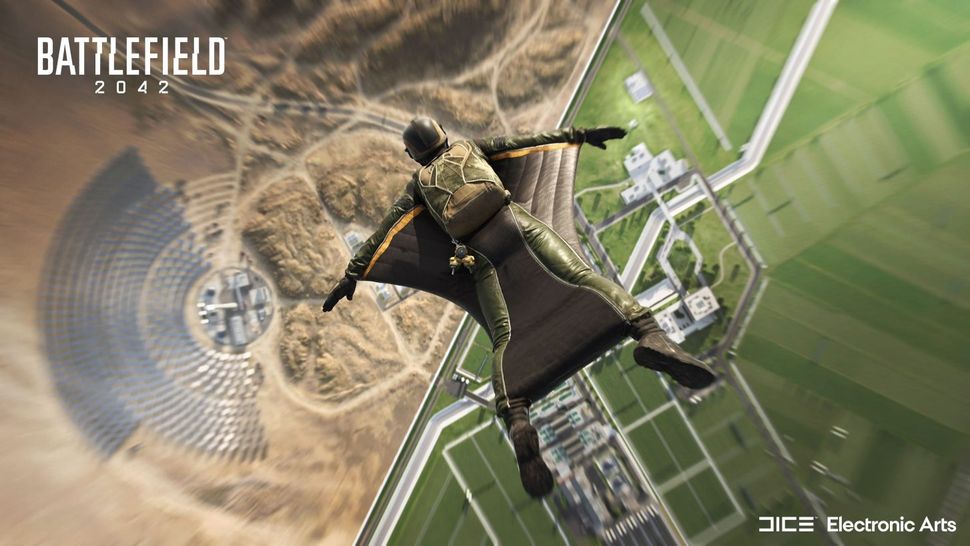 Battlefield 2042's story has been tipped to involve a conflict or tension between the U.S. and Russia, somewhat well-trodden ground, only the players will fill the boots of specialist units from other nations.
Tipster Tom Henderson claimed: "My best bet here is that Russia have captured the island to use it's resources and the USA side are infiltrating/capturing it."
While first-person shooters have cover the Cold War era, this USA versus Russia conflict could be set in the near-future with the two superpowers squaring off against each other in proxy battles and using high-tech weaponry.
The game plot is USA vs Russia, but you play as specialist units from fallen nations. So all other nations are playable in some capacity. My best bet here is that Russia have captured the island to use it's resources and the USA side are infiltrating/capturing it :) https://t.co/lBt3HJmhT9April 15, 2021
Furthermore, Henderson has claimed that players will be able to choose to fight for the USA or Russia, or both depending on their preference. Apparently, the player's in-game nationality will have no bearing on the side they have to pick.
Battlefield 2042 outlook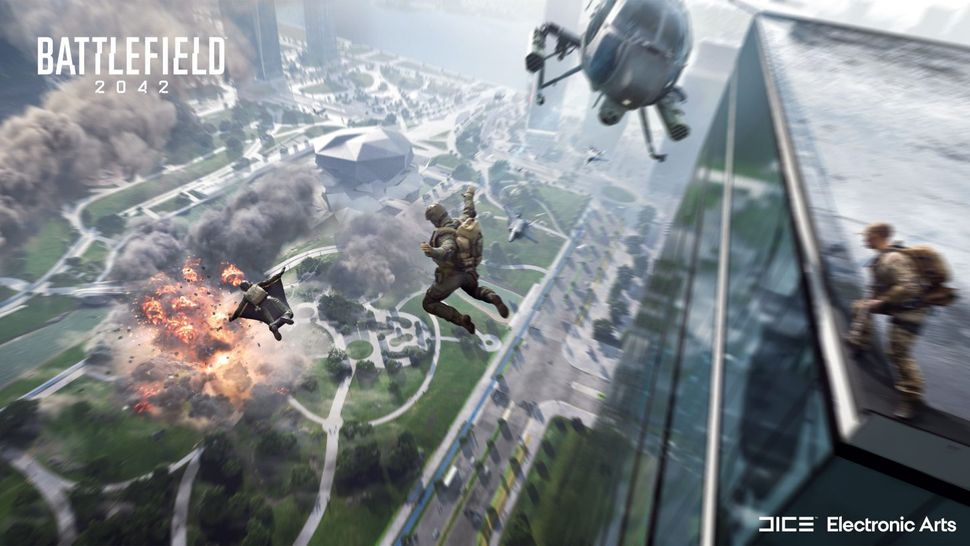 A new Battlefield game for a new generation of games console and hardware is an exciting prospect. Even if Battlefield 2042 simply iterates upon the franchise's existing formula then it should be worthy of attention.
But long-term, we're hoping Dice brings a good bit to the table, with plenty of different modes and game elements for players old and new to explore. If Dice can pull this off, it could have a game that will be with us not only in the early days of the PS5 and Xbox Series X, but right through to their twilight years.