A ruthless ruling class of popular kids is a teen movie trope that definitely doesn't begin and end with Mean Girls. But to observe the previously-homeschooled Cady (Lindsay Lohan) try to fit in with a rule-heavy Plastics high school clique (Rachel McAdams, Lacey Chabert and Amanda Seyfried) in the 2004 comedy is to witness one of the genre's finest works.
Netflix recently made Mean Girls available for streaming, and if you still love Lohan's iconic flick nearly 20 years after its release, there's a whole world of similarly delightful movies to devour on some of the best streaming services such as Hulu, Max and Paramount Plus.
Our top picks for the best movies like Mean Girls span 46 years and skirt the lines between comedy and horror with humor. (They're also pretty fetch, if we do say so ourselves).
Do Revenge (2022)
An unlikely buddy comedy focuses on a friendship of convenience between Drea (Riverdale's Camila Mendes) and her friend from camp, new student Eleanor (Stranger Things' Maya Hawke, the daughter of Uma Thurman and Ethan Hawke). Each has an ex that needs to pay for screwing them over, and they decide that there's no better solution than to secretly execute each other's retaliation.
Even though Do Revenge is young enough to be a granddaughter of Mean Girls, their comedic timing doesn't feel generations apart. Nineties music and a cameo by former teen star Sarah Michelle Gellar tie everything together.
Watch on Netflix
Jennifer's Body (2009)
Megan Fox's hilarious horror vehicle Jennifer's Body seems to be getting a lot more love in its streaming life than when it came out in theaters back in 2009. Jennifer, a high school student, doesn't seem to be herself all of a sudden. As it turns out, she now likes to feast on the flesh and blood of weak emo boys.
Mean Girls and Jennifer's Body share a key actress in Amanda Seyfried, who plays Jennifer's timid best friend Anita (nicknamed Needy). And Seyfried gets much more to work with here. You'll also want to watch through all the credits to get the real ending of the movie.
Watch on Max
Napoleon Dynamite (2004)
Jon Heder is unexpectedly magnetic as Napoleon Dynamite, a super-awkward high school student with nothing to prove and a low threshold for irritation. The odds seem insurmountable as he helps his friend Pedro (Efren Ramirez) campaign for class president against a popular girl named Summer (Haylie Duff), but anything can happen in the movies.
Released just a few months before Mean Girls, Napoleon Dynamite depicts mean boys as loathsome jocks at its Idaho high school. It feels good to see all of the nerds and underdogs be the real heroes in both of these quintessential Aughts teen movies.
Watch on Max
Clueless (1995)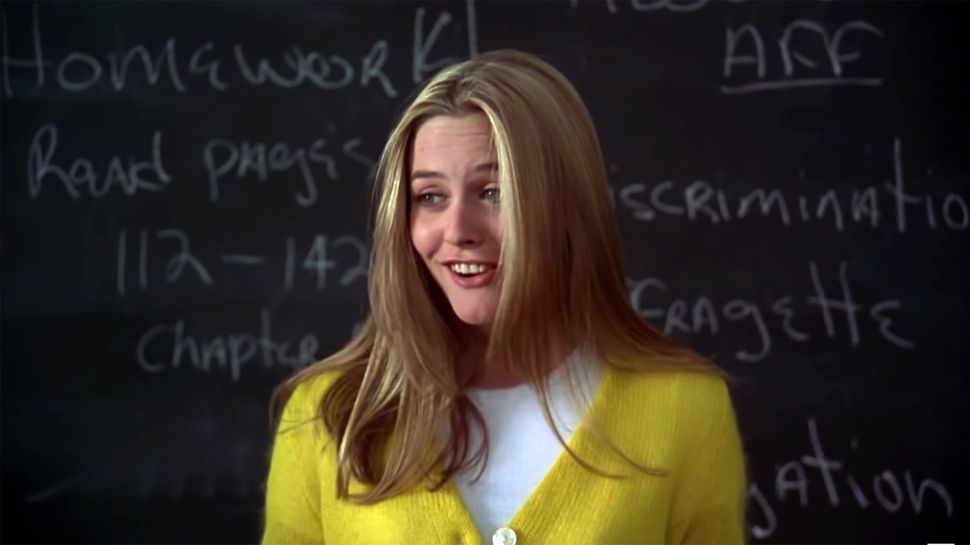 The Mean Girls' Plastics are cold and ruthless compared to their Beverly Hills predecessors in Clueless. However, you'll see some similar dynamics in how Cher (Alicia Silverstone) and Dionne (Stacey Dash) treat the new girl Tai (the late Brittany Murphy) as they make her over and try to get her a boyfriend, which is something Cher also wants for herself. Both films also share a lighthearted pace that makes them fun to watch together.
The bubblegum fashion and silly catchphrases — like Cher's "As if!" — keep Clueless in this conversation. And it's amusing to see The Mighty Mighty Bosstones perform at the school dance.
Watch on Paramount Plus
The Craft (1996)
A self-styled coven of amateur high school witches (Fairuza Balk as Nancy, Neve Campbell as Bonnie, Rachel True as Rochelle) befriend new student Sarah (Robin Tunney). Sarah can actually generate magic for good and, well, not so good purposes, which is a valuable asset for the crew.
The Craft is a humorous horror predecessor to Mean Girls, and they pair well. As with Mean Girls, it's delicious to watch The Craft's snotty popular blonde Laura (Christine Taylor) get her comeuppance — particularly after she says some incredibly racist comments to Rochelle. And the music, which includes artists like Spacehog, Siouxsie and the Banshees and Portishead, will pull you right into the Nineties.
Watch on Max
Carrie (1976)
Brian DePalma's perpetually frightening flick, which is adapted from Stephen King's debut novel, contains characters who are still the meanest girls ever: the Bates High volleyball team who mercilessly taunt their strange and intense teammate Carrie (Sissy Spacek). Raised by an abusive, evangelizing mother (Piper Laurie), who remains one of the creepiest parents ever seen on film, Carrie uses her astonishing telekinetic powers to stand up for herself at home and at school — no matter what gets burned down.
An iconic teen movie that's presently pushing 50, Carrie's creepy, lo-fi brilliance is well worth watching now. Though it is definitely a horror film and not an overt comedy, the sheer outrageousness of it may keep you laughing uncomfortably the whole time. And the stellar sound design in her epic prom revenge scene will stick with you forever.
Watch on Paramount Plus
Heathers (1988)
The mysterious death of Heather Chandler (played by the late Kim Walker), head of the popular and domineering clique of girls named Heather, sets off a string of deaths amongst the students at Westerburg High. Secret killers Veronica (Winona Ryder) and J.D. (Christian Slater) go to elaborate lengths to lead everyone to believe that the victims are taking their own lives.
Heathers hits differently in the present day than it did in the late Eighties and could use trigger warnings for rape, gay slurs and plenty of discussion of suicide both real and staged. But it's still a great teen movie that absolutely merits a comparison to Mean Girls. "It's sort of a more hopeful Heathers," Tina Fey said of Mean Girls in a 2012 IGN interview.
Watch on Tubi
More from Tom's Guide