Once you watch Black Mirror season 6, you'll probably need a break ... that won't last long. There's something addicting about this thrilling anthology series that tells a series of techy stories that play into human weaknesses. So, for everyone who's gone from Joan Is Awful all the way to Demon 79, we have a set of great shows to watch next.
Our picks range from a TV classic with a massive shadow to one of Apple TV's best shows ever. You also get a fantastic anthology series on Max that's filled with surprises, and one of the more-recent additions to our best shows on Netflix list.
One neat little accident: we picked one show from each of seven of the top streaming services. So, no matter which of the best streaming services you subscribe to, you should have at least one option a show like Black Mirror to watch next. We hope none is too similar to your own life.
Red Rose
We love Netflix's Red Rose, a Black Mirror-like series that leans into the horror side of Brooker's series. It takes place in Bolton, a town in the north west of England, during a summer when a group of friends find an app that begins to ruin their lives. It offers them "games" to play, but soon proves that consequences for failure can be real and very public.
One way Red Rose improves on Black Mirror is that its world feels a lot more real, thanks to a gritty vibe in downtrodden Bolton. Also, its big mystery of "who is behind the app?" will push you to binge the season from the edge of your sofa.
Watch it on Netflix
Severance
Possibly the biggest show that's like Black Mirror, Apple TV Plus' wild Severange is a multi-season mystery box series filled with weird tech and unanswered questions. And it all revolves around a creepy corporation with a new treatment called 'severance,' which means you get a true split between home and work life.
In a truly dark twist that felt straight out of Black Mirror, a worker is broken down into an 'innie' (the worker) and an 'outie,' (the person who never goes to work). So when 'innies' end their work day, the loop begins all over again. It's basically the darkest Groundhog Day ever.
We learn about the Lumon corporation that pioneered the severance technique through Mark (Adam Scott), and his colleagues, all of whom chose the procedure because of their personal traumas.
Watch it on Apple TV Plus
Room 104
For four seasons, audiences watched as guests checked into Room 104, and each episode delivered another surprise. An anthology series, just like Black Mirror, Mark and Jay Duplass' Room 104 explored a wide range of genres from a seemingly innocuous motel room.
So while Room 104 doesn't give the techno-dystopia vibe that Black Mirror did, the series always manages to surprise with its latest guests. Sometimes you got a comedy, while other guests sprang an unnerving horror mood. And if you don't love one guest's episode, you don't have to finish watching, you can just spy on the next guest who's checking in.
Watch it on Max
Mrs. Davis
AI, the extra-topical tech topic of the day, is at the root of Peacock's Mrs. Davis, a series that ponders "what if we accepted an artificial intelligence as our new god?" An utterly bonkers product of the creators of very dissimilar programming — Tara Hernandez (The Big Bang Theory) and Damon Lindelof (Watchmen, The Leftovers, Lost) — Mrs. Davis plays the Black Mirror card of constantly surprising its audiences.
Absurd in amazing and brain-breaking ways, Mrs. Davis is the kind of show we're happy exists. More TV should take these big risks and swings. Especially when they star Betty Gilpin (GLOW) as a cynical nun who's got an ax to grind with her AI overlords.
Watch it on Peacock
Devs
Much like Black Mirror, Devs is focused on telling a story with a beginning, middle and ending. Except its story gets a whole eight episodes to get fleshed out. At the Amaya corporation, Lily Chan (Sonoya Mizuno) works on encryption, and was dating Sergei (Karl Glusman), who just got promoted up to Amaya's secretive Devs team, where he dies in highly suspicious fashion. Now, Lily has to figure out what happened, and why — while dealing with Forest (Nick Offerman), Amaya's mysterious CEO.
Praised for its haunting nature and utter beauty — we don't compare it to Black Mirror without thinking twice — Devs feels intimate, relevant and perfectly composed. Which isn't surprising considering it comes from Alex Garland, who gave us Ex-Machina and Annihilation.
Watch it on Hulu
Upload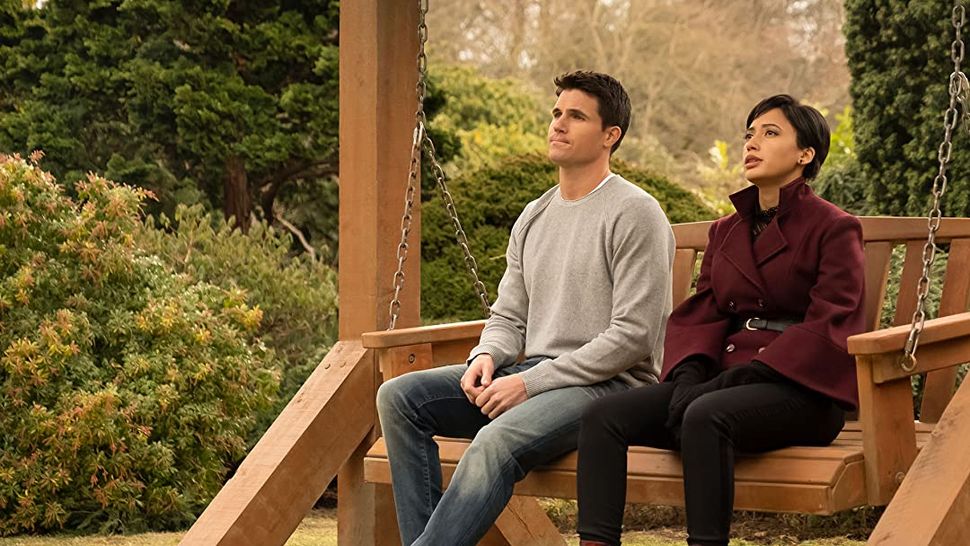 Much like Mrs. Davis, Upload mixes dystopian tech themes with humor, so you can laugh while your sense of dread rises. From Greg Daniels (The Office, Parks & Recreation), Upload proposes a future where the afterlife is virtual and digital, as people 'upload' (get it) their 'selves' into the afterlife they select.
Except, in a twist that feels straight out of Black Mirror and The Good Place, there's a whole class structure to deal with. Some heavens, you see, are fancier than others. This, and other quirks makes, afterlife hell for those like Nathan Brown (Robbie Amell).
Watch it on Prime Video
The Twilight Zone (Paramount Plus)
I can't say Charlie Brooker jacked The Twilight Zone's whole vibe for Black Mirror, but I don't know if Black Mirror could exist without this predecessor. The source of many of the most iconic moments in television, The Twilight Zone is a classic that's still worth revisiting.
In each episode, host Rod Sterling presents audiences with a scenario that's almost nice enough to be peaceful. Something, though, is certainly afoot, and it's often a a twist that will pull the rug out from beneath all.
Watch it on Paramount Plus
More from Tom's Guide