All good things must come to an end. Like all of the best streaming services, Max cycles in new movies and shows each month while phasing out others. Dozens of movies are leaving Max soon, but you still have a chance to watch them before they're gone.
Whether these departures are enough to cancel Max is based on individual preference. Fortunately, many of the best Max movies are still sticking around. We would be remiss if we didn't point out the excellent TV shows on the service as well, so check out our guide to the best Max shows.
The list of movies leaving Max has something for everyone, whether you're in the mood for a comic book antihero, alien invasions or a classic spy thriller. Services often cycle through movies at the end of the month, so we'd wager these movies are leaving at the end of July, if not sooner, as the Max app merely presents them in the "Last chance" category, and doesn't give departure dates.
Hellboy
Based on the Dark Horse Comics character of the same name, Hellboy is a super gothic, stylized superhero movie from Guillermo del Tero. And the titular superhero himself is...well, kind of a jerk.
Ron Perlman's Hellboy is a demon-turned-investigator who begrudgingly partners with the covert Bureau of Paranormal Research and Defense to track down and suppress paranormal threats to our world. His "guy in the chair" is more fish than man — the psychic, amphibious Abraham "Abe" Sapien. If his design reminds you of The Shape of Water, that's because both merman-esque characters are played by Doug Jones. Rounding out the team is Hellboy's on-again-off-again, pyrokinetic girlfriend, Liz Sherman (Selma Blair).
When a resurrected Rasputin (yes, that Rasputin) wreaks havoc and seeks to make Hellboy fulfill his destiny of triggering the apocalypse, Hellboy is forced to awaken his true powers to protect the world.
Watch it now on Max
Little Shop of Horrors
Even if you're not usually a fan of musicals, Little Shop of Horrors is a hilarious romp full of earworms that shouldn't be missed. Where else are you going to see Steve Martin as a demented dentist who looks like he just stepped out of Grease and sings about how much he loves causing people pain?
The story follows the hapless Seymour (Rick Moranis) who cooks up an ill-fated idea to help drum up business for the failing plant store he works at. He purchases an unusual plant from a Chinese flower shop during a solar eclipse, and puts it on display for customers to "ooo" and "aah" over. It works at first, and he names it Audrey II after his crush and co-worker (who's dating the aforementioned masochistic dentist).
But when Seymour accidentally pricks his finger, he discovers Audrey II needs human blood to thrive. As Audrey II grows rapidly, so does its appetite. Everything begins to spiral out of control after it learns to talk and demands Seymour commit murder to appease its hunger and impress Audrey (Ellen Greene). The songs are ridiculously catchy, and the practical effects alone are worth resisting this classic musical. No digital optical effects, green screens or CGI were used to bring Audrey II to life, which led Little Shop of Horrors to become the most expensive movie in the history of Warner Bros at the time of its release.
Watch it now on Max
Casino Royale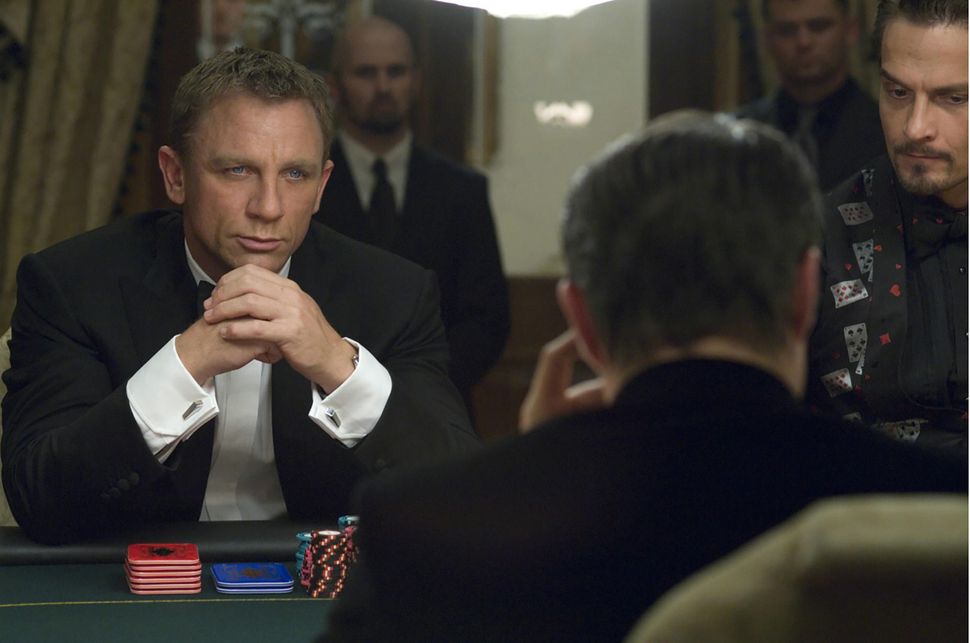 The start of Daniel Craig's 007 era is almost universally considered to be one of the best James Bond movies of all time. Not to mention one of the best action movies of the 2000s.
Casino Royale is a sort of reboot, one that sees the newly licensed-to-kill British Secret Service agent set off on one of his first missions. This time around, he faces off against a truly iconic villain in the bloody-eyed Le Chiffre (Mads Mikkelsen).
The two cross paths after Bond goes to Madagascar, but before the real fighting can begin, they must first play poker in a series of tense scenes that puts Craig and Mikkelsen's acting chops on display. There's one holdover from the previous era of Bond films — Judi Dench reprises the role of M — but for the most part, Craig's 007 boldly pushes the franchise forward.
Watch it now on Max
The Fault in Our Stars
Based on the novel of the same name, The Fault In Our Stars is a film that sucks you in right from the very first moment. It's an emotional journey that dives into the messiness and complicated emotions behind young love, grief and loss.
The story follows Hazel Grace (Shailene Woodley), a teenager dying of thyroid cancer. She meets a boy around her age named Gus (Ansel Elgort), who lost a leg to bone cancer, at a weekly cancer patient support group, and the two bond over their hobbies and agree to reach each other's favorite books.
After Hazel mentions her dream is to meet her favorite author someday, Gus contacts him and the two set off on a life-affirming journey to go visit him in Amsterdam. Unfortunately, the young couple learns the hard way why you should never meet your heroes.
Watch it now on Max
Donnie Darko
Donnie Darko is the kind-of-sci-fi cult favorite that's almost impossible to describe without spoiling the twists and turns that make it so great to begin with. It's a devastating and darkly humourous critique of the myths surrounding "normal" American life, and one of Jake Gyllenhaal's most iconic roles to date.
Set in the 1980s, it stars Gyllenhaal as the titular Donnie, a precocious young man who, after narrowly escaping death, has visions of a giant talking rabbit named Frank who predicts the world will end soon. He returns home to find that a jet engine has fallen out of the sky and landed in his bedroom.
Things only spin out of control further from there. Donnie's forced to question his understanding of reality as a web of scientific and spiritual plotlines unfold that have since spawned a million fan theories trying to decode how everything fits together.
Watch it now on Max
Kung Fu Panda
If you're looking for something a little lighter, Jack Black's first stint as Po in the original Kung Fu Panda is leaving Max soon. His performance transforms what could have been just another animated kids' movie full of talking animals into a heartwarming story of perseverance and self-acceptance that spawned an entire franchise.
The story follows Po, a clumsy and out-of-shape panda who dreams of leaving his father's noodle shop behind and becoming a kung fu master. He finally sees his chance when he hears of a kung fu tournament to determine the identity of the Dragon Warrior, the one kung fu master capable of reading a special scroll that unlocks unlimited power.
Po is chosen as the Dragon Warrior, surprising everyone and angering the kung fu warriors trained by Master Shifu (Dustin Hoffman) to protect the valley. Shifu agrees to teach him kung fu, but only if he undergoes a grueling training regimen designed to make him give up on his dreams. But when a force of evil begins to descend on the valley, the warriors must put aside their animosity to defend their home.
Watch it now on Max
War of the Worlds
Based on the H.G. Wells novel of the same name, War of the Worlds is Steven Spielberg's take on an alien invasion movie. It's generally regarded as one of the lesser movies under his belt, which is wild when you consider it still topped $600 million at the box office. Still, its dramatic set pieces, tense action scenes and killer performance from Tom Cruise make it worth revisiting.
Cruise stars as Ray Ferrier (Cruise), a divorced dockworker struggling to navigate a strained relationship with his ex and two kids. That all goes out the window when alien war machines touch down in cities around the world and start obliterating people and burning everything to the ground. Ray fights to keep his kids safe from the alien hordes as they journey to reunite with his ex in Boston.
There's just something about Spielberg's version that, even with all the adaptations of H.G. Wells' novel that we've seen to date, have earned it a cult following. While even fans of the movie will criticize its underwhelming ending, the relentless grimness and nerve-shattering battle sequences make a lasting impression despite its many shortcomings.
Watch it now on Max
Every movie leaving Max soon
50 First Dates
Belle
Black Butterfly
Casino Royale
Dear Evan Hansen
Deep Cover
Donnie Darko
Eat Pray Love
Edge of Darkness
Fighting
Gremlins
Gremlins 2: The New Batch
Hellboy
Kung Fu Panda
Little Shop of Horrors
Long Shot
Man of the Year
Milestone Generations
Mimic
National Lampoon's European Vacation
National Lampoon's Vacation
Next Day Air
OLD
Red
Red 2
Return to House of Haunted Hill
Stardust
Street Fighter: The Legend of Chun Li
The Fault In Our Stars
The Great Escape
The Nun's Story
War of the Worlds (2005)
Yesterday (2005)
More from Tom's Guide