Hulu + Live TV is the latest best cable TV alternative I've paid for this year, following my long-time run with Sling TV and my short-lived sprint with YouTube TV. So, if you're either looking to cut the cord, or thinking about switching services, I have the experience that can help you figure this out.
Right now, the field of challengers vying to succeed cable as the best way to watch live TV is crowded with more than a handful of rivals. Plus, Hulu + Live TV isn't exactly perfect. Maybe I'm a nit-picker, but there are two flaws I run into over and over again. So I thought now was a good time to clue you into the seven things you should know before signing up for Hulu + Live TV.
1. Hulu + Live TV is the least pricey expensive option
Starting at a nice price of $69 per month, or $70 to get on-demand Hulu shows (as well as other perks I'll get to below), Hulu + Live TV is a few bucks cheaper than YouTube TV, which is $73 per month. Fubo and DirecTV Stream both start at $75, but Fubo may tack on (at least) $11 for regional sports networks, if you have any in your area it can offer.
Swipe to scroll horizontally
| Header Cell - Column 0 | Starting monthly price |
| --- | --- |
| Philo | $25 |
| Sling TV | $40 |
| Hulu + Live TV | $69 |
| YouTube TV | $73 |
| DirecTV Stream | $75 |
| Fubo | $75 (before regional sports network fees) |
That said, as you'll see above, Hulu + Live TV is still at least $29 more than Sling TV and Philo is only $25, mainly because it has a lot the others lack. Philo doesn't have ESPN or any broadcast networks, while Sling's broadcast network selection is missing ABC and CBS for many (only some Sling subscribers get ABC).
2. Hulu + Live TV is also a value pick
Hulu's $70 price tier may sound like a lot, but it also includes Hulu's own great shows (you've watched The Bear, right?), as well as Disney Plus and ESPN Plus. Normally, this trio of bonuses, known as the Disney Bundle, costs $12.99 per month.
Of course, all are ad-supported. To get this bundle with no ads in your Hulu or Disney Plus shows, you'd upgrade to the $82.99 per month tier. Ad-free Hulu and Disney Plus with the ad-supported ESPN normally costs $19.99 per month.
So, the ad-supported version saves you $13 per month, and the ad-free version saves you $7 per month. None of the other live TV services offer any other similar gratis add-ons.
3. Hulu + Live TV's guide is a bit annoying
My only real (and regular) frustration with Hulu + Live TV is that it hides the TV guide under an extra click (or few). Competitors such as Sling TV and YouTube TV make it easy to find the guide, which is pretty important if you want a show that isn't one of the promoted or suggested options.
In Hulu — probably because the Live TV option is just one section in the whole Hulu app — you have to open the 'live' tab, and then click down on the remote to open the guide. If you use the Apple TV 4K (like I do), you have to click up, select the Live icon (a lightning bolt) and click "Open Live Guide." Hulu's own help site says "If you're using Apple TV, swipe up on your remote," but that didn't work in my testing.
4. You can pay to get more screens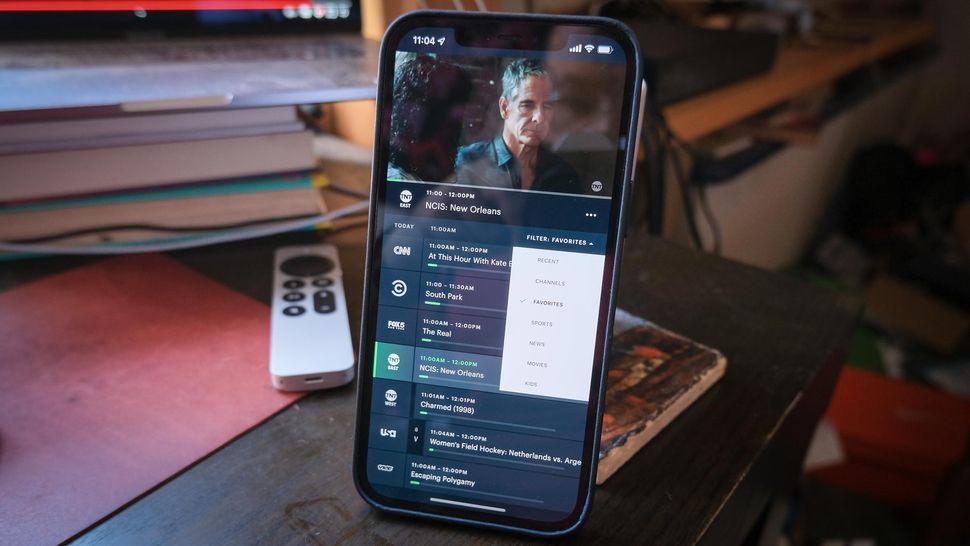 If you've got a big household, you might be curious to know that Hulu only gives you two simultaneous streams at once. It charges $10 to upgrade to unlimited devices (that are connected to your home network).
YouTube TV defaults to 3 simultaneous streams, Fubo has 10 and Sling has between 1 and 4, depending on your package.
Swipe to scroll horizontally
| Service | Screens (on home network) | Upgrade (if available) |
| --- | --- | --- |
| Hulu + Live TV | 2 | $9.99 for unlimited (on your home network) |
| YouTube TV | 3 | $9.99 for unlimited (on your home network) plus 4K streaming and offline downloads |
| Sling TV | 1 (Orange), 3 (Blue), 4 (Orange + Blue) | Row 2 - Cell 2 |
| Fubo | 10 | Row 3 - Cell 2 |
| DirecTV Stream | Unlimited at home (with exceptions), 3 on the go | Row 4 - Cell 2 |
DirecTV Stream offers unlimited simultaneous screens on your home network, with some noted exclusions. unless you're looking at Fox networks (Big Ten Network, Fox News, Fox Business, FS1, FS2, Fox Deportes and Fox local channels), Starz and the NHL Network.
5. Hulu + Live TV isn't a sports fan favorite
Compared to the best cable TV alternatives, Hulu isn't the best for sports fans. For example, Fubo offers international sports through beIN channels. YouTube TV offers both Key Plays for catching up and a $100 discount on NFL Sunday Ticket.
DirecTV Stream (in one of its pricier tiers), offers both regional sports networks (which YouTube barely has) and the Turner networks of TNT, TBS and truTV (which Fubo doesn't have). The latter are key for NBA and MLB playoffs.
For those who want to follow their local sports teams, the lack of RSNs may be crucial and annoying. My colleague Mark Spoonauer found this out last year when he missed Yankees' Aaron Judge breaking Roger Maris' home run record because he had YouTube TV.
As for what Hulu does have for live sports, it features ESPN, ESPN2, ESPN3, ESPNU, Fox Sports 1 and FS2, NBC's Golf Network, the NFL Network, The Big Ten Network, ACCN's ESPN Network, CBS Sports Network and select (but not many) local sports affiliates. In New York City, I get SNY, which is good for Mets games, but it lacks the YES Network for Yankees games.
6. Hulu + Live TV often defaults to ad-supported recordings
I love FX's What We Do In The Shadows, but I always have to think twice when I look for the latest episodes in Hulu + Live TV. I have the show checked off to be in "My Stuff," and Hulu records every episode, so I don't miss any.
So, you'd think since I have Hulu turned on to record every episode, that it would present those episodes on my home screen. No, those are the Hulu versions, with ads you can't fast-forward through.
This means you always need to go to the My Stuff section, and then look in My Recordings.
7. Hulu + Live TV's DVR is no better — or worse — than its competitors
At least, though, Hulu provides a category-competitive cloud DVR. Unlike Sling which offers a paltry 50 hours of storage and charges you for upgrading to 200, Hulu + Live TV offers an unlimited amount of storage. The only catch is that recordings expire after nine months.
Swipe to scroll horizontally
| Service | DVR capacity | Paid upgrade |
| --- | --- | --- |
| Sling | 50 hours | 200 hours costs $5 per month |
| Fubo | 1,000 hours | n/a |
| Philo | Unlimited (9 month limit) | n/a |
| YouTube TV | Unlimited (9 month limit) | n/a |
| Hulu + Live TV | Unlimited (9 month limit) | n/a |
| DirecTV Stream | Unlimited (9 month limit) | n/a |
Yes, folks, only Sling and Fubo are stuck in the pre-unlimited days, and hopefully that changes soon. Hulu wasn't the first to offer this (YouTube TV was), but it's nice to see them catch up.
Outlook: This is why I use Hulu + Live TV
I subscribe to Hulu + Live TV because it offers the bonus services for value that makes me OK with its overall price, plus the best DVR. Sure, I desperately wish Hulu would break out this Live TV service into its own app, as YouTube TV lives outside of the YouTube app.
But for now? As long as Hulu's the place I can get all the channels I need at the lowest price (even if only by a few bucks), I'm happy to have it. I don't exactly use Disney Plus and ESPN Plus a lot, but it's always good to know I can turn on nearly any Marvel movie when I want to see it.
More from Tom's Guide