iOS 17 is a surprisingly big update for the iPhone, and introduces a lot of features. Naturally, Apple didn't have time to detail them, or mention them all, on stage at WWDC 2023, so there are a few you may have missed.
Fortunately, after diggeing through the release materials for iOS 17, we've gathered together some features you should know about, even if Apple didn't focus on them initially. All of them will make your iPhone more useful or enjoyable to use, and cover all parts of the iPhone.
Make sure you read our best iOS 17 features first so you're familiar with the headlining new abilities for iPhones before diving into the more hidden stuff we've got on this list.
Visual Lookup now works in paused video
You may remember Visual Lookup from iOS 16 last year, which allowed you to analyze the subject of a photo, or tap and hold to remove it and save it as a separate image. In iOS 17, you can now do this in videos by pausing the action, giving you greater freedom to make amusing edits to or learn more about what's in shot.
Contact Posters work outside the default Phone app
Apple only showed off the customizable Contact Posters in its own Contacts and Phone apps, but this isn't the full picture of this feature. You'll be able to see these Posters in third-party communications apps, meaning if you're a keen WhatsApper or Google Voice user, for example, you should still see your carefully curated card (and those of others) when opening a contact.
Live Voicemail filters out Spam messages
Perhaps, when learning about Apple's new Live Voicemail transcription feature in iOS 17, you feared your iPhone would just bombard you with speech-to-text versions of the spam calls we all love to hate. Fortunately, Apple's a step ahead, and claims that Live Voicemail will not let spam callers through but will decline the calls instead.
FaceTime on Apple TV can use Center Stage
Your Apple TV box can now host a FaceTime call with the help of an iPhone in Continuity Camera mode. However, Apple glossed over that the iPhone supports Apple's Center Stage feature, seen on recent iPads and the Studio Display. This will automatically crop and move the video feed around to keep you centered in the shot.
StandBy doesn't require MagSafe
Apple showed off its new smart display-esque StandBy mode with an iPhone on a MagSafe stand, and mentioned that the stand would remember the user's preferred orientation of the phone between uses. That had us concerned that this fun new feature would be limited to users with Apple-approved accessories. The good news is this feature will work with the iPhone plugged in with a regular Lightning cable. That's a relief to those of us without MagSafe charging, or even MagSafe on a compatible iPhone, such as the most recent iPhone SE models.
Safari automatically locks your Private Browsing tabs
Whatever you're using them for, chances are you want to keep whatever you're looking at in Safari's Private Browsing tabs to yourself. iOS 17 is here to help you with that by offering biometric lock on your private tabs, either in the form of Touch ID or Face ID, depending on what your iPhone offers. That should keep any prying eyes away from your secrets, but also make sure you can open up your tabs and continue browsing with little downtime.
You can share passwords and passkeys from iCloud Keychain with a group of contacts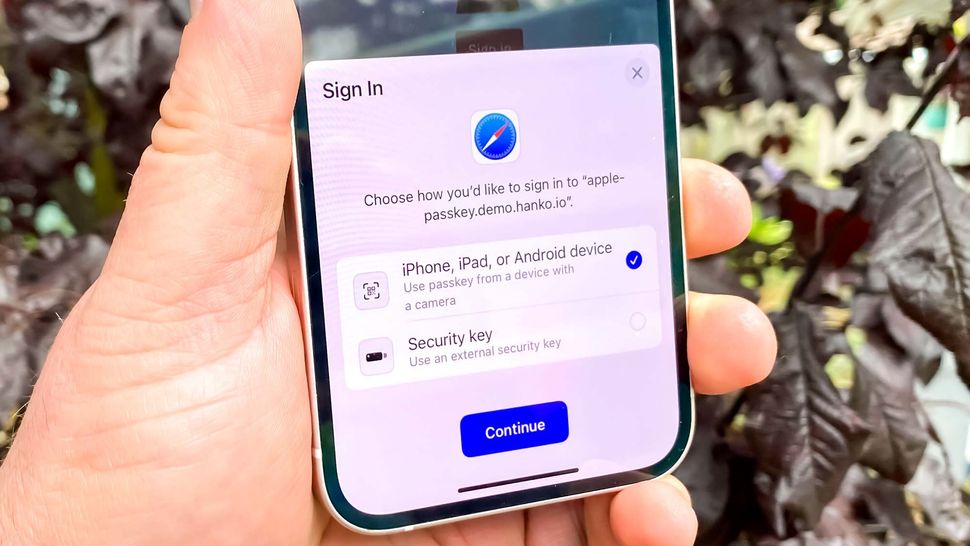 Sometimes there's no way around having to share passwords with other people. Apple's iCloud Keychain is making this easier as of iOS 17 by letting you share end-to-end encrypted credentials with a designated group of contacts, with everyone free to add and edit the shared pool of log-ins. Maybe just make sure your Netflix password isn't one of them.
AirTags and other Find My accessories can be shared with up to five other people
This is handy. Apple is now letting you share devices with Find My support, such as the AirTag tracker, with up to five others. That includes being able to activate the item's alarm noise and use Precision Finding to track it down, which sounds very convenient next time you misplace your keys.
Reminders can help organize your grocery list
Nothing stopped you from using the Reminders app to track the groceries you needed to get at your next trip to the food store, but what Apple's done now is set up a special list type designed to make this easier. After setting it up, reminder items added to the list will be sorted into groups based on their type. That way, you can grab items on similar shelves together, instead of having to run laps of the store because of the position of the items on the list.
You can track your pet and its behaviour (in theory)
Apple doesn't offer a pet tracking app in iOS 17, but it offers the ability to do so. Thanks to new APIs that allow pet body pose monitoring and subject tracking on a motorized stand, it hopefully won't be long until someone picks up what Apple's putting down and creates an app that can automatically check on what your cat or dog's up to at home.
You can set your verification messages and emails to automatically be deleted
Clean Up Automatically is a new setting, found in the Settings app's password options menu, that will remove texts and emails with 2FA codes for your accounts once they've been used. That should help keep your inboxes much tidier going forward.
More from Tom's Guide