As temperatures continue to drop, there are sure signs we're well into fall — the most obvious being the falling of leaves from our summer-thriving trees. And while this natural occurrence can bring beautiful colors to our yard, it can become a nuisance too. Each tree often holds a vast amount of leaves which, if dropped in a short space of time, can cause a pile-up (literally) in our yards. And collecting these dead leaves can be an exhausting chore, even if you've learned how to rake leaves the easy way.
Even if we're quick to clean up after our own trees, dead dry leaves can easily be blown into our yards day-after-day too, so this can feel like an endless task. But, before you go throwing your collected leaves to the trash heap, know that they have their uses around your yard. From improving soil conditions to insulating our plants, fallen leaves can do much more than clutter your lawn. We've rounded up 7 such uses here, so you can take advantage this fall.
If your lawn's looking a little bare after the summer heat, here's how to overseed your lawn in the fall and when to do it.
7 ways to use fallen leaves in your garden
Before we start, it's worth bearing in mind that, although fallen leaves make great fertilizer, they have to be collected and processed first. This means you mustn't just leave them sitting on your lawn, so you will still need to manage the abundance of leaves by frequently raking your backyard. Raking leaves is an important part of lawn care to ensure your grass stays healthy and greener for spring. If not, a thick layer of leaves can suffocate the grass blades, and deprive it from essential nutrients it needs to thrive. With that out of the way, let's dive into the ways to use fallen leaves.
1. Compost leaves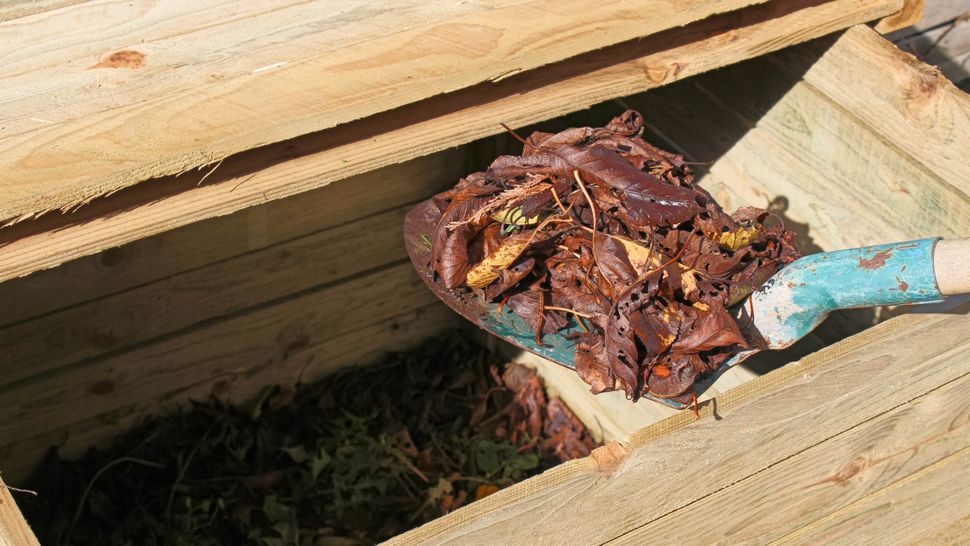 Add raked piles of leaves to the compost pile and mix with other organic matter. Typically, compost works well with a mixture of wet, green garden waste (like grass clippings) and dry brown matter (such as leaves). While leaves will decompose faster if you shred them first, you can still add whole leaves to the compost pile all at once and obtain great results (it'll just take longer for them to break down). Compost should always remain moist, and remember to turn it regularly to allow in oxygen, which aids in the decomposition. If this is done, some composts can actually be ready to use in under a month.
2. Mulch the leaves
Leaf mulch is a popular way of reusing leaves, and has a number of benefits. Not only can mulch make a great soil conditioner, but it is also able to suppress the growth of weeds around your garden. "The most effective way to do it is by using a leaf shredder or lawn mower that has a mulching attachment," advises Chris Bonnett, the founder of Gardening Express, "You can also do it manually with a rake or pitchfork but this method is much more time-consuming. Add the shredded leaves to flower beds and spread them around trees and shrubs about 2 to 3 inches thick."
3. Keep plants warm
Leaves can make a good insulator for plants and protect them from frost and severe temperatures over winter. "Just surround the plant with wire fencing and stuff it with leaves that protect the plant," advises Bonnett. Once spring arrives, you can then remove the fencing, rake up the leaves, and reuse them again for composting.
4. Make lawn feed from leaves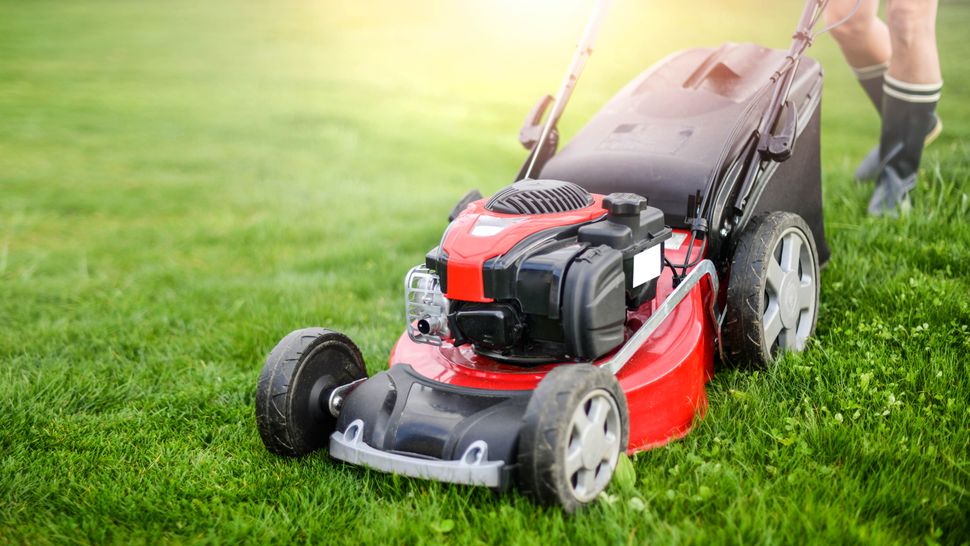 Mulched leaves can be used to feed your lawn to improve the soil quality. Simply shred your leaves with a mulching mower, such as this Sun Joe MJ403E 17-Inch 13-Amp Electric Lawn Mower/Mulcher ($173, Amazon) and push the tiny pieces down into the ground using a fork. This will ensure your grass remains healthy through the winter, right up into the spring. Just avoid leaving a thick layer of leaves on the lawn, as this can suffocate and kill the grass.
5. Make leaf mold
Leaf mold may not sound very appealing, but it can improve soil quality and structure by helping the soil retain more water. Similar to compost, leaf mold is the darker, crumbly form that usually appears when leaves are left to decompose on their own. To make leaf mold, simply dampen your leaves before storing them in a wood/wire bin or a trash bag with some air holes. If they dry out, add a little water from time to time. Full decomposition usually takes around six to 12 months, then it's ready to spread onto your soil.
6. Indoor décor
While you're not using the leaves in your garden here, we still felt this point was worth mentioning. There's plenty of ways you can use fallen leaves to decorate around your home, and considering the amazing shades of red and yellow you get, it gives you some striking colors to display.
For instance, you can create your own wall art by pressing the best looking leaves. To do this, simply press them between two layers of newspaper in a heavy book for a couple of weeks — you may need to weigh it down. Once fully dry, they're ready for display. Make sure they're not overly moist before pressing or pressed in a moist environment, otherwise they may end up rotting instead.
Alternatively, you can simply use the leaves to decorate around your home. They can make for a pleasing addition to Halloween décor, or even just sporadically placed amongst your shelves for a fall feel. If your leaves are still attached to branches, you can display them in vases too. Your imagination really is the limit here.
7. Share them out or save for later
While fallen leaves may feel like a nuisance, when you think about it you've got free fertilizer just sitting on your lawn. So why would you throw any away? If you've had your fill, continue collecting them and offer them out to your neighbors to make use of. If they don't have such a generous supply, they may take them off your hands. In some municipalities, there's free local leaf collection available too to turn it into compost or renewable energy.
Failing that, you can also store and keep hold of your leaves for use later on. Think of it as spare brown material for your compost heap. Make sure it's kept in a cool, dry space, stored in sacks or bags.
Ultimately, you should take advantage of fallen leaves through one means or another. Make sure you reap the benefits through one of the methods above.
What is the quickest way to rake leaves?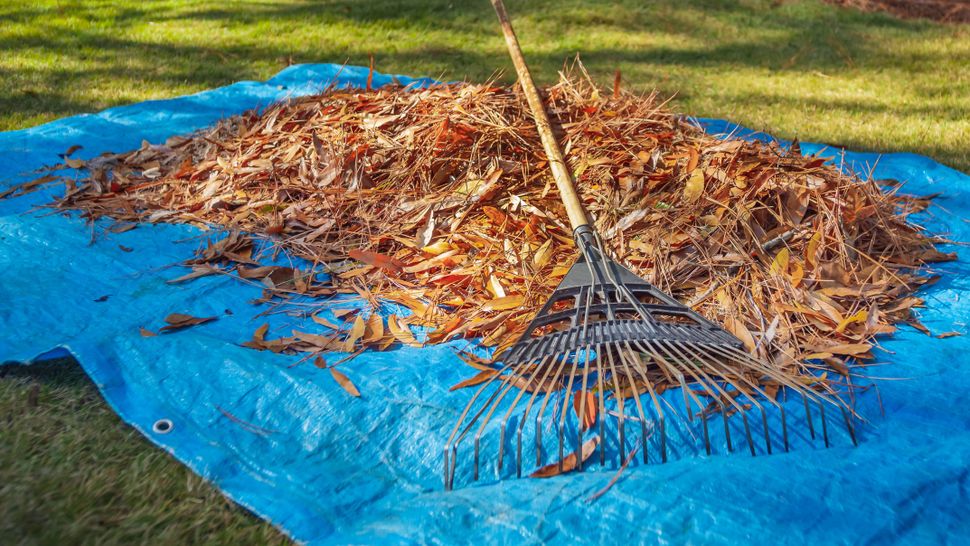 If you have an abundance of leaves covering your lawn, a quick way to gather them is to lay a large sheet of tarpaulin in your garden. Either rake or blow all of the leaves onto the sheet. Once they're in place, simply gather up the corners of the sheet, tie them up and transport it.
More from Tom's Guide