If your bag collection (or partner's) is taking over your closet, it can be tricky to keep everything tidy and in order. This is especially the case when they come in all different shapes and sizes, and often ends up in a messy pile.
Luckily, there are some clever ways to store handbags and save space. Similar to knowing how to organize your wardrobe, these tips will make your collection more tidy, and easier to find your favorites. What's more, proper storage will cut down on the clutter, and keep your handbags in tip-top shape.
So, if you want to organize your handbag collection like a pro, here are 7 clever ways to store handbags and save space.
1. Shelf dividers
If you have a pile of handbags strewn all over a closet shelf, invest in shelf dividers. These are a great way to separate and keep handbags upright in place. Not only will dividers prevent any bags from spilling into each other, and keep everything tidy, but it makes it much easier to see everything at a glance.
These are suitable for any sized shelf, and you can customize to your preference. You can easily install acrylic shelf dividers for clear partitions, such as these Hmdivor Clear Acrylic Shelf Dividers — 8 pack ($26, Amazon), to organize your collection.
2. Stylish storage baskets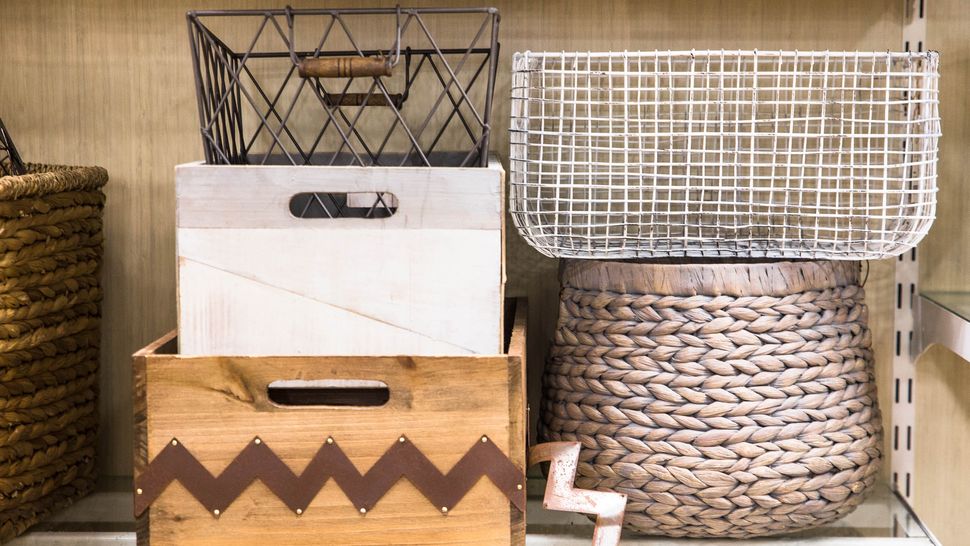 When you want to maximize on floor or closet space, organize your handbags in stylish storage crates or baskets. From woven to wire baskets, these handy organizers will keep handbags tidy, and they can be placed anywhere.
You can find various sizes and styles to accommodate your collection, like these Woven Storage Baskets For Organizing - set of 9 ($38, Amazon), which also make a nice addition to your home decor.
3. Create a handbag drawer
Alternatively, if you want to keep your collection out of sight, allocate a spare drawer in your bedroom or closet to store handbags. You can either organize items in size order, styles or even color-coordinate. Ideally, this should be a shallow-depth drawer so your pieces are easily accessible, and you don't have to delve down to find your favorites.
What's more, a dedicated drawer will make it far easier to find things, and free up valuable space.
4. Display on a bookshelf
If you lack closet space, why not display them on shelves instead? Floating shelves or cubbies are a great way to maximize on space, and add character to a room.
Whether handbags are placed on bookshelf units or lined up on an empty shelf, you can curate and display your favorite items. Not only will they be accessible to just grab-and-go, but will make an eye-catching wall feature.
5. Hang on wall hooks
Similarly, you can just opt to display your collection on wall hooks. If you have a blank canvas, simply hang your favorite items on hooks to keep them visible, and add vibrant, wall decor.
Depending on your space, simply wall-mount your hooks, and experiment with placing items at different height levels. Just ensure they're all kept neatly, and not too bunched together.
6. Acrylic boxes
If you have smaller or delicate handbags or purses, you can store them in acrylic boxes. These are another great way to display individual items, and keep them protected from dust or damage. Acrylic boxes like these Acrylic Display Case for Handbag and Purse - 3 pack ($39, Amazon), to separate bags, or group smaller coin purses, wallets or clutch bags together.
Not only do the clear boxes make it easier to see all your handbags, but will also make a professional display to rival the stores! Another good idea is to use acrylic magazine holders, which are also great for organizing smaller items.
7. Hanging organizers
Alternatively, vertical storage can free up valuable space, and hanging handbag organizers are a great option. You can invest in ones that can either hang on a rail inside your closet, or over the back of the door. These usually come with individual pockets, and side compartments to place all your handbags in an organized manner.

In addition, they're designed from woven or non-woven, breathable materials that are also anti-dust. You can find various styles online much like this LONGTEAM Hanging Purse Handbag Organizer ($18, Amazon), to display your handbags. These are ideal for protecting and keeping your collection in good condition all year round.
More from Tom's Guide