The fall usually sees a showdown between Apple's iPhone and Samsung's Galaxy Note phablet, and this fall won't be any different. Samsung has already shown off its Galaxy Note 20, and now Apple is on the clock, with both device makers trying to stake their claim for having the best phone overall.
We're still a few months away from an iPhone 12 Pro vs. Galaxy Note 20 showdown, but the arrival of the Note 20 and Note 20 Ultra on August 21 brings us another step closer. Thanks to a steady stream of iPhone 12 rumors, we've got a pretty good idea as to what Apple has planned for its upcoming releases and how they'll compete with the updated phablet Samsung just unveiled.
While some specs aren't written in stone, here's how the iPhone 12 Pro and Galaxy Note 20 are shaping up and how these productivity-boosting phones compare to one another.
iPhone 12 Pro vs. Galaxy Note 20 rumored specs
| | | | | |
| --- | --- | --- | --- | --- |
| | iiPhone 12 Pro | iPhone 12 Pro Max | Galaxy Note 20 | Galaxy Note 20 Ultra |
| Price | $999 | $1,099 | $999 | $1,299 |
| Screen size | 6.1 inches | 6.7 inches | 6.7 inches | 6.9 inches |
| CPU | A14 | A14 | Snapdragon 865 Plus | Snapdragon 865 Plus |
| RAM | 6GB | 6GB | 8GB | 12GB |
| Base model storage | 128GB | 128GB | 128GB | 128GB, 512GB |
| Rear camera | Triple cameras + LiDAR | Triple cameras + LiDAR | 12MP wide (ƒ/1.8); 64MP telephoto with 3x lossless zoom (ƒ/1.8); 12MP ultrawide (ƒ/2.2) | 108MP wide (ƒ/1.8); 12MP telephoto with 5x optical zoom (ƒ/3.0); 12MP ultrawide (ƒ/2.2) |
| Battery size | 2,775 mAh | 3,687 mAh | 4,300 mAh | 4,500 mAh |
iPhone 12 Pro vs. Galaxy Note 20 price and availability
There won't be much separating the iPhone 12 Pro and Galaxy Note 20 on price, as both feature-packed premium phones promise to test the limits of what people are willing to pay for a flagship device. While the iPhone 12 and iPhone 12 Max are expected to start at $649 and $749, respectively, according to iPhone price leaks, the iPhone 12 models will cost a bit more. The iPhone 12 Pro is likely to cost $999, while the iPhone 12 Pro Max will go for $1,099 — the same prices as their iPhone 11 counterparts. A more recent leak suggests those prices will be $50 higher.
We don't have to speculate on Galaxy Note 20 pricing — Samsung has now told us what we're going to pay. The Galaxy Note 20 starts at $999 for a model with 8GB of RAM and 128GB of storage. Since that's the only version of the Galaxy Note 20 — and since the phone has no microSD card slot — if you want more storage, you'll need to upgrade to the Galaxy Note 20 Ultra.
The Note 20 Ultra starts out at $1,299, also for a 128GB version. The 512GB Note 20 Ultra costs $1,449.
Galaxy Note 20 pre-orders start August 6, with the phone hitting retail shelves on August 21. Apple confirmed that we won't see the iPhone 12 in September, meaning the Pro models won't arrive until October or later.
iPhone 12 Pro vs. Galaxy Note 20 design and display
Don't expect different looks for either the iPhone 12 Pro or the Galaxy Note 20. The iPhone 12 Pro should retain the overall look of previous Apple phones, though rumors point to more flatter edges reminiscent of the iPhone 5. The iconic notch is sticking around, though some rumors point to it getting smaller.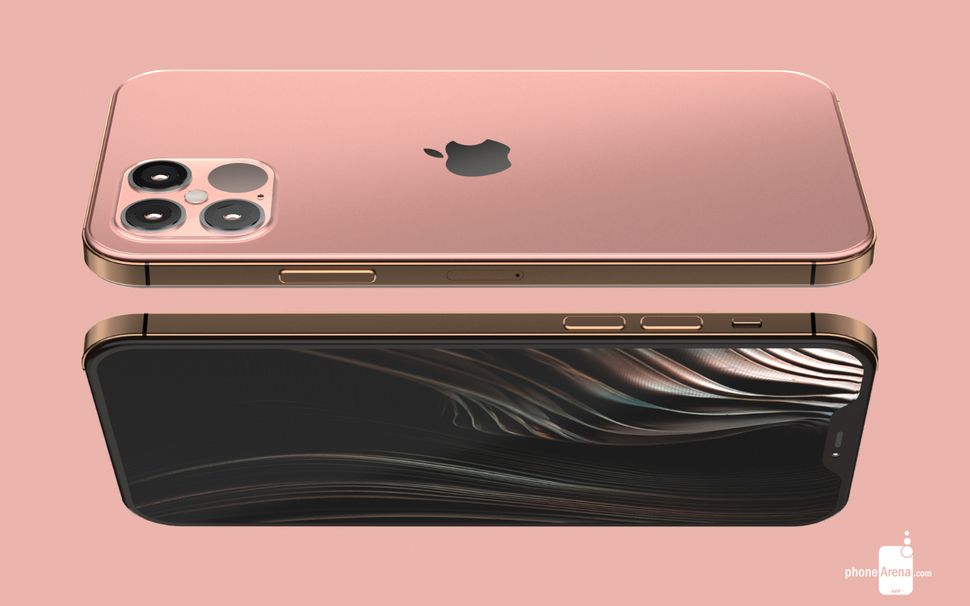 As for the Note 20, it looks a lot like the Galaxy S20 that came out earlier this year, only with a slot for the phablet's S Pen. The camera cutout on the back of Samsung's phone is noticeably boxier than what we saw on the Note 10, and while the Note 20 Ultra has a bit of a curve to its display, the Note 20 is decidedly flatter.
Instead of major design changes, the biggest thing about either phone will be their displays. And we're not just talking about screen sizes either, though both the Note 20 (6.7 inches) and Note 20 Ultra (6.9 inches) have some pretty big displays.
Premium smartphones have been moving toward faster refresh rates for their displays. Such a feature makes for smoother scrolling and more immersive games (at least on games that support faster refresh rates.) While the Galaxy Note 20 features a conventional 60Hz refresh rate, the Note 20 Ultra doubles that to 120Hz.
Even more significantly, the Note 20 Ultra's faster panel changes its refresh rate dynamically, depending on what you use the phone for. This approach could save battery life, which was a big problem with the S20 phones.
The iPhone Pro models could adopt a faster refresh rate, too, though experts doubt whether Apple will be able to use LTPO technology on this year's phone. If that's exclusive to the Note 20, it could give Samsung a big edge. A recent rumor suggests that the iPhone 12 won't have a fast refresh rate, though it's unclear if that's referring to the Pro models as well.
As for screen sizes themselves, the iPhone 12 Pro models are expected to feature larger displays than the 5.8- and 6.5-inch OLED panels on the current iPhones. The iPhone 12 Pro should have a 6.1-inch display while the iPhone 12 Pro Max could come in at 6.7 inches. As noted, the Galaxy Note 20 screens are bigger than what we've seen before, with the Note 20 Ultra featuring one of the biggest displays on a Samsung phone (at least, for one that doesn't fold open).
iPhone 12 Pro vs. Galaxy Note 20 cameras
Displays may be a new battleground in the iPhone-Galaxy Note showdown, but cameras remain an important way for phones to stand out from another. And this year, the iPhone 12 Pro is likely to bring another lens to the fight.
Last year, Apple went with three cameras on its Pro iPhones — a main shooter augmented by telephoto and ultra wide angle lenses. Those optics are likely to return in the iPhone 12 Pro, with Apple adding a LiDAR sensor similar to the one it introduced on the iPad Pro earlier this year. The sensor is designed to accurately judge the distance between your phone and whatever it is you're shooting, which should mean better portrait shots from the iPhone 12 Pro. But the LiDAR sensor could also work with augmented reality apps to overlay images on the iPhone 12 screen.
The Galaxy Note 20's camera setup is familiar, especially if you remember what Samsung did with its Galaxy S20 series. The Note 20 Ultra adapts the 108-megapixel main sensor found on the Galaxy S20 Ultra. This time around, there's also a laser autofocus sensor to combat focus problems that plagued the earlier model. A 12MP ultra wide angle camera and 12MP telephoto lens complete the camera array. The telephoto lens delivers a 5x optical zoom.
As for the Note 20, it makes do with a more modest 12MP main camera. A 64MP telephoto lens matching the one on the Galaxy S20 Plus offers a 3x lossless zoom, and there's also a 12MP ultra wide angle shooter on the Note 20.
The camera improvements Samsung made to its S20 lineup enabled those phones to push the iPhone 11 Pro and Pro Max for the title of best camera phone — a battle last year's iPhones still won. It will be interesting to see if better sensors make a difference for the Note 20 and how Apple ups its photo game with the iPhone 12.
iPhone 12 Pro vs. Galaxy Note 20 performance
This part of the contest could be over before it starts. The A13 Bionic processor that powers the current iPhone lineup already outperforms the best Android phones which feature Qualcomm's top-of-the-line Snapdragon 865 chipset. And while the Snapdragon 865 Plus inside the Note 20 models figures to close the gap a little bit, the A13 Bionic should still maintain a slight edge.
And that's before Apple releases the iPhone 12, which is all but certain to use the A14 Bionic chip. The A14 is reportedly a 5-nanometer chip, which would make it even more efficient.
A14 pic.twitter.com/kCkrCHrzmXJuly 19, 2020
Apple is reportedly planning on offering 128GB in the base model of its new phones. That would double the capacity of the iPhone 11 Pro's base model, though it still lags behind the 256GB of storage on the Galaxy Note 10.
Unfortunately, the new Note 20 models each feature 128GB in their base configuration. At least, Note 20 Ultra owners can upgrade to 512GB, though that raises the phone's price to an astronomical $1,449.
Both Apple and Samsung phones will feature 5G connectivity. That's confirmed with the Note 20 and heavily rumored for the iPhone 12. The Note 20 supports all types of 5G networks, and so should the iPhone 12 Pro, though there's a rumor the less expensive iPhone 12 models may not work with high-speed mmWave-based 5G.
iPhone 12 Pro vs. Galaxy Note 20 battery life and charging
The Galaxy Note 10 didn't exactly wow us with its battery life, with the smaller of the two models lasting 9 hours and 25 minutes on our battery test where we have phones surf the web continuously over cellular until they run out of juice. That's a below average result for a smartphone. The Note 10 Plus fared better, at 10 hours and 47 minutes, though that was still short of the best phone battery life we've seen from the devices we test.
Samsung clearly wants to improve things by boosting the size of the batteries in the Galaxy Note 20. The standard Note 20 offers a 4,300 mAh battery, a big step up from the 3,500 mAh power pack in the Note 10. The Note 20 Plus uses a 4,500 mAh battery.
Apple never makes much of a fuss about the battery size in its phones, and for the iPhone 11 Pro Max, it really didn't have to. That phone lasted a little less than 12 hours on our test. The iPhone 11 Pro lasted 10.5 hours, in part because of its smaller capacity battery. We'd hope for similar results from the iPhone 12 Pro models, though perhaps the larger iPhone 12 Pro will be able to accommodate a bigger battery than the 5.8-inch iPhone 11 Pro.
We're eager to see compare charging speeds for the Galaxy Note 20 and iPhone 12 Pro. Samsung has set the bar by claiming the Note 20 will get a 50% charge in 30 minutes; we'll see what the iPhone 12 Pro delivers, though rumors suggest the phone may not ship with a charger.
iPhone 12 Pro vs. Galaxy Note 20 software and special features
When the iPhone 12 Pro debuts, Apple's new phones will appear with iOS 14 pre-installed. That's the newest version of Apple's mobile operating system, which is already available as a public beta. Our iOS 14 hands-on found plenty of improvements, but iPhone 12-specific changes — like features that take advantage of the Pro models' LiDAR sensor — may not emerge until later.
The Galaxy Note 20 ships with Android 10, the same software found on this spring's Galaxy S20 Plus. Android 11, an update to that mobile OS, is currently in the works, but if history is any guide, that won't land on the new Notes until late in the year, if not early 2021.
There's a possibility Touch ID returns to this year's iPhone 12 Pro models, with analysts forecasting that Apple is going to use displays with integrated touch sensors. If so, that would match the in-display fingerprint sensor included with the Galaxy Note 10 and returning with this year's Note 20.
The Note 20 retains a big edge over the iPhone in one key area — it's still got the S Pen, the powerful stylus that Samsung includes with its tablet. In recent years, Samsung has expanded the feature set for the S Pen, adding Bluetooth connectivity and expanded transcription capabilities.
The Note 20 version builds on the Air Gestures Samsung introduced last year, and also improves the pen's responsiveness. On the Note 20, latency has been cut to 26ms; the Note 20 Ultra features an imperceptible 9ms lag.
iPhone 12 Pro vs. Galaxy Note 20 outlook
A lot can happen between now and when we get the chance to lay our hands on both phones from Apple and Samsung. But right now, the iPhone 12 Pro vs. Galaxy Note 20 battle will likely be decided by which phone can deliver the more compelling display and which one can take the best pictures. Apple and Samsung are each hoping that their phone will win on both counts.