You know it, I know it. Apple products are expensive. However, that doesn't mean you can't find the good stuff from Apple without breaking the bank.
The AirPods (2nd Generation) are $99 at Amazon right now. This deal gets you a pair of wireless Apple earbuds with good sound quality and quick pairing at a super-low price. It's one of the best AirPods deals around. If this goes out of stock, Best Buy has the same price.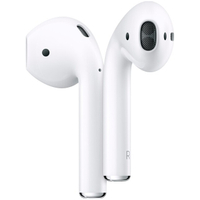 Apple AirPods (2nd Gen): was $129 now $99 @ Amazon
The AirPods 2 are very capable wireless earbuds. There's no noise cancelling, but you get solid audio performance and up to 5 hours of playback time. The standard Lightning charging case gives up to 24 hours of additional charge, and a 15-minute quick charge nets 3 hours of listening time. Hey Siri voice control is also on board. Best Buy offers the same price.
The AirPods (2nd Generation) are a couple of years old right now, and there are plenty of exciting features Apple have added to their newer wireless earbuds in the meantime. However, for many listeners, the basics are more than enough, and in that case the 2nd-Gen AirPods offer incredible value for money.
These earbuds are lightweight and comfortable to wear, with the stylish aesthetic Apple products are known for. They pair lightning-fast with other Apple devices, making them ideal for anyone already in the ecosystem.
These were also the first AirPods to add hands-free Siri integration. That means you can control your music with just your voice. If you prefer touch controls, that's an option too, and you can set each control to your preferred function.
The battery life on the 2nd-Gen AirPods is decent, too. We got just under 5 hours of listening time in our tests, and up to 24 hours with the charging case. A 15-minute quick charge gets you 3 hours of playback, which is great.
The biggest drawback to the basic AirPods is their lack of ANC. If you don't see yourself using it much, you'll probably appreciate saving more than $100 compared to the AirPods Pro 2.
Want ANC buds on the cheap? Well, we have the list of the best cheap noise-cancelling headphones you're looking for. Otherwise, we can't recommend the 2nd-Gen AirPods enough.