Recent updates
Update: as of November 6, this deal is longer running. The lowest price for this model is currently $199 at Amazon, which is still a good $50 off.
I'm seeing some great early Black Friday deals on the best AirPods, and Amazon is ahead of the competition with one of the biggest discounts I've seen on Apple's best-ever wireless earbuds.
Right now the Apple AirPods 2 with USB-C are just $189 at Amazon making them an absolute steal at this lowest-ever price. Given that they only went on sale in September, the fact that you're getting nearly a quarter off the $249 list price makes this one of the best deals around right now.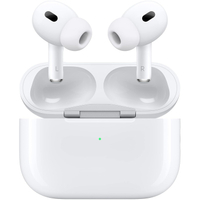 Apple AirPods Pro 2 (USB-C): was $249 now $189 @ Amazon
Apple's AirPods Pro 2 are "nearly perfect wireless earbuds" according to our review, offering world-class noise cancelation, spatial audio, great sound and 6 hours of battery life (up to 30 hours of top ups via the charging case). And now they come with convenient USB-C charging and the possibility of higher audio quality support compatible with Apple's Vision Pro. This is the best deal I've seen on one of my favorite wireless earbuds.
Price check: $199 @ Best Buy | $249 @ Walmart
The AirPods 2 are some of the best wireless earbuds you can buy, especially if you're the proud owner of an Apple iPhone. AirPods offer world-class noise canceling, spatial audio from Dolby Atmos, plenty of personalized audio profiles, and up to six hours of battery life on a single charge — increased to 30 hours with the charging case.
There's a reason we called them "nearly perfect true wireless earbuds" in our Apple AirPods 2 review.
The AirPods 2 you get with the new USB-C case aren't all that different from the old AirPods 2 — but they aren't completely identical. For starters, there's a new acoustic architecture, and in our testing we did notice a small uptick in sound quality. Will it be noticeable to casual listeners? That's debatable, but it's certainly something audiophiles will want to take advantage of.
The buds are also the only AirPod earbuds capable of lossless audio, though this feature will only be available with the upcoming Apple Vision Pro headset. So if you plan on picking up Apple's mixed reality headset next year, it's worth being prepared. The case itself is also capable of recharging faster, and has an IP55 dust and water resistance rating.
You can even recharge the AirPods Pro 2 charging case from your new iPhone 15 with USB-C, if you plan on getting any of the new iPhones.
Check out our Black Friday deals coverage for more outstanding early deals to shop.