I've seen some impressive early Black Friday deals on my personal wishlist from robot vacuums to mattresses. Yet it seems discounts on a basic coffee maker have been far and few between. Sure, java enthusiasts who want a serious bit of kit can save money by checking out the best Nespresso machine deals. But as someone on a budget who just needs a single cup of coffee to get me running in the morning these fancy machines are overkill.
That's why nabbing the Keurig K-Cup Single on sale for $49 at Amazon looks like it's shaping up to be the highlight of my day. You can effortlessly brew a cup of 6, 8, or 10-ounce coffee in under a minute with a neat pour each time.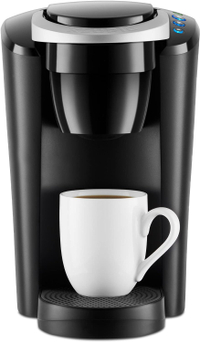 Keurig K-Compact Single-Serve K-Cup Pod Coffee Maker: was $99 now $49 @ Amazon
[50% OFF!] Those in need of a mini single-serve coffee maker can't beat the bargain price of this Keurig. Not only does it conveniently brew up a cup in under a minute, but its design is ideal for compact kitchens and small spaces.
Don't let the compact 8-inch wide frame fool you — this coffee maker has a full 36-ounce water reservoir to handle multiple brews. While you won't be making fancy espressos the basic button controls ensure your experience is tap-and-go without any hangups. You won't be waiting long for your java either since the K-Cup heats and brews simultaneously without any delay waiting on you to pick a cup size.
While I do enjoy Keurig's pods I recommend buying the Keurig My K-Cup Universal Filter ($11, Amazon). This reusable tool allows you to brew your own ground coffee. This opens the door for more gourmet blends. Let's be honest you can only have so many Krispy Kreme and Dunkin pods without getting bored.
Keurig isn't the only brand of appliances on sale for the holiday. Keep up with us at Tom's Guide as we bring you the best Black Friday deals each day for all things tech, home, and gear from major retailers like Amazon and Best Buy.