My grubby digits spend more time touching one of the best gaming mouse options on the market on a daily basis than anything else in my life. A rather sad statement, I know. Nevertheless, my go-to web-surfing peripheral is still reduced post-Prime Day, and it's a deal you definitely shouldn't miss out on.
Right now the Razer Basilisk Ultimate Wireless Gaming Mouse is on sale for $98 at Amazon. That's a nice savings when you consider it usually goes for $150. For our UK readers it's also discounted, with the Razer Basilisk Ultimate Wireless Gaming Mouse on sale for £89 at Amazon UK — reduced from its normal £150 price tag.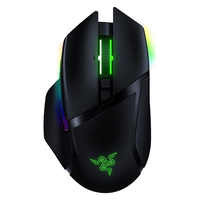 Razer Basilisk Ultimate Wireless Gaming Mouse: was $150 now $98 @ Amazon
This ultra-responsive gaming mouse can reach a DPI sensitivity of a pretty incredible 20,000. That's obviously overkill for all but the most hardcore first-person shooter fans, but crank those settings down a little and it proves to be a brilliant peripheral for daily computing tasks.
A large part of the reason I love my Razer Basilisk Ultimate is thanks to the excellent Razer Synapse 3 app. This well-designed software looks after and lets you tweak any Razer gizmos currently hooked up to your PC. Right now, the app lets me tinker with my Chroma Dock, my Basilisk mouse and my awesome Razer Nommo Pro desktop speakers.
Stats-wise, there's a lot to love about the Razer Basilisk. It has 11 programmable buttons (full disclosure: I probably only use five of them), it sports some fancy Chroma RGB lighting and it can last for a 100 hours on a single charge.
Actually, that last selling point comes with a bit of a caveat. While the Basilisk generally has Road Runner-esque stamina, you'll find it runs out of juice at an alarming rate if you don't calibrate it properly.
For my first month or so with Razer's mouse, I couldn't quite figure out why the battery was flailing like a tiger at an all-you-can-eat deer buffet. While I've found the company's claims that the Basilisk can last for around 90-100 hours on a lone charge to be generally accurate — at time of writing, I've not needed to plug it into its dock for a couple of weeks — its juice runs out mega quickly if you opt for certain Synapse settings.
While I'm exactly the sort of walking PC gamer cliché who loves RGB lighting, even I have my limits. And if you want the Razer Basilisk to go the distance, you have to tone down its lighting effects; if not disable them entirely.
Don't get me wrong, the Basilisk is a lovely looking peripheral when its various RGB effects kick into gear — I'm a particular fan of its 'Breathing' setting — but these pretty colors come at a cost. With its brightness settings whacked up to 100%, I found my Razer mouse would usually run out of juice after five or so hours.
Granted, you can still enjoy its color settings by dialling down its brightness and instructing the gadget to enter idle mode after a set number of minutes. Yet after owning the mouse for the best part of a year, I simply now switch off its RGB settings altogether.
It's a decision I don't remotely regret.
Lights out
Now, I almost never have to worry about my mouse running out of battery just as I'm finishing up writing a review on one of the best gaming laptops. And it's not like those flashy RGB effects are the only thing the Basilisk has going for it.
If you like a highly responsive mouse, there aren't many better options than this effort from Razer. If you value high DPI (dots-per-inch) settings, the Basilisk has you covered. It can be set to a quite ludicrous 20,000 DPI, which unless you're a world class eSports champ running on a diet of nothing but fumes and Red Bull during a particularly competitive match of Counter-Strike: Global Offensive, I wouldn't advise setting it that high.
Currently, I run my Razer Basilisk at around 5,500 DPI, which I find juuuust right for my editing needs across my dual screen monitor setup. As the lucky owner of the wonderful Alienware AW3423DWF (which tops out at 165Hz refresh rate), I find navigating around my ultrawide screen a joy at these current DPI settings.
And I say this as someone who never actually uses his mouse to play the best Steam games. Sacrilege, I know. Hey, I'm a controller dude. What can I say?
Whether you're obsessed by the best PC games and want to dominate the competition in Rainbow Six Siege or just want to take advantage of its highly responsive DPI sensitivity for general computing tasks, the Razer Basilisk Ultimate is an excellent mouse.
I'd definitely recommend picking it up while it's still discounted post-Prime Day. Just go easy on those RGB effects, yeah?
More from Tom's Guide