The Fitbit Sense 2 is one of our favorite smartwatches thanks to its attractive design, long battery life and a fantastic suite of health, fitness and stress-monitoring features. Best of all, it's available for two-thirds off its retail cost in this early Black Friday Deal.
Ordinarily priced at $300, you can snag a Sense 2 in either Grey/Graphite, Lunar White/Platinum or Blue Mist/Pale Gold for just shy of $200 via Amazon.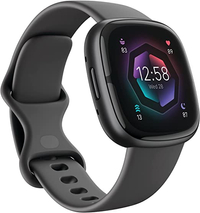 Fitbit Sense 2: was $300 now $198 @ Amazon
The Fitbit Sense 2 is a cross between a smartwatch and fitness tracker, offering high-tech stress, health and workout tracking, as well as support for useful apps like Google Maps, Wallet, Amazon Alexa and more. It's also super-comfy, lightweight and highly customizable, with plenty of interchangeable straps to choose from: Dress it up in leather or metal, or down in silicone.
My favorite features
I'm especially fond of the Fitbit Sense 2 for its ability to monitor my stress levels throughout the day. It does this using a cEDA (continuous electrodermal activity) sensor to monitor the electric properties of a user's skin. Or more simply put, it keeps tabs on how much you sweat. This info is combined with a skin temperature reading to determine a user's overall stress levels at any given time.
If Sense 2 picks up on heightened stress, it'll send an alert prompting you to take action. The device also provides a daily stress management score based on a combination of health metrics, like sleep quality, heart health and more.
Other notable smart features
The Fitbit Sense 2 also plays nicely with both Android and iOS devices and offers all the fitness tracking tech you'd expect from a top-shelf wearable, including a SPo2 (pulse oximeter) sensor for measuring blood oxygen levels, ECG (electrocardiogram) sensor for keeping tabs on overall heart health, optical heart rate sensor, GPS and more.
On the smartwatch side of things, the Sense 2 offers support for a modest selection of apps, most notably Google Maps and Wallet, Amazon Alexa, Fitbit's weather app and more. Cashless payments can also be made via Fitbit Pay. However, there is no cellular antenna. For that, you may want to consider the Apple Watch Ultra 2 or Samsung Galaxy Watch 6.
Ultimately, the Fitbit Sense 2 is a fabulous choice for folks who want high-tech health monitoring and solid smartwatch functionality, in a comfortable, lightweight and attractive package. And for $200, we suggest you don't walk, but run to score this early Black Friday deal as it likely won't last long.