If you're after an affordable coffee maker that makes a tasty cup of Joe, the best Keurig coffee makers are ideal. Not only are they popular for their results, but also ease of use — just pop a K-cup in, press a button, and in seconds, you've got your brew. What's more, these machines are often heavily discounted ahead of Black Friday, with some entry level models reaching the sub-$100 price tag. Another top feature are that many Keurig coffee makers are compact, too — a bonus for those who have small kitchens, or who don't want to clutter up their counters.
My main advice when buying a Keurig coffee maker is to lookout for the 'strong' brew function. It will slow down the brewing process, but produce a stronger, more concentrated coffee when desired.
So if you're sold on buying a Keurig coffee maker and want to grab a bargain, here are some of the best Keurig Black Friday deals you can get right now. But you'd better hurry though, as these are guaranteed not to last!
Top 5 Black Friday Keurig deals today
Keurig Black Friday deals — best sales right now
Keurig coffee maker deals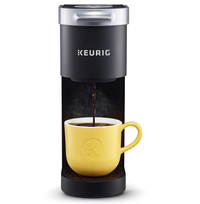 Keurig K-Mini Coffee Maker: was $99 now $49 @ Amazon
This compact Keurig coffee maker won't take up much space on the counter, but still delivers a cup of Joe quickly. It can brew 6-12 ounces from the press of a button, although keep in mind it only holds one cup of water, so you will need to refill the tank regularly. It's available in a variety of colors including rose, oasis, black and red — some are more discounted than others at the time of writing. Read our full Keurig K-Mini review.
Price check: $49 @ Keurig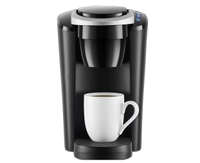 Keurig K-Compact Coffee Maker: was $99 now $59 @ Amazon
Ideal for an apartment or home office, this single-serve coffee maker can brew 6-, 8-, or 10-ounce cups of your favorite beverage in under a minute. It features a 36-ounce removable water reservoir and it utilizes Keurig's K-Cup pods.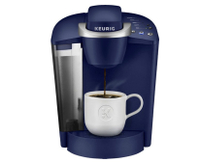 Keurig K-Classic Coffee Maker: was $149 now $79 @ Amazon
The Keurig K-Classic makes 6-, 8-, and 10-ounce cups of coffee, tea or hot chocolate. It features a 48-ounce water reservoir and has a strength control feature, which brews coffee that suits your taste. This speedy machine is Keurig's best-selling, no fuss coffee maker.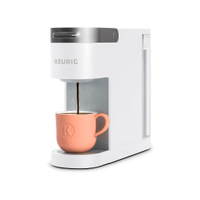 Keurig K-Slim Coffee Maker: was $129 now $99 @ Amazon
This compact coffee machine can serve up to 12 ounces of coffee at a time using one of Keurig's pods. However it's still large enough to fit a travel cup underneath if you need to make your drink to go. It's $40 off for a limited time only, so make sure to grab yours while sales are still active.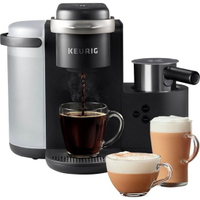 Keurig K-Café Single Serve Coffee Latte & Cappuccino Maker: was $189 now $113 @ Keurig
If you want a built-in milk frother, look no further than this deal. As the winning model from our tests, the Keurig K-Café is both easy and convenient to use, with quick brewing times. It can dispense 4 cup sizes including 6, 8, 10 and 12 oz and there's the option to brew a shot or strong coffee for a more concentrated flavor. It's quick and effective at steaming milk too, taking less than two minutes. If you want to save even more, you can opt for a Starter Kit subscription alongside, which brings the price down to $94. Check out our full Keurig K-Cafe review.
Price check: $169 @ Amazon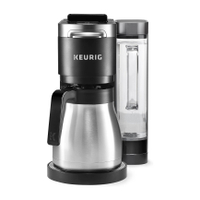 Keurig K-Duo Plus Single Serve & Carafe Coffee Maker: was $229 now $199 @ Amazon
For a versatile design, the K-Duo Plus can convert from making single serve coffee to a full-size 12-cup carafe. In fact, there's no end of brew size options here — choose from 6, 8 , 10, or 12-oz of coffee, or 6, 8, 10 or 12-cups for the carafe. The 60 oz water tank is also maneuverable to suit the space, plus there's a 'strong' brew function for increased flavor and strength when desired. At less than $200, it's a good price for the multi-functionality.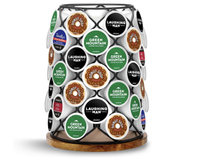 Keurig K-Cup Whirl Carousel: was $36 now $29 @ Amazon
Keep your K-Cups neat and organized with the Keurig Whirl Carousel. It can hold up to 49 pods and offers 360-degree rotation. It features a wood base with matte black metal accents. It's the perfect sidekick to any Keurig machine.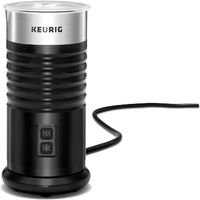 Keurig Standalone Frother: was $79 now $63 @ Amazon
Upgrade your Keurig with the Keurig Standalone Frother. The device offers two settings: hot frothing (for lattes and cappuccinos) or cold frothing (for iced lattes and cappuccinos). This Keurig Black Friday deal knocks its price to just $59.
Keurig FAQs
Where are the best Keurig Black Friday deals?
As you will see from our list above, the best Black Friday Keurig deals can be found across a range of stockists. Amazon generally has a good range of sales, although they're not always the best. For instance, right now the Keurig K-Cafe is cheaper directly from Keurig itself; on sale for $132 versus $169 at Amazon.
Best Buy also generally matches the cheapest sale prices, but again, it's not always the best offer. Walmart can sometimes list older and lesser available models at an even lower price. The Keurig K-Latte is currently $84 at Walmart, versus $89 at Best Buy — a small saving, but it can buy you some extra pods to get started. Always do your research before you buy, or take a look over our recommendations above for the best price.
Which Keurig coffee maker is the best?
The answer to this question depends on what you want from your coffee maker. For instance, someone who enjoys lattes or cappuccinos will need access to a milk frother, while someone who is tight for space needs a compact, but effective machine. Luckily, we've tested a range to find the best Keurig coffee makers, assessing on speed to brew, temperature of coffee, energy, noise and, of course, flavor, so we know which machine will suit each audience. The below table shows a quick overview of our results along with the specifications of each machine.
But, just because the machine you're considering doesn't appear on this list does not mean it won't suit you. Above all, consider the specifications and whether those line up with what you need.
Swipe to scroll horizontally
Specifications/Test results

| | | | | | | |
| --- | --- | --- | --- | --- | --- | --- |
| Model | MSRP | Cup sizes (ounces) | Tank capacity (ounce) | Average time to brew (mins/secs) | Noise produced brewing (dB) | Energy consumption (kWh) |
| K-Classic | $149 | 6, 8 or 10 | 48 | 0:35 | 66 | 130 |
| K-Mini | $89 | 6 - 12 | 8 | 2:12 | 80 | 110 |
| K-Cafe | $189 | 6, 8, 10 or 12 | 60 | 0:36 | 75 | 160 |
| K-Elite | $189 | 4, 6, 8, 10 or 12 | 75 | 0:34 | 67 | 115 |
| K-155 Office Pro | $294 | 4, 6, 8 or 10 | 90 | 0:17 | 70 | 124 |
| K-Slim | $129 | 8, 10 or 12 | 46 | 1:25 | 74 | 139 |
| K-Select | $149 | 6, 8, 10 or 12 | 52 | 0:54 | 67 | 125 |
Which specifications should you consider?
The main specifications to consider when choosing a Keurig coffee maker are cup sizes, extra functions, tank capacity, overall size and maintenance and cleaning. Make sure the main settings suit what you want from the coffee maker — bear in mind that family and guests might want alternative cup sizes. Extra settings, such as 'strong' brew or 'over ice' can give you more intense flavor or optimal settings for iced coffee if desired too. Don't forget that you need a milk frother for milky beverages.
Tank capacity is often overlooked, but it's important. If it's too small, you could find yourself refilling it daily, and if it's non-removable, this makes the task all the more fiddly. Look for a capacity that can handle a few cups at least. Next, take the measurements of the machine into account, seeing how it would sit on your counter before you buy. Make sure there's sufficient overhead clearance if required for removing the tank. You may want space to store pods nearby too. Finally, in terms of maintenance and cleaning, you want dishwasher-safe accessories to make clean up easier. Descaling indicators can also help you keep on top of this chore.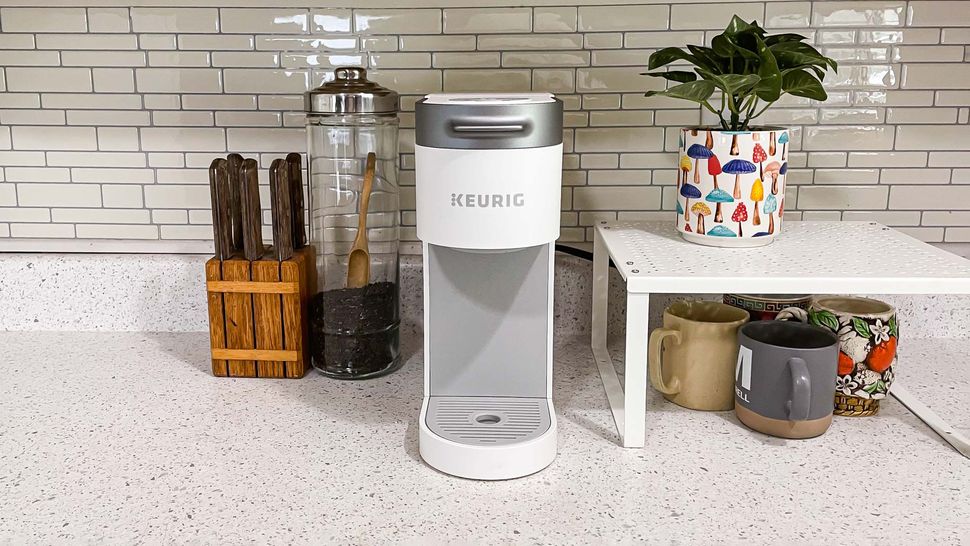 Is Nespresso better than Keurig?
Nespresso coffee machines also use pods to produce coffee, but there are some fundamental differences. For one, Nespresso coffee machines can reach a high enough temperature and pressure to brew espresso, complete with a thick layer of crema. While many Keurig machines come with 'strong' settings to produce a more focused and concentrated flavor, they can't achieve cafe-quality espresso. So if you're a fan of pure espresso, Nespresso might be the way to go.
Nespresso also provides the same convenience and speed with which it brews. The designs generally have a more premium feel too, but all of that does add to the cost. While Vertuo designs tend to go in the sales, you're still looking at an overall steeper price tag depending on the model. The pods also work out cheaper from Keurig too, so it would cost less over time. The cost of Keurig K-Cups varies depending on brand, but they work out to about 68 - 95 cents per capsule (you can get them cheaper if you buy in bulk or enter a subscription). Nespresso on the other hand costs 80 cents - $1.10 per Original pod or 98 cents - $1.45 per Vertuo pod.
I'd recommend sampling a coffee from each brand if you're unsure — a coffee aficionado will likely prefer Nespresso, while those who favor drip coffee with less intensity may side with Keurig. Overall, don't spend more than you have to. Here's our Nespresso Black Friday deals hub if you decide to go with this brand.