We'd all love to sleep on a Saatva mattress, but those handcrafted beds are expensive. If you're shopping the Black Friday mattress sales for a bed that gives you luxury hotel mattress feels for less, I highly recommend the DreamCloud Luxury Hybrid mattress. And this Black Friday you can save 40% on the DreamCloud Mattress, with a queen reduced to $799 (was $1,332).
Considering the cost of a Saatva Classic, our best mattress of the year, is $1,595 for a queen Saatva with our exclusive discount code, the DreamCloud Luxury Hybrid is a stone-cold bargain. That isn't the cheapest price I've seen on the DreamCloud though – it was 50% off in a big flash sale last month, but I doubt this current 40% discount will get bigger before Black Friday. So now is still a good time to buy.
When I commissioned a DreamCloud Mattress review, I had an inkling that it might make its way into our best hybrid mattress guide. And it did. What I wasn't prepared for was every member of the testing panel bar one to love the DreamCloud – that's never happened on a Tom's Guide review before. That speaks volumes about the high levels of pressure relief and motion isolation you get with the DreamCloud Luxury Hybrid; features you'll also get with the Saatva Classic but at double the price.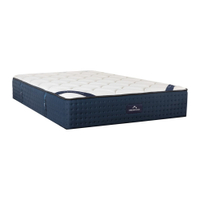 The DreamCloud Luxury Hybrid by DreamCloud
Was: from $839
Now: from $449 at DreamCloud
Saving: up to $1,480

Summary: Yes I recommend the DreamCloud Luxury Hybrid as an affordable alternative to the Saatva Classic, but there are some fundamental differences between these two mattresses. Most obviously, the Saatva comes in three firmness levels and two heights. The DreamCloud has one firmness, which we rate as being on the firmer side of medium-firm, and one height (14"). So it's half an inch shorter than the tallest Saatva Classic. So if you want a high profile bed, the DreamCloud is perfect; but I think it could also be too tall for short people. The Saatva also has more organic and natural materials, but the DreamCloud still uses toxin free foam. It's very well made for an affordable hybrid, with excellent pressure relief and motion isolation – good for stopping your bed partner's movements from waking you up. My testers also found that it sleeps cool, thanks to a large number of coils boosting airflow, and that it suits back and front sleepers the most. The biggest attraction for me is the back support, so the DreamCloud ticks off three big sleep disruptors: overheating, aches and pains, and motion from your partner. All of that, plus it looks like a luxury hotel mattress. At $799 for a queen, you can't go wrong this Black Friday.

Price history: As I mentioned earlier, you've missed the boat on DreamCloud's 50% flash sale. However this 40% saving is still higher than the 33% discount we see most months. I've been writing about mattresses for years and it's rare that I come across a hybrid bed of this high quality for such a reasonable price. Throw in a year's sleep trial, free shipping and a lifetime warranty and this is a very compelling offer.
Benefits: 365-night trial | Lifetime warranty | Free shipping
Other top Black Friday mattress deals to consider