Amazon is coming out swinging for its upcoming Prime Day sales event that's slated to begin on Tuesday, July 11 with an unbeatable deal on a 43-inch 4K Fire TV for $99 on Amazon's website.
The TV in question is the Amazon Fire TV Omni Series that was released a few years back and typically sells for $399.99 on an average day. To get it for just $99, well, that's one heck of a deal. Unfortunately, there's a small caveat.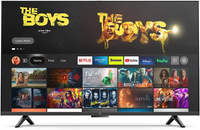 Amazon 43" Fire TV Omni: was $399 now $99 @ Amazon
Request invite! Save $300 on this 43-inch Fire TV by reserving it ahead of Amazon Prime Day. This model offers a 4K resolution, HDR support and hands-free Alexa. For movie lovers, it's got Dolby Vision support and instant access to all the streaming services you could want via the slick Fire TV interface. It also offers deep Alexa integration and can be controlled with just your voice.
You'll need an invite to purchase this TV because the deal will only be available in limited quantities. To get an invite, you need to be an Amazon Prime member, and click the request invite button next to the TV. Note that you won't be able to actually buy it until the deals start on July 11.
So, in essence, you're reserving your spot to buy a 43-inch 4K Fire TV in just over three weeks' time. That doesn't make it less of a great deal, but it does mean you'll have to wait a few weeks before donating your old flatscreen television.
Patience is a virtue
It's unfortunate that Amazon didn't just launch the deal early — though, if it had, it would surely be sold out already. Very few people pass up the opportunity to buy a new TV when it's on sale for $99. Maybe I'm just speaking from personal experience?
That said, for $99 it's a good-but-not-amazing TV. It didn't make our list of the best TVs because of its issues with very middle-of-the-road performance, but those issues aren't nearly as egregious as they are on other budget TV sets.
As far as performance data is concerned, the Omni TV was able to reproduce 96% of the Rec 709 color space in our testing and hit a peak brightness of 494 nits. We measured a very low lag time of 9.8 milliseconds which, If you don't mind the 60Hz refresh rate, makes it a great partner for the PS5 or Xbox Series X.
Movie lovers will still want to invest in one of the best soundbars, but one can be bought for well under the $300 you saved by buying the Omni TV.
Of course, more discerning cinephiles will likely be attracted to more upscale models — many of which we're hoping to see come down in price for Amazon Prime Day — but at $99 the Amazon Fire TV Omni is a great buy for the average TV watcher. Make sure to follow our Prime Day TV deals coverage for the best sales now through July.