Most Anticipated Audio Gadgets of 2017 (And When You Can Buy Them)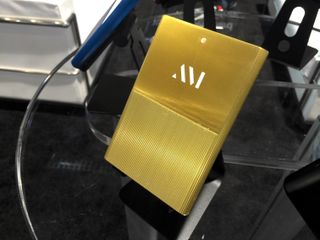 Headphones, Speakers, Gadgets and More
As we dive into 2017, we're seeing sweet noise-cancelling headphones, powerful Bluetooth speakers, excellent earbuds and other volume-blasting gadgets on the horizon that have us racing for our wallets. If you're looking for even more awe-inspiring audio accessories, we've got earphones that can filter out the sounds you'd rather not hear, a speaker that can save a dead car and a couple of high-quality headphones to make us rethink our favorites. So join us on a tour of the audio tech we're looking forward to this year, and get your calendar out, as we've got release dates so you know how much time you have to save up cash.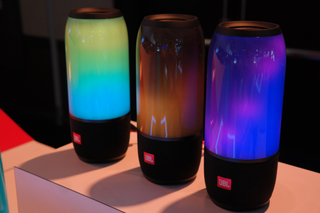 JBL Pulse 3 Bluetooth speaker ($199.95; available spring 2017)
JBL's cylindrical Pulse speakers light up based on the audio they're playing and the company's third iteration is one of the cooler-looking speakers we've seen in a while. Those familiar with the Pulse 2 may barely recognize this year's edition, as the entire speaker is now imbued with hues, not just certain sections of it. JBL's also changed the materials, moving from a mesh design to a glossy hard plastic shell that makes it resemble a futuristic lava lamp.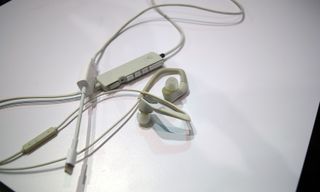 Sennheiser Ambeo Smart Surround Earphones (Price TBD; coming second half of 2017)
Here's a first: Sennheiser's Ambeo Smart Surround Earphones actually record and play back 3D audio. How do they do it? The company placed high-quality microphones inside of the earhooks, so the cords manage to stay free of any bulk. Once you connect them to smartphone that uses a Lightning or USB Type-C connector, you'll be ready to capture immersive audio and play it back.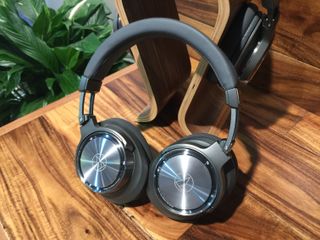 Audio Technica ATH-DSR9BT Bluetooth headphones ($549, available February 2017)
I've found a new pair of headphones to save up for: the Audio Technica ATH-DSR9BT wireless Bluetooth over-ears. The headset features the audio firm's new proprietary technology, Pure Digital Drive, which keeps the audio signal sent to the drivers in digital rather than converting to analog. These headphones put on a show for me, delivering the sweet buzzing bass of Radiohead's "Burn The Witch."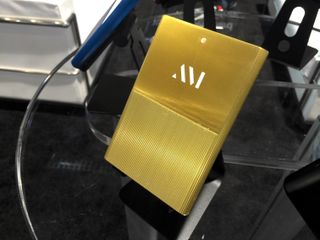 AfterMaster Pro ($169, available now)
Portable, on-the-fly audio remastering sounds too good to be true, especially at the price point of $169. But that's what you get with the AfterMaster Pro, a new gadget coming from AfterMaster Audio, a group of music industry vets who have worked on records by artists such as Tom Petty, Madonna and Katy Perry. All you do is hook up a TV or portable device's HDMI or aux ports to the Pro and press its button for sound quality to open up and magnify. We heard a sample of the AfterMaster Pro that brought life back to a Justin Timberlake concert special and made us want to call one in for further review. Available in black, blue, gold, pink, purple, and silver.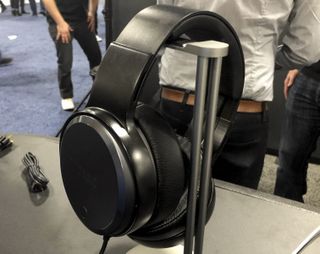 Ossic X headphones ($299 pre-orders, $499 estimated final retail, shipping in summer 2017)
The 3D audio firm Ossic allowed us to test out the latest samples of its Ossic X headset, which immerses the wearer in sound. This implementation allows for directional sound in virtual reality, but it shined the most for me when I tested it out on Frank Ocean's Thinkin Bout You. I've heard this song probably a hundred times, but never before did I feel wrapped inside of it.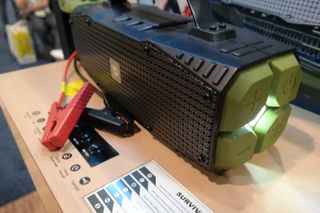 Dreamwave Audio Survivor Bluetooth speaker ($279, available now)
If I had a car, I would keep Dreamwave Audio's Survivor Bluetooth speaker inside of it. Not only does it feature a flashlight (with SOS signal mode) on one end, but it's got jumper cables on the other side. Its IPX5-certification means it's able to handle splashes. Oh, and if you're wondering about how it sounds? The Survivor packs dual full-range drivers, a pair of tweeters and a Hi-Fi digital amplifier, so your tunes will be as strong as this boombox is rugged.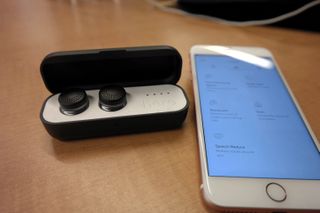 Doppler Labs Here One ($299, shipping March 2017)
Doppler Labs' Here One augmented listening earbuds - which filter the world around you - sounded almost too good to be true when I first wrote about them. But when I placed them in my ears and activating the selective listening regions, I was pleasantly surprised that the hype is to be believed. Not only can you select which direction you want to hear from, but you can also limit the sounds you hear to be from your immediate vicinity.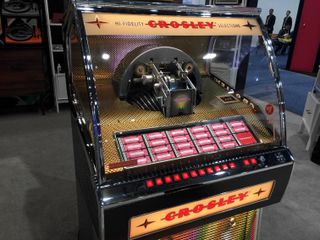 Crosley Vinyl Rocket ($11,995, available now)
If a jukebox built for vinyl records sounds like the kind of novelty project you thought wouldn't see the light of day, allow us to introduce. The Crosley Vinyl Rocket. The only machine of its kind in production, this jukebox comes stocked with 70 7-inch, 45rpm titles selected from the annual Record Store Day event. If 140 songs and a beautiful piece of retro-looking hardware doesn't sound like enough to merit such a lavish expenditure of money, don't worry. It also functions as a Bluetooth speaker.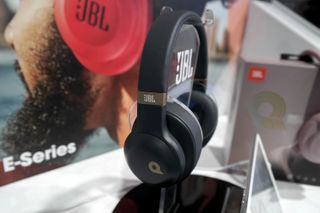 JBL E55 BT Quincy Edition Bluetooth headphones ($199.95, available May 2017)
Ever wonder what it's like to listen to music with an iconic producer? Well, ponder no more, as JBL and Quincy Jones teamed up for this over-ear Bluetooth headset that uses Jones' voice to tell you that it's on and when it's pairing. Not only that, it allows you to tune your jams to Jones' preference with a built-in preset he tuned with JBL. The Weeknd's Can't Feel My Face sounded great on these cans with rumbling bass and crisp vocals.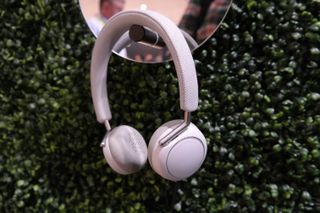 Libratone Q Adapt On Ear Bluetooth headphones ($249, available now)
We first talked about the Copenhagen, Denmark-based Libratone when it announced its Adapt In Ear Lightning headphones as an alternative to the pair Apple includes with the iPhone 7. Now, we're here to talk about the four levels of active noise cancellation in its Q Adapt On Ear headphones, which allow you to drown out as much of the cacophony around you as you're comfortable with. Further, they're the first on-ear headphones I've liked the feel of in years, as they place weight towards the center of the ear, as opposed to the lobe, where others slip.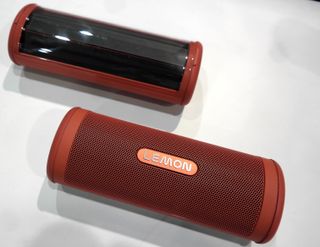 Lemon California Roll Bluetooth speaker ($249; available March 2017)
Ever since I saw the Lemon California Roll Bluetooth speaker, I've been asking myself "is it summer yet?" This solar-powered speaker seems like the perfect way to bring your favorite tunes to the beach, thanks to an IPX7 water-resistance rating that makes it can survive a serious dip in the water (as far as 1 meter down for 30 minutes). Also, don't worry about plugging it in to charge, as it gives up to 21 hours of sound after soaking up the sun for only 7 hours.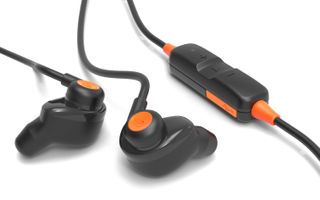 Dog & Bone Earmade Bluetooth earbuds ($159.99; available later this year)
Custom-fitted earbuds that are actually affordable continue to be a hot thing this year, by which we mean that they require you to heat them up and press them into your ear. While that might sound intimidating, the Dog & Bone Earmade Bluetooth earbuds didn't hurt my ears when a pair were made on-site for me. You just pop the molds in the heating tray (which gets pretty hot itself) wait a minute, take them out, pop the buds in and place them in your ears for a minute.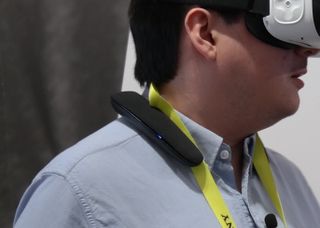 JBL Soundgear ($199, available Summer 2017)
The JBL Soundgear is a speaker you wear around your neck, and it's a lot more useful than it sounds. While I wouldn't walk around in broad daylight blasting tunes from my neck, it's a great way to create ambient noise for VR experiences. This way, you fill your environment with sound instead of by way of headphones that push against your ears and adding more weight onto your head.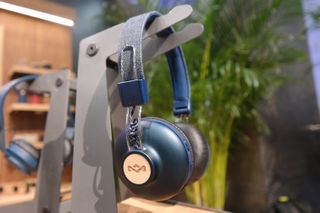 House of Marley Positive Vibration 2 Wireless headphones ($69, available now)
We always expect House of Marley to deliver audio products featuring unique materials, as the company puts a priority on eco-friendly designs. For this reason, the blue denim version of the Positive Vibration 2 Wireless headset caught our eye and fingers, with its soft Rewind fabric, which is made of recycled materials woven into a durable fabric. These Bluetooth on-ear headphones last over 10 hours on a single charge and come with a 3.5mm audio cable just in case you need it. Also available in black and silver.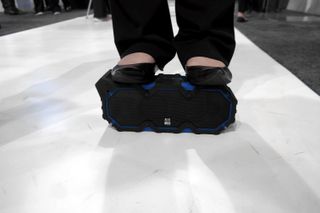 Altec Lansing Life Jacket XL Bluetooth Speaker ($199, available Summer 2017)
The first thing I was told upon being handed the rugged Life Jacket XL Bluetooth speaker was "step on it." As I paused to consider this direction from an Altec Lansing rep (pictured here standing on the speaker) I was told I could also spike it on the ground. These options come thanks to what the company calls its "everything-proof" design. Not only is it shock-proof, but its IP67 certification rating makes it water-proof and snow-proof. Oh, and it floats too. This speaker also features a 100-foot wireless range and up to 40 hours of battery life from a single charge.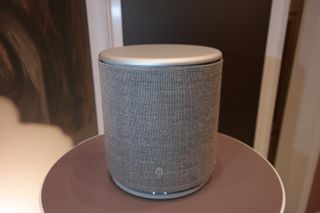 Beoplay M8 ($599, available now)
At $599, the Beoplay M8 speaker is far from cheap, but it's still the most affordable wireless speaker from this luxury audio brand from Bang & Olufsen. If you've yet to be convinced by the company's fantastic sound and quality craftsmanship, then find a B&O showroom to test this bad boy out. It may not be any bigger than a large coffee can, but its 360-degree sound impressed me at a presentation. Also, thanks to built-in Chromecast support, the M8 can fit right into existing audio setups and add sound to another room in your home.