Earlier during the Summer, Jawbone announced its UP wristband designed to promote a healthier lifestyle by keeping track of diet, sleep and exercise information. The idea was great but many people ran into problems with their wristband, prompting the company to setup its "No Questions Asked" UP wristband refund program. Luckily for anybody interested in a more reliable sportsband product, Nike just unveiled its promising Nike+ FuelBand.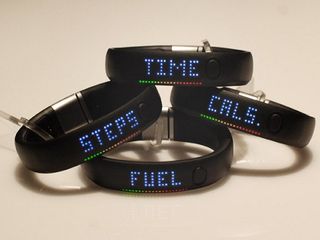 The two bands are pretty similar in their functions but the biggest difference between Jawbone's UP and Nike's FuelBand is a slick LED display that is capable of showing time, distance, calories burned and a custom metric Nike created called "NikeFuel". The FuelBand tracks a large variety of physical activities and boils them all down to a simple metric called NikeFuel.
Equipped with USB connectivity, an accelerometer, bluetooth and special tracking algorithms, the Nike FuelBand automatically syncs with your iPhone and lets you view your progress with the iOS app or the Nike+ website. The FuelBand also has a unique feature that lets you set a daily goal which changes the color of your FuelBand LED lights as you get closer to reaching it. The first batch of pre-orders already sold out for $149 and will begin shipping sometime in late February. Head on over to the Nike+ page for more information or to pre-order when more are in stock.