In this guide, we have gathered together the best fake AirPods that replicate Apple's iconic drop-stem design. Whether you like the design or not, it's a style that is admired by many and dozens of alternative models emulate the AirPods look with a version that often cost less.
Many wireless earbuds have a rounded in-ear style, but if you prefer the elongated drop-stem look, we've picked these economical alternatives. All the earbuds selected below are unlikely to beat the best Apple AirPods alternatives in terms of overall sound quality, but we know from our testing that each are worthy of consideration at the price.
Read on to find out which of these fake AirPods are the best models to undergo our rigorous review process, ranked and rated by audio experts. Don't forget, you'll find lots more info in our in-depth standalone reviews, where we cover design and comfort, features, ANC performance (where applicable), battery life, and sound quality across all kinds of media, as well as how well each model handles calls.
Just follow the link at the end of each product summary or tap the product name next to the star rating to discover everything you need to know about the best fake AirPods available to buy today.
The best fake AirPods you can buy right now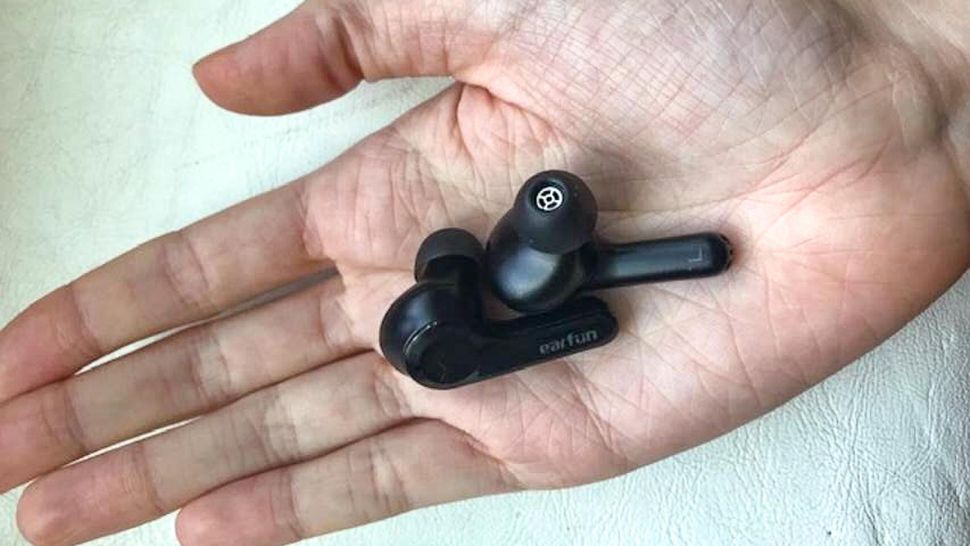 The EarFun Air have a sleek all-black design and powerful specs for a budget-friendly price. During our listening tests, we found the Air are a solid effort that's well engineered on the audio end, giving high-pitched vocals prominence on recordings, while producing rich bass depth to balance out sound. We attribute the Air's resonant output to the buds' fit, as the tips create a tight seal around the ear to keep music from leaking out and noise from seeping in. There's no ANC, but the positive sound quality experience overall make these a bargain.
You're also getting much more playtime out of these than the regular AirPods or AirPods Pro. The case is wireless charging compatible, but it's also larger and heavier than most other models. However, the Air's biggest problem is the touch controls, which proved to be unreliable in our tests.
Read the full EarFun Air review.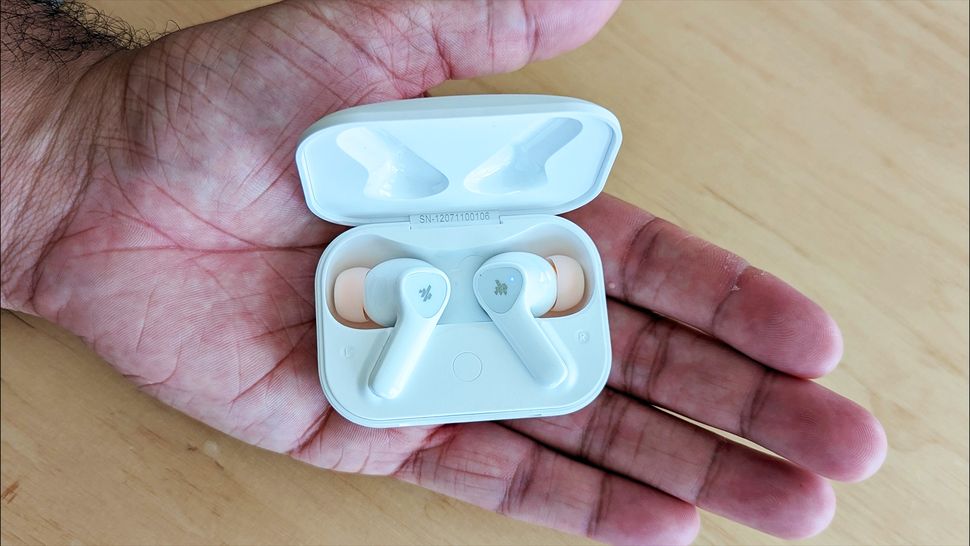 The Donner DoBuds One are one of the most affordable ANC models we've seen and a fantastic fake AirPods-style design and one of the most competitive cheap noise-cancelling earbuds market.
Any noise-cancelling earbuds that come with more playtime than the AirPods Pro (4.5 to 5 hours) are a win in our book, and the DoBuds One gave up to 6.5 hours of play with ANC on, and 8 hours with ANC off during our testing. They undercut several mid-range models by delivering superb sound and surprisingly good ANC in an affordable package. Not everything hits its mark, such as app connectivity, comfort, and the EQ, but the Donner DoBuds One are still an incredible deal for the price.
Read the full Donner DoBuds One review.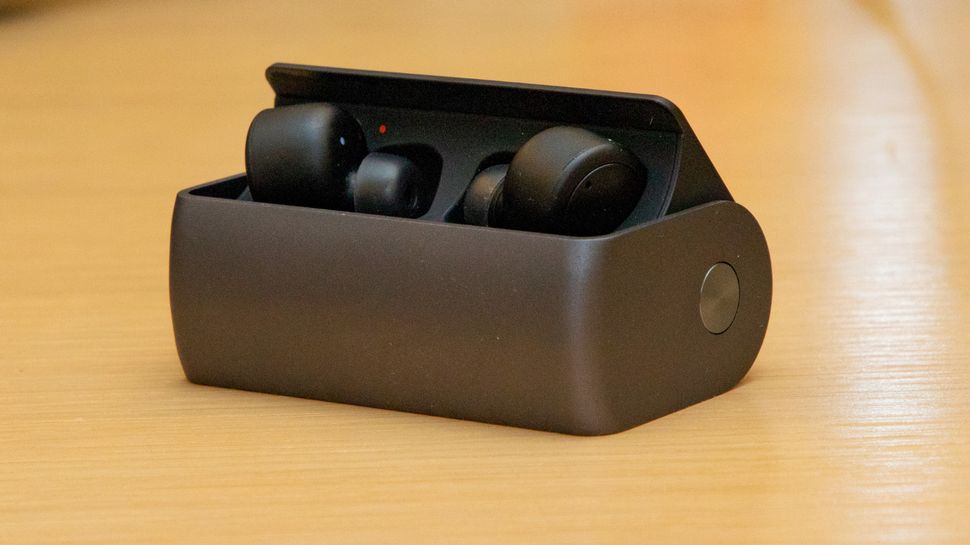 In the conversation of overlooked wireless earbuds makers, RHA is a name that often gets brought up. The Scotland-based company continues to put out solid products, specifically the True Connect. When we reviewed these in 2021, we found they achieved a fun, dynamic soundstage with emphasized lows. Playtime ran to 5 hours on a full charge during our testing, and a handsome charging case gave up to 25 hours of top ups. The premium design is covered in a soft-touch rubberized material and is IPX5 sweat- and splash-resistant. Bluetooth 5.0 is also onboard for steady wireless range: up to 33 feet.
Being an older model, the TrueConnect does not come with a companion app or extra features. In addition, using the multifunctional button can cause discomfort. Despite these flaws, the sound performance alone makes the TrueConnect worth owning, especially for around $60.
Read the full RHA TrueConnect review.
If you like Apple's drop-stem design but are looking for a style with a more modern twist, then Nothing's Ear (2) buds are for you. We genuinely like the style and the transparent design, and there's plenty of an attention to detail that you just don't see on many earbuds. From the tiny printed lettering on each stem to the clearly visible touch sensors and three microphones in each earpiece, the styling is smart. But just like the AirPods, the Ear (2) are only available in white.
They're IP54-rated making them protected from dust and resistant to sweat and moisture to the same level as the AirPods Pro 2. The Nothing Ear (case) is rated to IP55 dust and water resistance, again making the charging case better protected than the AirPods Pro 2 case enjoys.
There's plenty of functionality on board and touch controls felt precise during our testing. There are a good amount of audio features, too, and LHDC audio codec support and personalized sound are welcome inclusions. Performance overall doesn't reach the sonic heights of the model the Ear (2)'s styling mimics, but it's not poor by any stretch and difficult to criticize at the price.
Read the full Nothing Ear (2) review.
The OnePlus Buds Pro 2 cost about $30 more than the still available OnePlus Buds Pro, but this new version has improved battery life and are available in obsidian black and arbor green. The buds are IP55-rated for dust and water resistance, while the charging case is IPX4-rated.
If you have the latest OnePlus phone, these are stacked with top-tier features, including Sound Master EQ with custom Equalizer, Hi-Res Mode, ANC On/Off/Transparency, Personalized noise cancellation, Golden Sound, Android Spatial Audio, Earbud Controls customization, Earbud Fit Test, Find My Earbuds, and Google Fast Pair is also supported for connection to mobile devices running Android 11 and above.
ANC performance is effective, and the smart adaptive mode work seamlessly. Sound balance is respectable overall, although ANC appeared to affect the tonal balance and our review found the audio to be engineered to emphasize bass and treble frequencies. Overall, though, the Buds Pro 2 have solid connectivity and one of the strongest feature sets around.
Read the full OnePlus Buds Pro 2 review.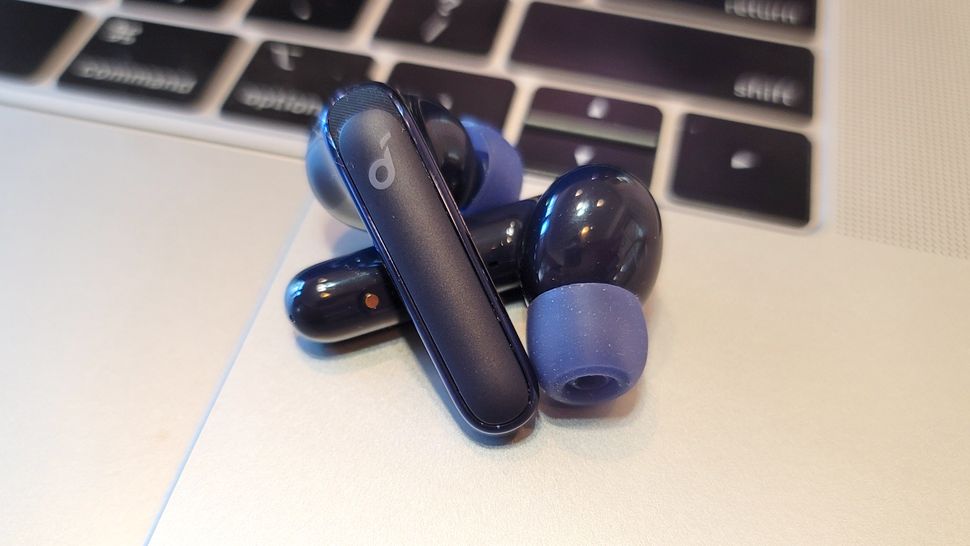 With an MSRP of just $79, the Anker Soundcore Life P3 is a remarkably affordable noise-cancelling option with audio quality that has a warm and satisfying sound signature. Battery life stands up to the added strain of noise cancellation as well.
Surely some corners must be cut to get premium features on a set of earbuds this cheap? Maybe slightly: the touch sensors and call quality could both be better. But as as ANC earbuds go, few are as affordable as the Soundcore Life P3, and even fewer can perform as well. And yes, it's available in white.
Read the full Anker Soundcore Life P3 review.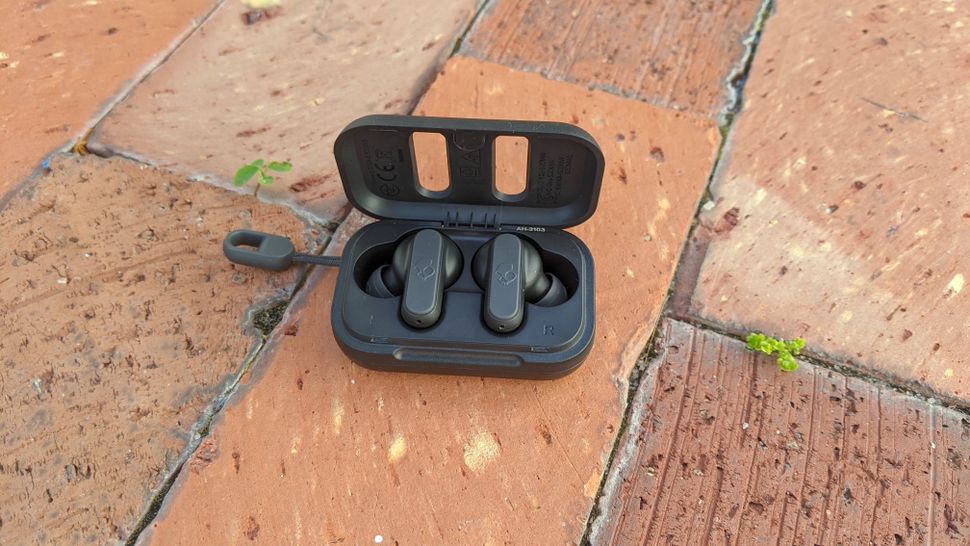 The fragility of AirPods scares budget shoppers. Skullcandy created these sub-$25 wireless earbuds to afford you better protection and sound at an insanely lower price. Audio quality is high, and the charging case design — which saves space by cutting out holes in the lid for the earbuds themselves to fill — is distinctive, clever, and very sturdy. The company even allows you to purchase a lost or broken component for either the buds or case, which should save you a little more coin instead of buying another pair. Something else that is greatly appreciated is the number of unique color options: chill grey, dark blue/green, golden age red, golden age orange, light grey/blue, and true black.
Battery life is short, at just 3.5 hours per charge, and with only 12 hours available from the case you will need to fill both up relatively often. But for short bursts, like listening on a commute or while doing chores, the Dime is comfortably one of the biggest cheap headphone bargains on the market right now.
Read the full Skullcandy Dime review.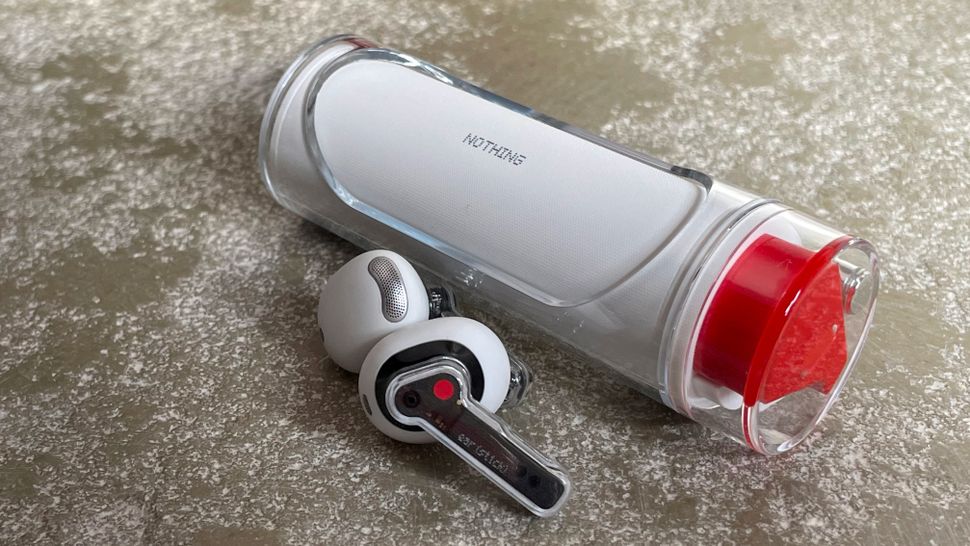 These are Nothing's second set of earbuds, and they follow the Ear (1) ANC in-ear 'buds that launched last year. For anyone unfamiliar with the brand, Nothing is a young British company looking to shake up the relationship consumers currently have with tech through inspirational and functional product designs that offer a strong user experience at every level.
These are a half in-ear design that sit outside of the ear canal with an AirPods-like drop stem. They're comfortable and are IP54-rated for dust, water and sweat resistance. The sound balance may be a bit lacking in bass for some dies to the 'open' style, but there's still plenty to appreciate, with great battery life, strong call quality, app integration and one of the most undeniably stylish pair of earbuds on the market right now.
Read the full Nothing Ear (stick) review.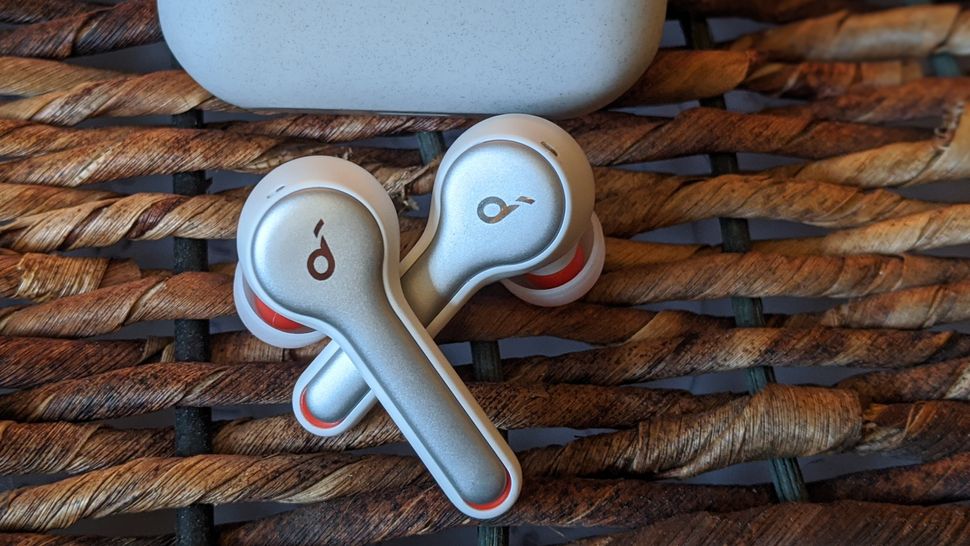 We have always considered the Liberty Air True to be the first legitimate AirPods clone when it released back in 2019, and for a few good reasons. One, sound quality surpasses the performance on most of the models in its price class, as well as the current-gen AirPods, producing clear, bass-forward audio to enjoy contemporary music genres. Two, the inclusion of ear tips is a huge bonus, delivering a pleasant and stabilized fit. Three, the 5 hours of playtime you get is pretty close to what Apple's buds offer and is longer than the AirPods Pro, though the latter requires extra juice to operate noise cancellation, which these buds don't have.
Had Anker managed to make the touch controls more reliable and the design less of a scratch-n-scuff magnet, then the Liberty Air could have been a bigger threat to the real thing. As it stands, it's a still a worthy member of the best fake AirPods club, and cheaper than the newer Liberty Air 2.
Read the full Anker Soundcore Liberty Air review.
LG has really nailed sound quality on the Tone Free T90. These are some of the best wireless earbuds at the price, and their immersive performance elevates them a few levels further when enabling Dolby Atmos. They're well featured too, and the electronics giant has added every feature you could possibly think of. On the checklist: Adaptive active noise cancellation (ANC), Bluetooth 5.3 with wireless transmission, a customizable EQ, multipoint technology, smart controls, spatial audio with headtracking, and UV-C light sterilization.
Not everything performs quite as it should ― ANC is a considerable let down ― but when it comes to out-and-out sound, these flagship buds really make the grade.
Read the full LG Free Tone T90 review.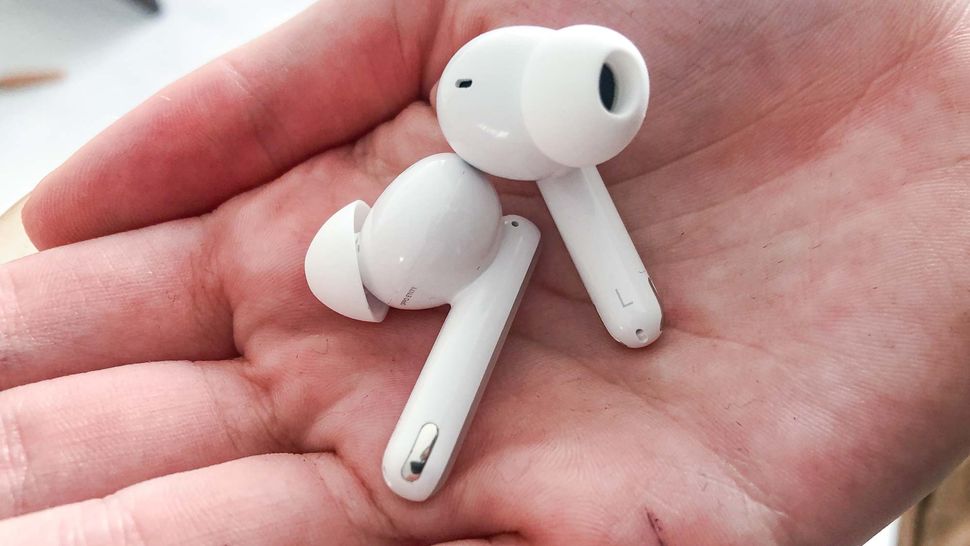 The Oppo Enco Free2 are on sale priced at £89 / AU$199. They're not currently available in the U.S., but U.K. customers can buy them directly through the Oppo UK store as well as online retailers including Amazon, while Australian customers can buy direct through the Oppo Australia store.
They probably look the most similar to Apple's AirPods Pro that we've seen, and if you're a fan of the style and white finish, these tick a lot of boxes. The come with an impressive feature set that includes ANC, reliable touch controls, personalized sound, and are sweat and water resistant.
Read our full Oppo Enco Free2 review.
4 Things to consider before choosing the best fake AirPods
If you're here, you've probably decided you want to get a pair of the best fake AirPods instead of the real thing. Both AirPods and AirPods Pro regularly go on sale, so be sure to check out our updated AirPods sales pages to see if the Apple-made earbuds fall within your budget before spending money on AirPods copycats.
1. Design: While many fake AirPods adopt Apple's iconic white earbuds aesthetic, many compromise on sound quality and you'll need to consider looks over performance. Rest assured, however, all the models above are full tested by our reviewers and will get you in the groove for commutes, workouts or phone calls, even if performance isn't quite as good as the genuine article.
2. Battery life: Wireless earbuds can last about 5 to 10 hours on one charge, and offer extended playtime with their bundled charging cases — always make sure one is included.
3. Accessories: It's disappointing spending money on a new pair of headphones only to find that you need to buy the accessories separately. Make sure a charging cases, charging cable, user guide, and extra ear tips are included as part of any purchase.
4. Pricing considerations: Obviously, price is a big consideration when looking for the best headphones. Although there are always exceptions, big-name brands will typically command a bit extra, but generally speaking, the less you spend on a pair of headphones the greater the chance that sound and features will be compromised. Going for a budget option isn't always the best choice, as any money you save on your purchase won't do you much good if you're constantly needing to recharge your audio gear, or the sound quality is poor.
As the saying goes: timing is everything; and right now many of our favorite models are being discounted at online retailers, meaning you can bag a bargain for even less. Bookmark our best tech deals page for the all the latest savings on everything from TVs and laptops to appliances and more headphones.
How we test the best fake AirPods
For reviews of the best wireless earbuds, design and appearance take a backseat to performance and battery life. But for this list of the best fake AirPods, we prioritize how much each pair looks like real AirPods, pointing out the aesthetic differences of the cases and buds.
After we gauge design, we listen to music, catch up on podcasts and make calls using the best fake AirPods contenders. As with all our headphones and earbuds reviews, each model is worn over the course of a week for 2 hours at a time.
During this time, our reviewer evaluates comfort and fit, ease of use, and audio. We test sound by listening to tracks across different music genres, including hip-hop, rock, jazz, classical, and pop. Volume, clarity, and fullness of sound are taken into consideration in our ratings. Movies, podcasts, and video games are considered, when necessary.
Find out what we listen for during our testing process and how to get the best headphone sound for you.
The headphones listed here might not be perfect, but they've at least passed the test.
We rate all our headphones and earbuds on a 5-point system (1 = worst, 5 = best). Products that excel in one or more particular fields and that's rated 4 stars or above may also receive an Editor's Choice award.
Contributions from: Alex Barcetti, Simon Lucas
More from Tom's Guide