The convenience of meal kits is hard to pass up, even for a frequent and enthusiastic cook like me. Like the best meal kit delivery services, Green Chef offers pre-portioned ingredients and easy-to-follow recipes that make cooking a breeze for novices and for busy veterans.
Green Chef's weekly lineup of 30-plus recipes targets specific eating plans, like keto, Mediterranean, vegan and gluten-free. The variety of cuisines is expansive enough to entice adventurous eaters, yet the actual preparation and cookery remains simple. All you need are some basic knife skills and a set of pots and pans.
With any meal kit service, the big question is whether the convenience is worth the cost. Read my Green Chef review to see what I decided after trying the service.
Green Chef review: Prices
Green Chef offers a total of seven different plans based on whether you need a box for two, four or six people. After selecting the number of people, you can choose the number of meals. For two or six people, you can get three or four meals; for four people, you can get two, three or four meals.
The prices vary by number of people and meals. For two people, three meals are $13.49 per serving and four meals are $12.99 per portion. For four people, two meals are also $12.99 per serving, while three meals are $12.49 and four meals are $11.99. For six people, three or four meals are both $11.99 per portion.
All boxes have a shipping fee of $9.99.
In my box, I chose to receive three meals for two people ($13.49/serving), which was the best choice for my eating needs and lifestyle.
Green Chef is pricier than similar plans from other services, including our top-rated meal kit Marley Spoon ($10.99/serving) and the very popular HelloFresh ($9.99/serving).
Green Chef review: Shipping and delivery
After choosing a plan, Green Chef asks you to pick a start week and a delivery day between Monday and Saturday. You can change the day later, with advance notice of about a week.
On the selected day, the box will arrive between 8 a.m. and 8 p.m. local time. The delivery doesn't require a signature, but you don't have to worry about being at home to receive it. Green Chef packs the meal kits with cold packs. My box showed up within the window and everything inside felt cold to the touch.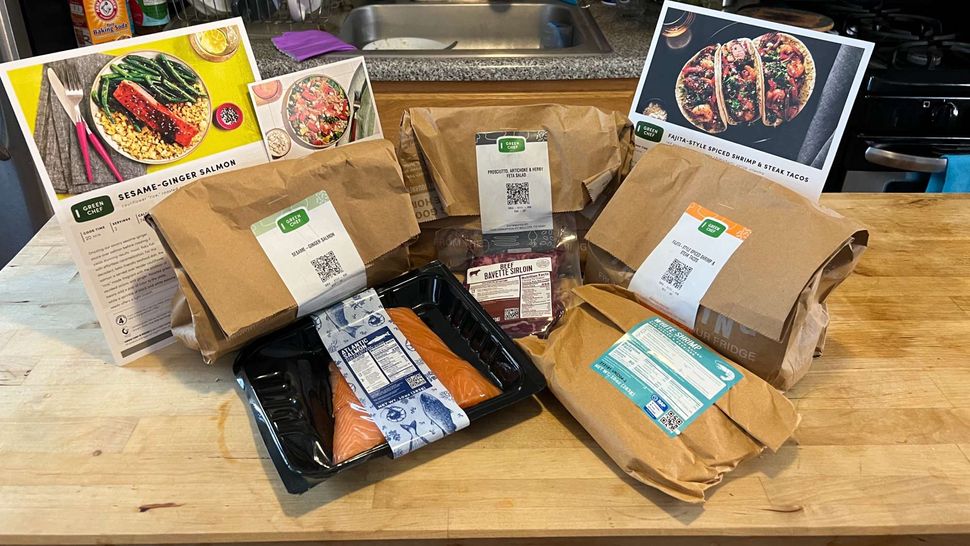 As far as packaging goes, Green Chef is no worse than any other meal kit I've tried. As noted in my Marley Spoon review, overabundant use of plastic is a major pet peeve. Green Chef says it uses "the most eco-friendly packaging available" that is made from recyclable, reusable, and/or compostable materials. However, for food safety reasons, they still use plastic. Like, a lot of it.
My meal kits came in brown paper bags, each containing several small plastic baggies filled with pre-portioned ingredients and various sauce packets. Again, this is no worse (or better) any other meal kit service. I just hope all of them work on cutting down the use of single- and limited-used plastics.
Green Chef review: Recipes
Green Chef's recipe selection lands somewhere in the middle of what is offered by meal kit services, less than HelloFresh's 50-plus lineup and more than SunBasket's 20 (actual kits, not counting prepared meals or market items).
Green Chef's calling card is their curated dietary preferences that make it super simple to choose meals for certain eating plans. The recently updated preferences are Keto, Vegan, Vegetarian, Fast & Fit, Mediterranean, Gluten-Free and Protein Packed. You can pick multiple to suit your needs or all to see the full menu.
As far as ingredients, the company trumpets its status as the first meal kit company certified by the California Certified Organic Farmers as an organic company. Then again, SunBasket also touts their use of organic produce and proteins.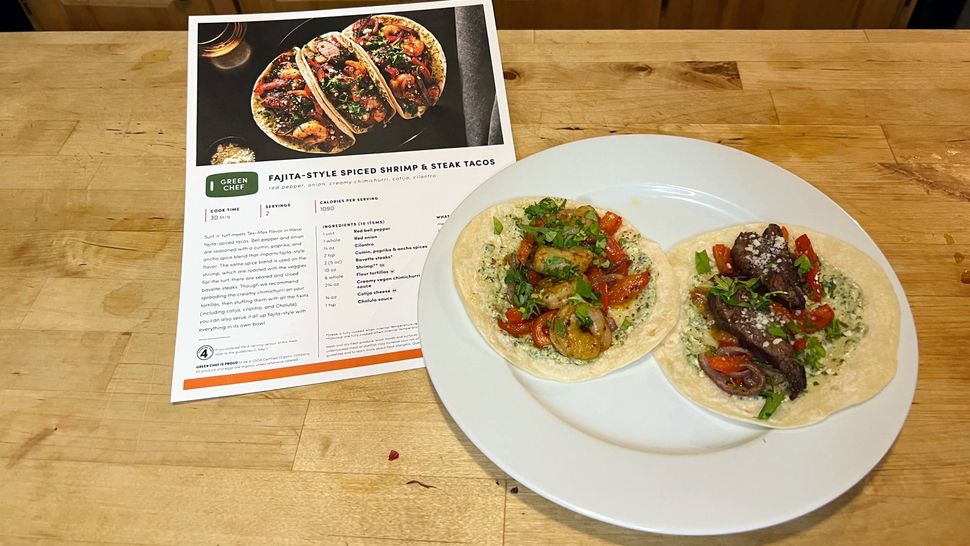 The range of cuisines is decent, if not as expansive as you can find with Marley Spoon or SunBasket. On the flip side, most of their meals seem less complicated and easier to prepare. That's great when you're crunched for time after work and your family is getting a bit hangry.
In recent weeks, menu selections include Cuban chicken with chimichurri, fig and prosciutto pita pizzas, peanut udon noodle bowls, barbecue-glazed meatloaves, and Thai coconut chicken soup.
Each week's menu also includes add-ons for breakfast like almond oatmeal or bacon and cheddar egg bites, as well as extra proteins like shrimp and pork chops.
For my box, I wanted a mix of proteins, including at least one meal with seafood, plus a variety of flavors and easy preparation. I chose fajita-style spiced shrimp and steak, sesame-ginger salmon and prosciutto, artichoke and herby feta salad.
Green Chef review: Cooking the meals
When my box arrived, I took out the three paper bags containing many of the kit ingredients, plus the separately packaged proteins. All of the whole produce items looked fresh and undamaged.
First, I decided to make the prosciutto, artichoke and herby feta salad for lunch, since it was the simplest and quickest of the three kits. Since it's meant for two servings, I had an eye to keeping leftovers to pair with pasta for dinner. Preparation was incredibly easy. All I had to do was chop the lettuce, open the various plastic bags of ingredients and toss it all together. I didn't even take any pictures, because the meal was ready in about five minutes!
The sesame-ginger salmon seemed like a great weeknight meal, since the recipe card stated 20 minutes as cooking time. I read over the instructions carefully, so I wouldn't run into issues.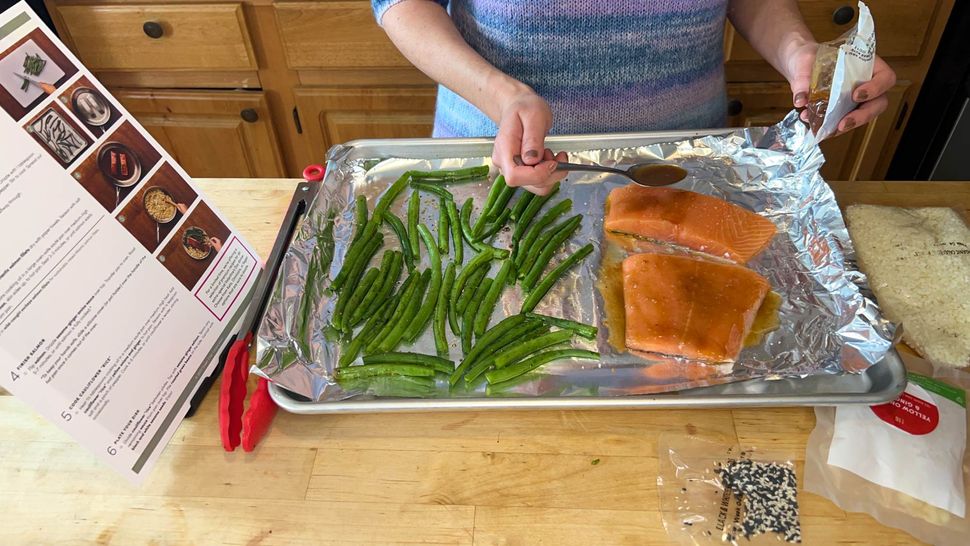 After preheating the oven, I trimmed and seasoned the green beans. The recipe called for the salmon to be seared, then baked, but I decided to just bake the filets entirely. They would just need a little time in the oven, plus I wouldn't dirty another pan. Once the salmon and green beans went into the oven, I sauteed the riced cauliflower as directed. The meal came out wonderfully, and the sesame-ginger sauce was delicious.
I saved the fajita-style spiced shrimp and steak for the weekend, rightly guessing they would take a little longer than the 30 minutes indicated on the recipe card. This meal required much more prep work in the form of chopping bell peppers, onion and cilantro. I made sure to use a sharp knife, which speeds things up.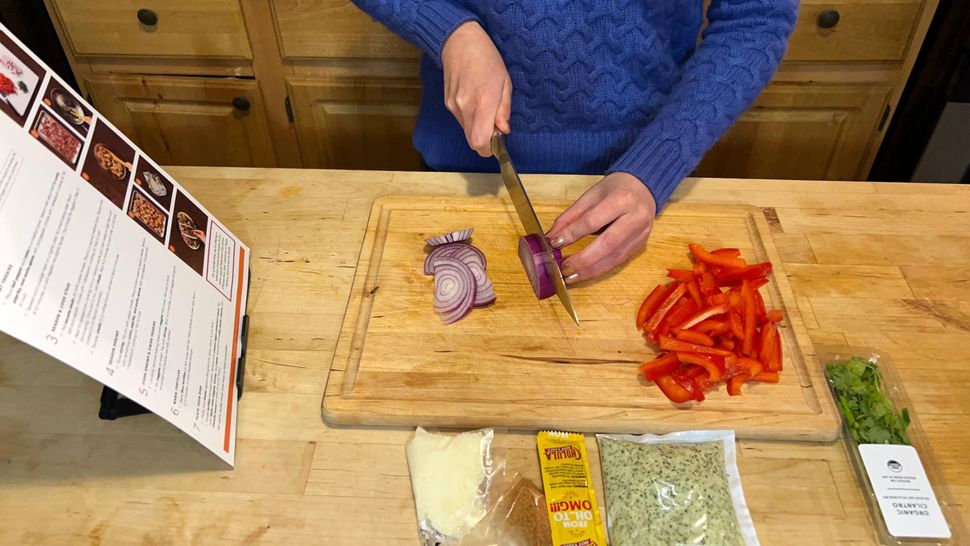 The actual cooking was a breeze. I seared the steak, while the shrimp roasted with the veggies. Then, it was just a matter of placing all the ingredients in tortillas and topping with chimichurri sauce and cotija cheese.
All three meals were tasty and needed very little adjustment to the seasoning and spices. None of them were particularly inventive, but they made for quick, easy, healthy homemade meals.
Green Chef review: Verdict
Meal kit services abound, each with its specific pitch for why you should choose it over the others. Yet, there aren't huge differences between them. Like many of its rivals, Green Chef offers a large menu of recipes drawn from a variety of cuisines; fresh, pre-portioned ingredients; and the ability to select your dietary preferences and restrictions.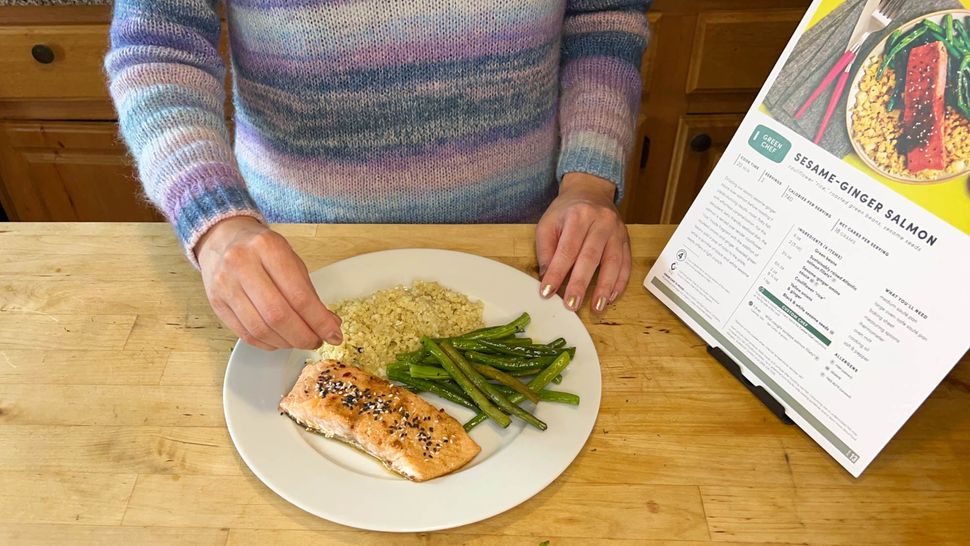 The three meals I chose were easy to make and tasted delicious. No issues there. The only drawback to Green Chef is the price. It is one of the more expensive meal kits in the market, yet I experienced no discernible difference in the quality of ingredients or the resulting flavors. And at a time when many of us are tightening our budgets, price is a very important consideration.
I'm glad I was able to try Green Chef and would recommend it to friends. I just don't know if I'd pay for it week after week.