Audi e-tron GT: Specs
Release date: Available now
Price: From $102,400; £82,950 as tested (approx $109,000)
Power: 93.4kWh
Horsepower: 523bhp
Battery range: 238 (EPA) / 215 (real world)
Charging speed: 21mins (10-80%, 270kW)
Top speed: 152
0-60: 4.1
Smarts: Audi Connect Navigation and Infotainment, MMI Navigation Plus with MMI Touch, Driver Assist including Audi Pre-sense front, lane departure warning, Parking system plus, reversing camera, heated electrically adjustable front seats.
I recently spent a week with the Audi e-tron GT and I have to say that it's a fantastic gran tourer, much like the comparable Porsche Taycan, which is built on the same platform. The big difference here is that both are fully electric, unlike one gas-guzzling GTs from the old school way of doing things.
The e-Tron GT packs in lots of luxury, a sublime drive on long runs and a high price tag to go with it But with all that comes the fun and challenge of running an EV as well. So good and not so good in equal measure. Having previously tried the Audi e-tron Sportback a while ago, which is more upright and rests firmly in SUV territory, I was really keen to spend some time behind the wheel of the e-tron GT.
This is lower, sportier and a better car to take through tricky corners. Though this one is still a chunky thing. In fact, navigating the Audi e-tron GT around dinky lanes and tight little villages in both Cornwall and Permbrokeshire requires serious nerves of steel. Parking it is another thing too.
One week later, however, the delicious 20-inch, '5-twin-spoke' gloss-turned alloy wheels had thankfully not been kerbed nor the paintwork scuffed…
Audi e-tron GT: Pricing and availability
The Audi e-tron GT is out now and makes a great car if you're looking to enter the world of the premium EV grand tourer. Prices start at $102,400 in the U.S. and £79,900 in the U.K. My test car worked out at £82,950 — which works out at around $109,000.
Despite having some extras this was still a relatively basic edition, and some models fitted with all the hi-tech bells and whistles. Audi's deluxe interior options are easily able to push the price up much more as well. An even sportier RS e-tron GT version of the car, meanwhile, starts at $142,400.
Audi e-tron GT: Design and style
My car arrived resplendent in optional Ascari Blue metallic, a £950/$595 option that looks fabulous. It made a change from the many silver-toned Audis that pepper the housing estates of the U.K. at any rate. The car also came with the optional e-tron Sport Sound, another pricey extra, but it does add an extra thrill factor if you're prepared to get on-board with the idea of something sounding really good. Though it's not quite the same as the sound of a real engine.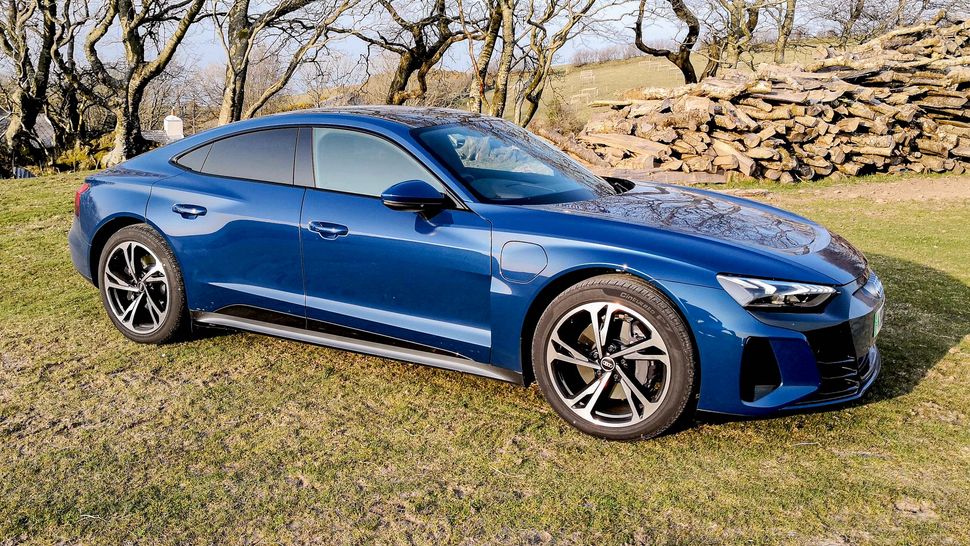 This is a long, 5 meters no less, low and wide car, with a roofline that cuts down towards the trunk and sacrifices a bit to interior headroom as a result. At just under 1.4 meters high though that low stance is a big part of the appeal too. Once you're inside the driving position is snug, rather than spacious, but perfectly suited to the gran tourer vibe.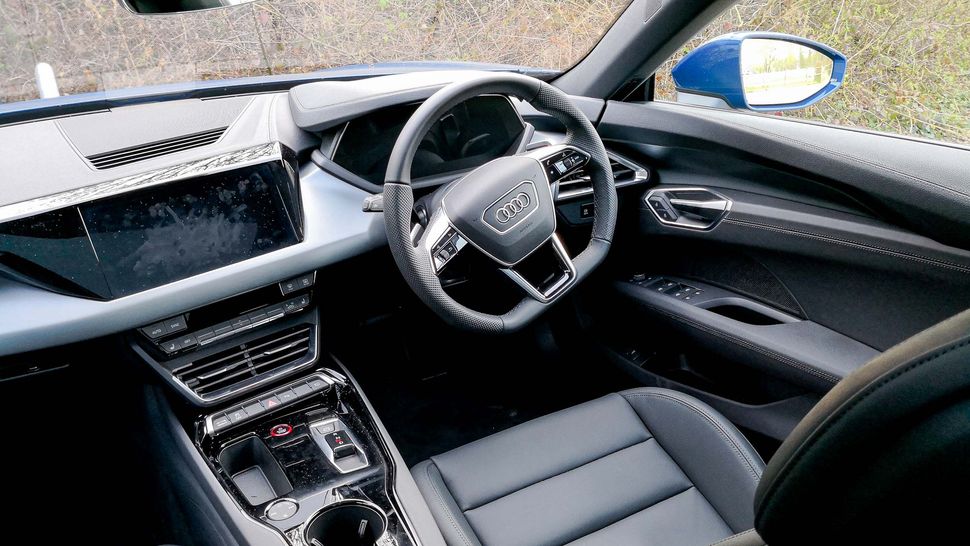 My car also had everything needed to make long journeys more comfortable, including heat-insulation glass and a panoramic glass roof, which does open up the feel of the car, especially if you're in the back.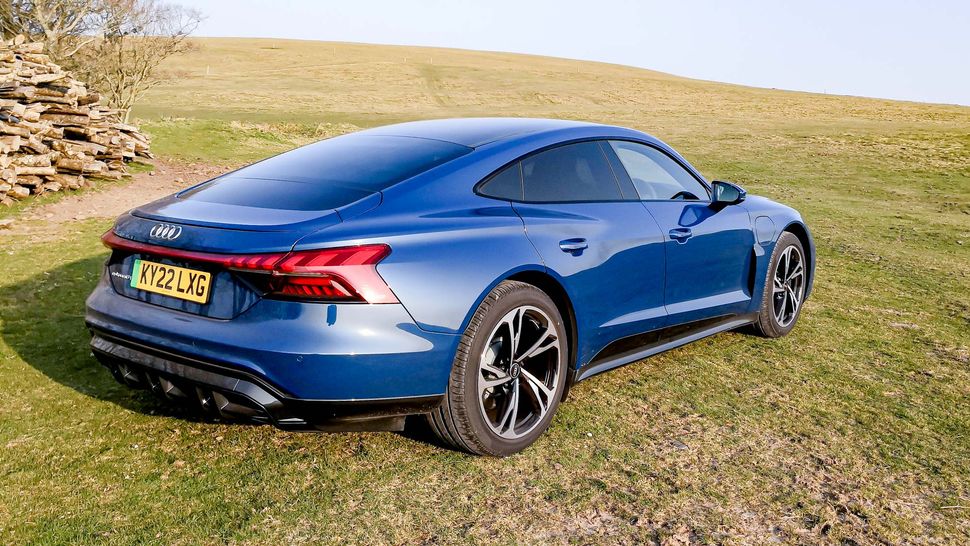 There were some neat touches too, including front and rear door sills with aluminum inlays, while the Audi Sport contour three-spoke steering wheel was a real treat. The Audi Connect Navigation and Infotainment works well enough, with everything coming to hand relatively easily via the MMI Touch interface.
That said, it took me a few attempts and a dip into the chunky manual in order to find out how to reset the trip computer. Duh. Otherwise, the sat nav, Audi audio system and phone connectivity all proved fuss-free to use.
Audi e-tron GT: Performance
Like all EVs, there's a price to pay for lugging batteries around. You may lose the weight of an internal combustion engine, all that technical doodads on the inside frequently makes an electric car feel heavy. The Audi e-tron GT is no exception, and at around 2.3 tons it is bulky. It feels like a heavyweight bruiser, but it's been engineered to provide plenty of performance to make up for that and, to its credit, feels wonderfully well balanced.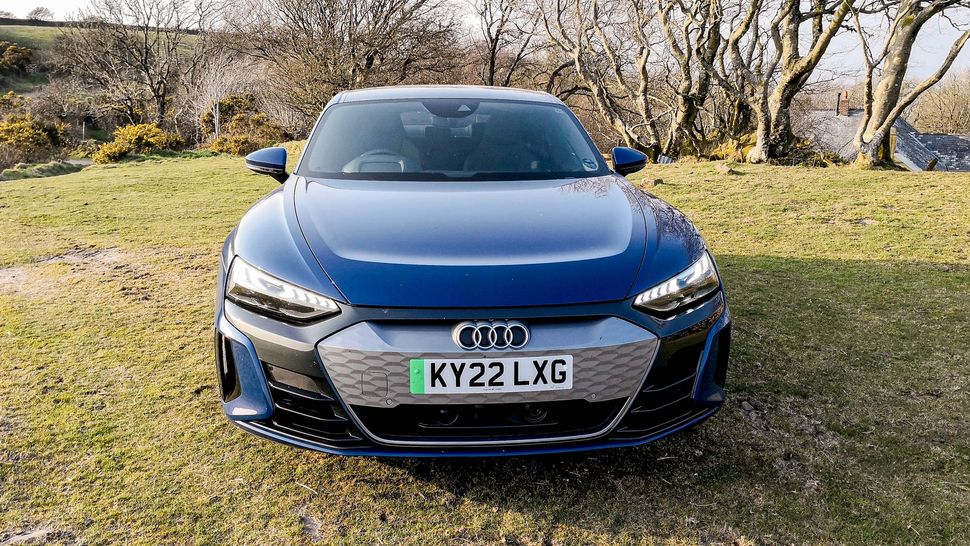 There are front and rear motors, delivering quattro power to the wheels. That means the car feels fine, even when you're pootling around looking for that ever-elusive EV charging point. Get it going though and, thanks to four-wheel steering, you really start to feel the potential of the car. Considering the Audi e-tron GT runs on huge tires, the quality of the ride is surprisingly good — even on the less-than-great country roads in the UK.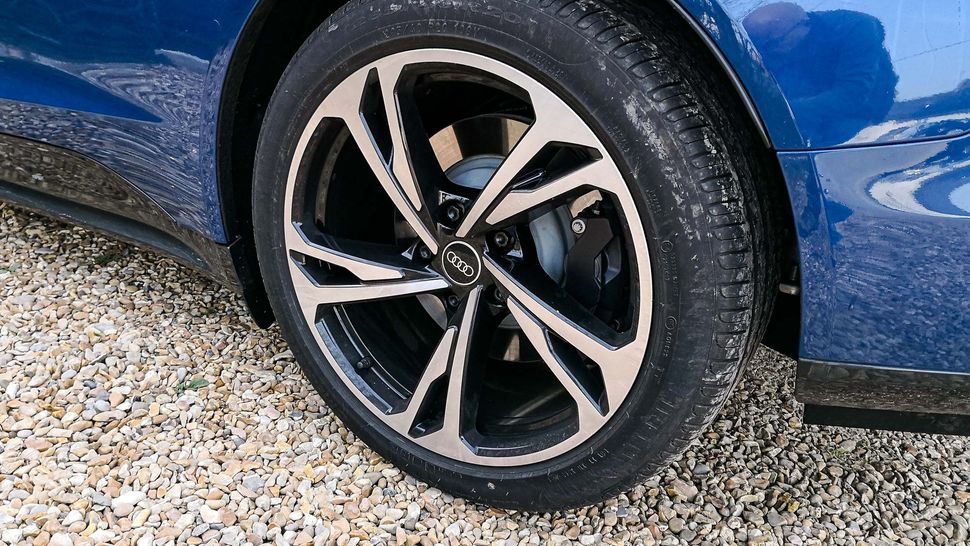 In fact, the tires are so big they frequently managed to get me over ugly-looking potholes, rather than dunking the prized wheels into them. The suspension is fabulous, providing a comfortable ride for driver and passengers but also enough of a dynamic drive to make the Audi e-tron GT exciting. Even though there's little noise, save for the computerized enhancement, the delivery of the power is instant.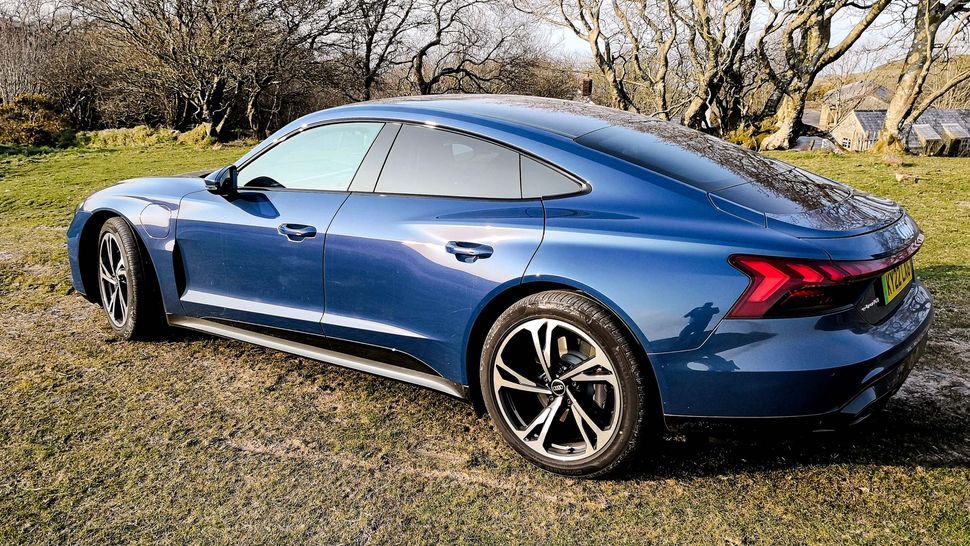 Take your pick from three modes: Efficiency, Comfort and Dynamic all of which serve their purpose. Though Dynamic tweaks the setup of the car to the point where your next visit to a charger is sooner than you anticipated. You need power for all that performance, after all.
Dynamic mode is infectious, though, and really does inspire a 'to hell with it' attitude as you take off into the sunset. Stopping the Audi e-tron GT is easy too, with brakes that are everything you'd expect from a car that can get from 0 to 60 in 4.1 seconds.
Audi e-tron GT: Interior
Up front, the Audi e-tron GT is also everything you'd expect from the German automaker. It's no-nonsense, functional and well put together. The seats are super comfy and feel great on a long run.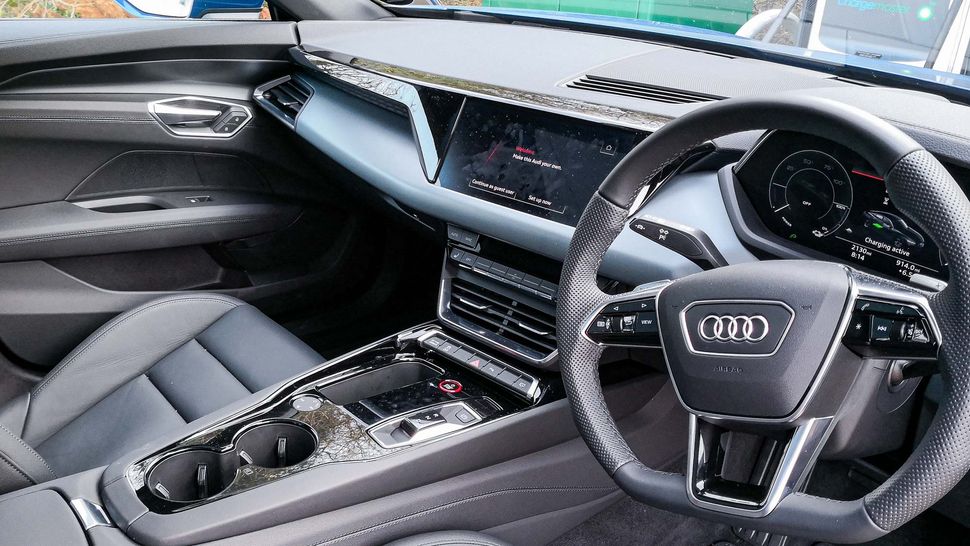 Despite being quite a low car, the e-tron GT is also easy to get in and out of if you're front seat occupants. Legroom isn't abundant for anyone six-foot and over, but if you're on the shorter side it's more than adequate. The same goes for the passenger side.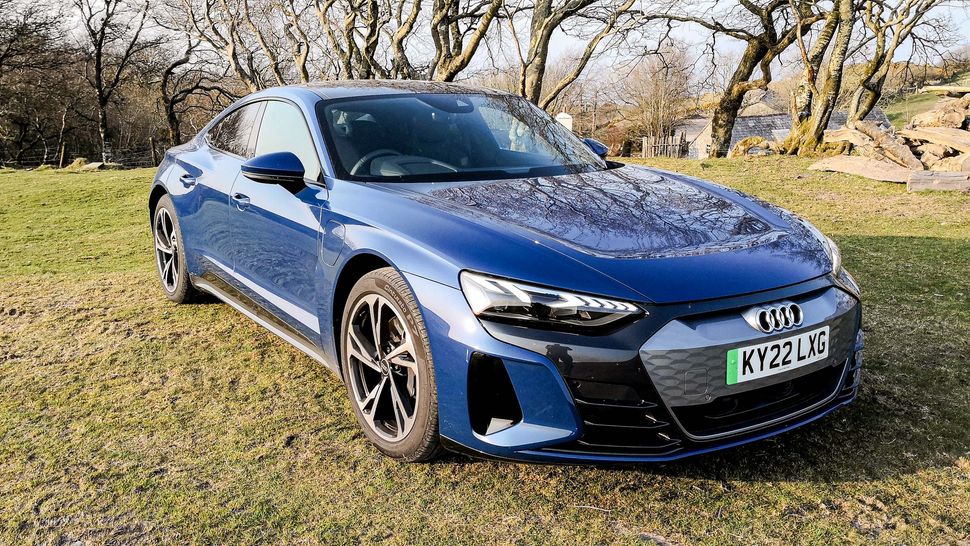 Sit in the back, meanwhile, and there is the tendency to feel a little bit cut off from the world. If you're in the rear seats, being driven around and having some work to occupy yourself with might be a bonus. However, if you've got kids back there, the slanting side windows caused by the swooping roofline mean there isn't much to see out of the side windows. Couple that with the fact the comfy sculpted front seats prevent you from seeing forwards, and you may soon be subjected to the howls of oncoming car sickness. Try the car through some bends and you'll double that effect.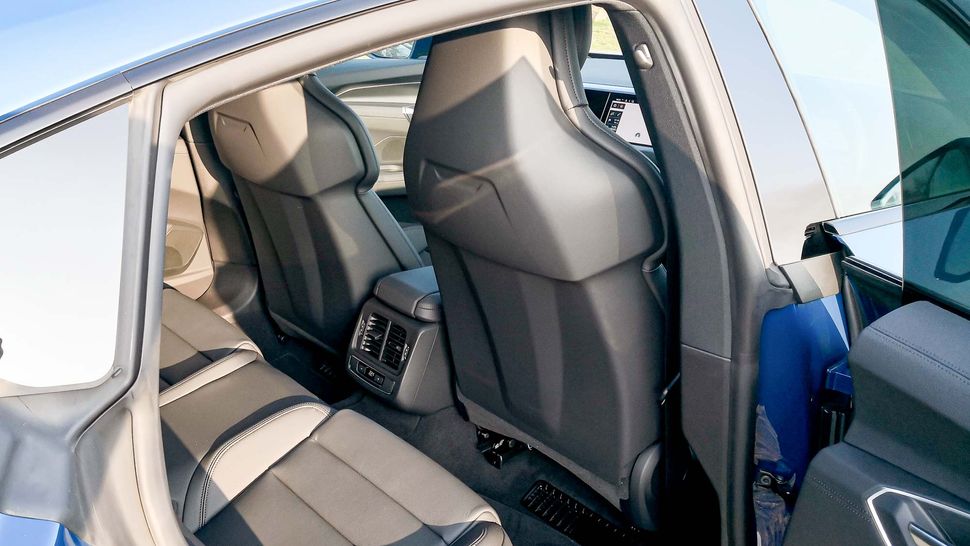 It is a nice place to sit though. Much like the front, you feel hunkered down and there are the usual accessories that everyone needs: charging points, a sizable center armrest and smart cup holders.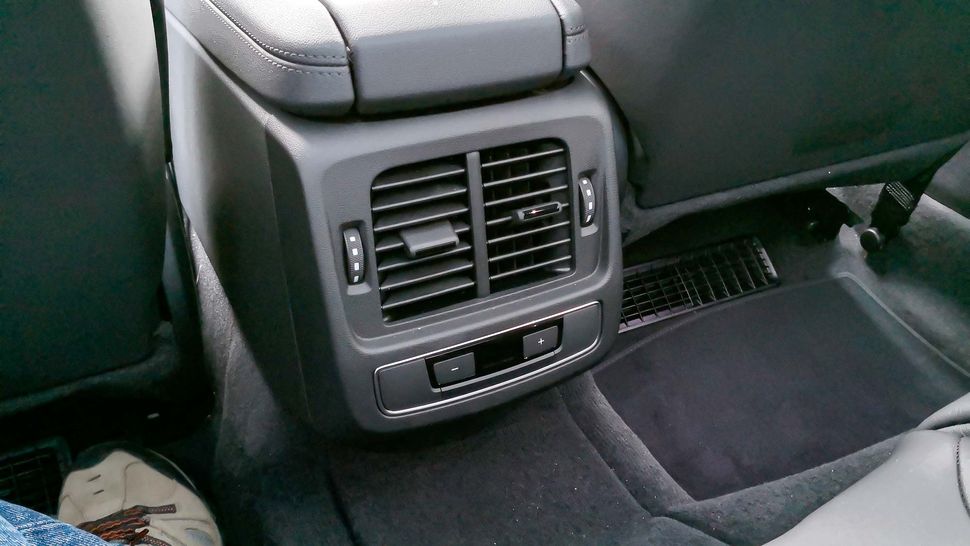 There's some legroom too, though larger occupants who need to push the front seats back all the way will soon take that away from all but the smallest of children.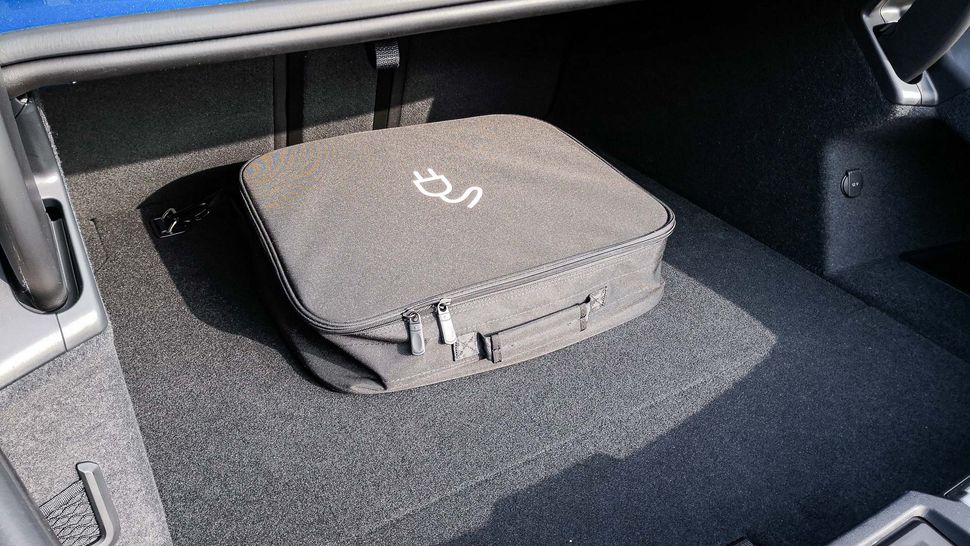 The trunk, at just 14 cubic feet, isn't big considering the size of the car, and some space is occupied by the supplied charging cables. Anyone with kids and lots of stuff though is probably best sticking with the Audi e-tron Sportback instead.
Audi e-tron GT: Range and charging
The official range of a fully charged Audi e-tron GT is 298 miles per the European WLTP standard and 238 miles according to the EPA's range testing. It feels like the U.S. figures are closer to the truth, and I rarely got much over 200 miles. Somewhere around 215 miles seems the average figure.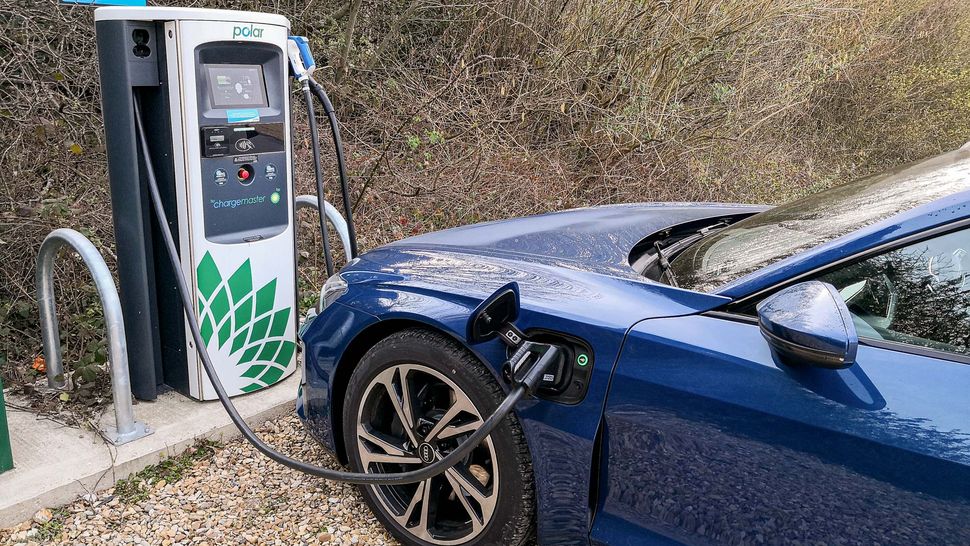 Drive it sensibly though and the e-tron GT seems surprisingly frugal in the way it uses battery power.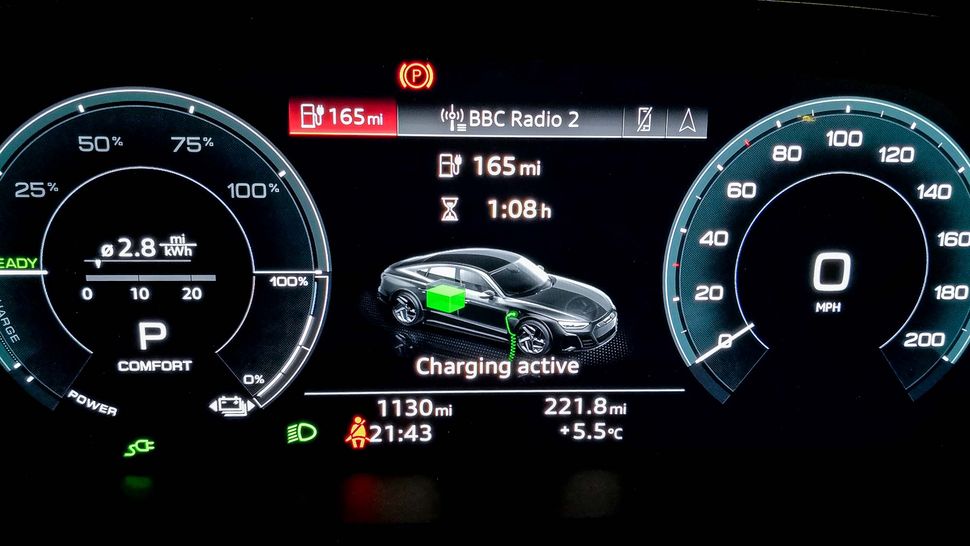 In some cases, when it felt like we were largely freewheeling through rolling Welsh countryside, the car didn't appear to be doing anything. The range indicator seemed almost static. Spot a tempting curved stretch ahead though and that would soon change. Regenerative braking does take place, though it doesn't seem as impressive as you might think. Even with all that weight bundling down steep hills and your foot firmly on the brake pedal.
Audi e-tron GT: Verdict
I did nigh on 1200 miles over the course of my seven days with the Audi e-tron GT and most of it was a lot of fun. A big bonus was the distinct lack of stress, which can be a frequent occurrence as you struggle to find an EV charging point that's up to scratch. In fact, charging the car, using some new locations I've not used before, was largely spot on. Quick too. Find a rapid charger and you'll no doubt be impressed, as well.
Driving the Audi e-tron GT is lots of fun, until you've got to squeeze it into tight spaces. That's when stress levels start to get up there, and give those experience-ruining range anxiety cold sweats a run for their money. Wave goodbye to parking in town, and taking the car out on the open road and the Audi e-tron GT soon lets you forget any worries. On highways the drive is effortless, comfortable and, putting your foot down to overtake provides torque-laden thrills aplenty.
Head into winding country roads and it gets even better. The thrills tail off if you stray into single-track country lanes mind, and the UK has plenty of those. Stay on a winding, super smooth Welsh main road and you'll find the Audi e-tron GT is a near-faultless drive. Those big fat tyres, enormous 285's on the back, means the car is planted on the road and goes round bends like it's on rails.
That's a well-used cliché for sure, but definitely true in relation to my experience of the Audi e-tron GT. It's enough to make me want one of my own.