Starfield arrives on September 6 and should be one of the biggest games of the year.
As we said in our Starfield review, this game is the apex of Bethesda's open-world games and a killer Xbox Series X and PC game, giving players a slice of galaxy to explore, exploit, raid and wander for ages. It's almost too familiar to its core DNA, but interesting areas, fun combat and masses of things to do and see mean Starfield is rarely less than compelling.
Be sure to read our full review to see what Starfield has to offer. For a quick run down, here's what you need to know.
Starfield release date
After being delayed last year, Starfield now has a release date: September 6. However, folks who pre-ordered the special edition have been playing since September 1.
You can play Starfield on Xbox Series X/S and PC. If you have Xbox Game Pass, you can also play the game on Xbox One via Xbox Cloud Gaming.
Starfield pre-orders
You can pre-order Starfield today, from the base version through to the high-end Constellation Edition, which we've flagged below. The Constellation Edition comes a form of smartwatch that could end up becoming a collector's item.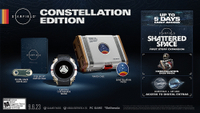 Starfield Constellation Edition: $299 @ GameStop
GameStop is currently taking pre-orders of the Starfield Constellation Edition, but you will need a PowerUp Rewards Pro membership to secure yours. This pricey Starfield collector's edition includes the full game as well as a suite of digital and physical goodies. The flagship extra is a replica watch modeled from a device you'll use in the game, other highlights include five days early access and the game's first expansion, Shattered Space.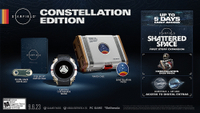 Starfield Constellation Edition: £249 @ Game
Over in the U.K., the Starfield Constellation Edition is exclusively available via retailer Game. It will cost £249 and is available with either an Xbox or PC copy of the game. The Constellation Edition can be pre-ordered now but is highly likely to sell out before launch.
Starfield preloads
You can preload Starfield on Xbox Series X, Series S and Windows PC. This can be done in the Microsoft Store on Xbox and Windows or via Xbox Game Pass on both platforms.
Starfield latest trailer
While there have now been several Starfield trailers, many of them more developer-centric and look at specific aspects of the game, your best look at Starfield comes via the Starfield Direct video.
In the video below, you can see everything from the scope of Starfield to ship customization, combat, navigation and more.
Not a gameplay trailer, but Bethesda released an animated short called The Hand that Feeds. There's no speech but it takes place on Neon Volii Alpha in a so-called pleasure city and follows to street rats, Ada and Harper.
A conflict between the two sees Ada catch the eye of Ryujin Industries and seemingly take her on a path off the streets. This would suggest that Starfield could have some interesting branching quests that start at humble beginnings and build up into the upper echelons of life in the Settled Systems.
Starfield gameplay
Game footage from a Bethesda and Xbox showcase from Summer 2022, revealed how Starfield will be an open-world game that will see players bounce between multiple worlds with different environments.
Like previous Fallout and Elder Scrolls games, there'll be first-person exploration and combat, with plenty of dialogue and story interspersed between the action.
However, Starfield will be more than just "Skyrim in space," according to Microsoft's Matt Booty.
"Having had the chance over the last year and a half or so to spend more time with Todd Howard and see how he works and see what he brings to game design, I'm confident that he's not gonna sit still on what was built before," said Booty. "It's not [Howard's] approach to come in and reskin something right? So there's going to be an awful lot of things that move forward with this game, just from my view […] the thing that excites me first is the visual style."
And you'll be able to setup based in various location as well as customize your ship. Speaking of which you'll be able to pilot it and engage in space combat; just expect it to be a more sedate affair than the likes of Star Wars: Squadrons, given these will be big ship that'll be zapping each other than nimble starfighters.
Apparently, there'll be more than 1,000 planets to explore, thanks to procedural generation. But we suspect a lot of these will be optional places to visit than making Starfield an unwieldy game. At Summer Game Fest 2023, Howard pointed out that players will be able to explore the various moons and other satellites orbiting planets.
Starfield will lean into hard sci-fi rather than the more fantasy settings of Star Trek and Star Wars. And that means there'll be survival elements, but thankfully Todd Howard has said they will won't be an irritating obstacle to exploration.
"When you actually play the game, because it's a game we don't actually kill you when you fly out in space," Howard told YouTuber and interviewer Lex Fridman. "But it has a tone of there's some effort involved and we've dialed it back as we've been making the game. Whereas we used to [let players] run out of fuel; you'd jump and get stranded, which on paper is a great moment when you get stranded and you've got to press this beacon and you don't know who's going to come.
"Turns out that just stops your game. We've found you'll be playing the game and 'I ran out of fuel, OK, I guess I'll just wander these planets trying to mine for fuel so I can get back to what I was doing. It's just, you know, it's a fun killer."
Starfield Direct showed off how exploring planets can quickly turn into something more (in typical Bethesda game fashion). The presentation showed a player landing on a new planet and collecting resources around an abandoned mine, only to come across some rogue space explorers and get into a shootout.
The presentation also showed off the Star Map, the UI for traversing space and landing your ship. Through the Star Map players can find out what kind of resources or life exist on a planet, choose a landing spot, or fast travel to a known location. You can also plot a course to other star systems, though you'll need to upgrade your ship and skills to jump to the most distant locations.
Starfield story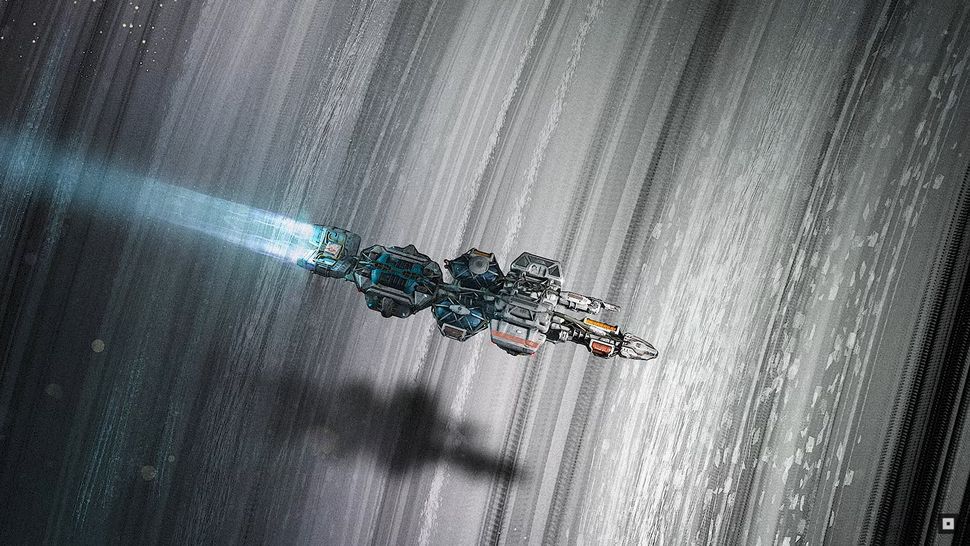 Starfield's main story is a bit of an enigma. Humanity has explored a lot of space, so the next frontier/leftover mystery is something to do with a ring-like artifact. This is where the Constellation organization comes in forming "the last group of space explorers", which the player's character will surely join as part of the main quest.
Across this adventure, we can expect Starfield players to encounter all manner of factions such as the Freestar Collective, a libertarian confederation and one of two main governments in the Settled Systems, and the pirate-like Crimson Fleet. And according to Bethesda, you don't have to worry about missing out on a faction's quests if you choose another. Good news for players who want to experience everything Starfield has to offer.
Bethesda boss Todd Howards told The Telegraph that Starfield would be like "NASA meets Indiana Jones meets the League of Extraordinary Gentlemen."
So we'd posit that means exploration with Constellation will involve some alien stuff going on.
Bethesda has posted a timeline for Starfield's story/history, starting in 2050 when humans first arrive on Mars, then spanning nearly 300 years to 2328. Across this timeline, numerous factions are formed and wars break out, while alien artifacts are found and the Constellation organization is created. In short, Starfield looks set to have a rich history that'll seed the situation the player will step into.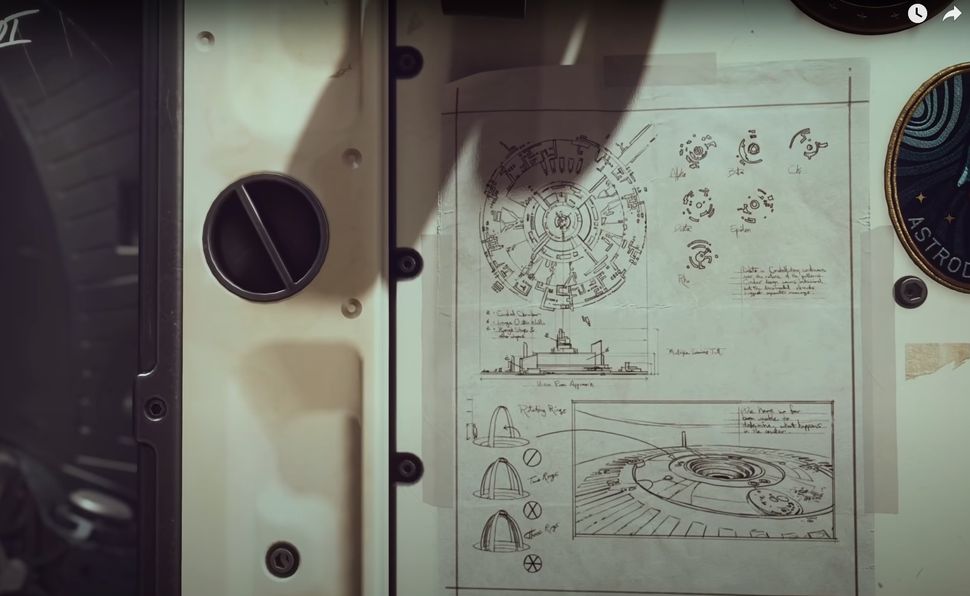 As Starfield is a Bethesda game we can expect it to have all manner of quests, characters, and dialogue options to explore, with a story that somewhat reacts to what the player does and the decisions they make. We just really hope that Bethesda spends a lot of time on making the main story thoroughly engaging, with site missions that tie in with it.
Skyrim had a thoroughly passable main story, but the side quests were more interesting. That's no bad thing, but a compelling main story is definitely something we really want to have from a sci-fi game, much like that of Star Wars: The Knights of the Old Republic II and Mass Effect.
The base game of Starfield appears that it'll just be the beginning of the game's story, with an expansion dubbed "Shattered Space" set to be the first story DLC for the game. It was shown off as a bonus for people pre-ordering the Starfield Constellation Edition.
Starfield setting and locations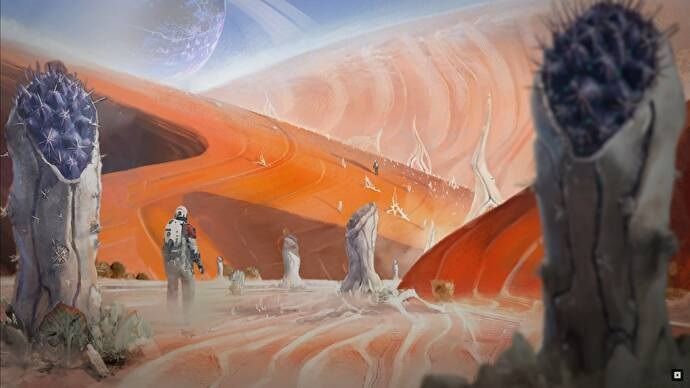 Bethesda has shown off art work for Starfield, namely around The Settled Systems setting.
This location is some 50 light-years away from our own Solar System, which isn't hugely far away in space terms. But this interstellar setting was ravaged by war and is still far from safe.
One location looks rather idyllic in a very Star Trek way, seemingly blending a cityscape with a wood.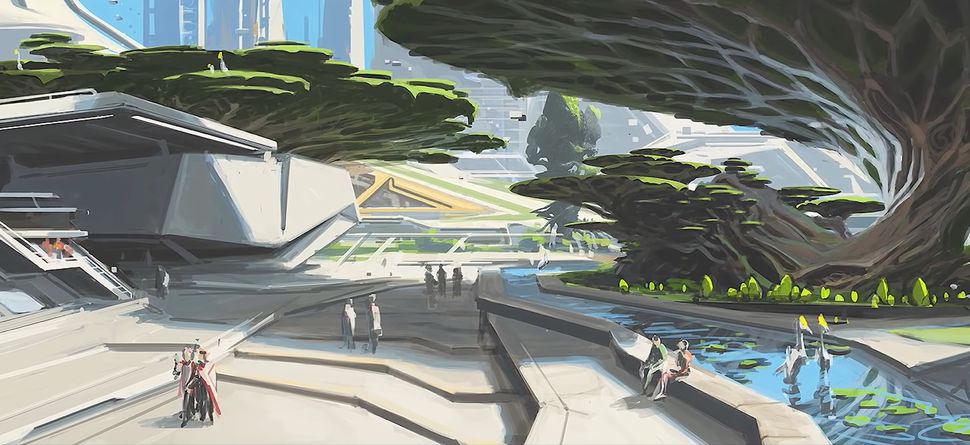 But another image shows off an arid landscape dotted with spindly, otherworldly trees and no shortage of rocks. This looks like one area that you'll need to pack a gun for.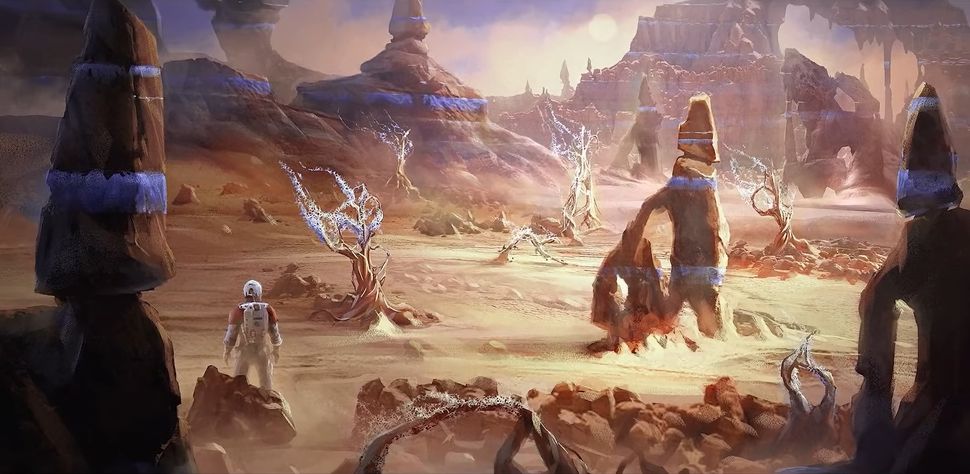 Speaking of guns, another bit of artwork shows off three characters garbed in a very Star Wars-like lived in spacesuits. Each one has a distinct style and hints at the numerous faction that are likely in Starfield.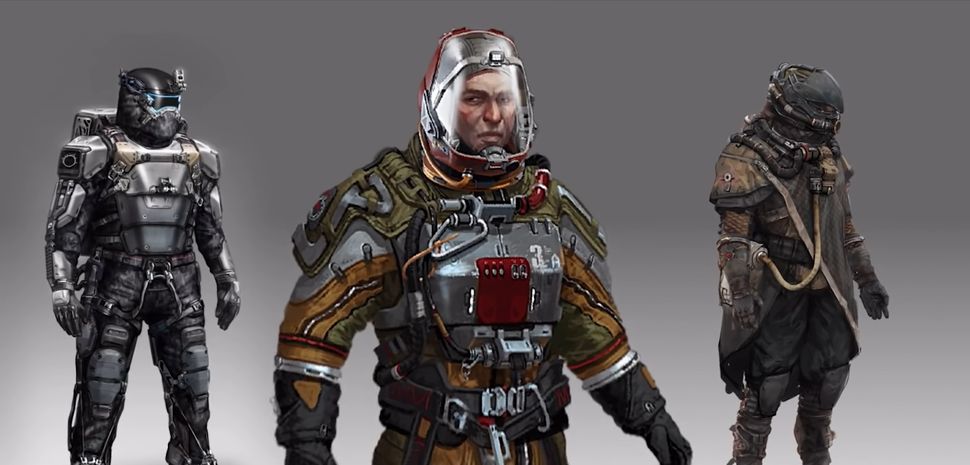 An earlier batch of unlisted trailers have shown off a trio of potential Starfield locations.
Neon is a "pleasure city" full of bright lights and futuristic-looking buildings. It was built upon an a giant fishing platform "on a rather nondescript aquatic world" by the Xenofresh Corporation. The company then came across a fish with "psychotropic" properties and developed a drug called "Aurora" to turn its fortunes around.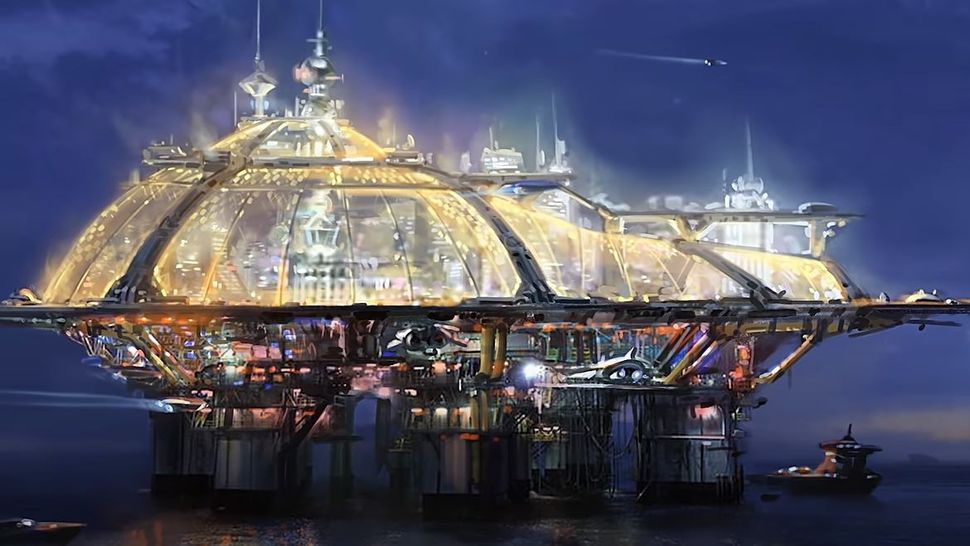 New Atlantis is a space port and the capital of the United Colonies, described as "the most powerful, established military and political faction in the game." It looks suitably sci-fi with flying cars and looming skyscrapers.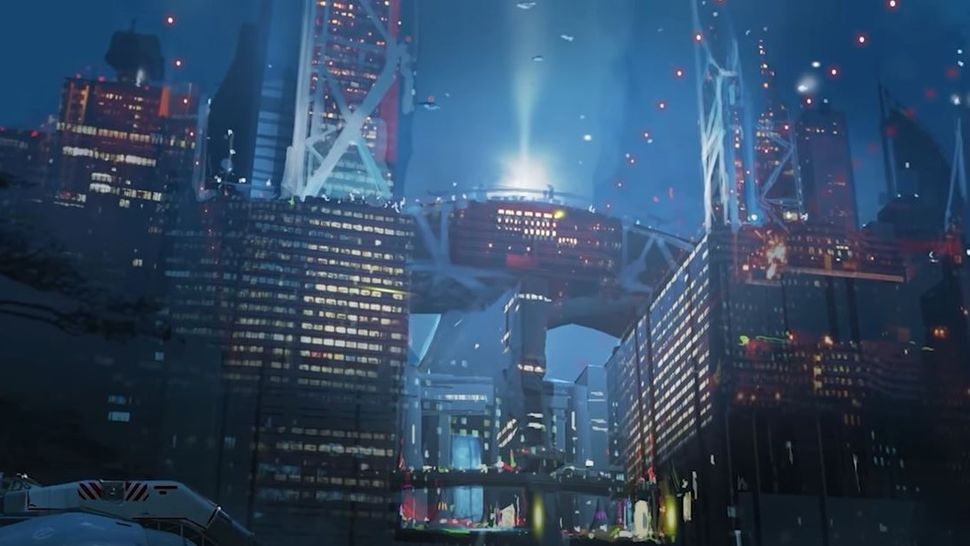 Then there's Akila City, the capital of the Freestar Collective. Akila is populated by a diverse set of people who share a strong belief in personal freedom and individuality.
Yet that freedom is arguably brought into question given the city is surrounded by a wall to keep out creatures called Ashta, described as "alien predators that are a cross between a wolf and a velociraptor." This could be one location to visit suitably well-armed.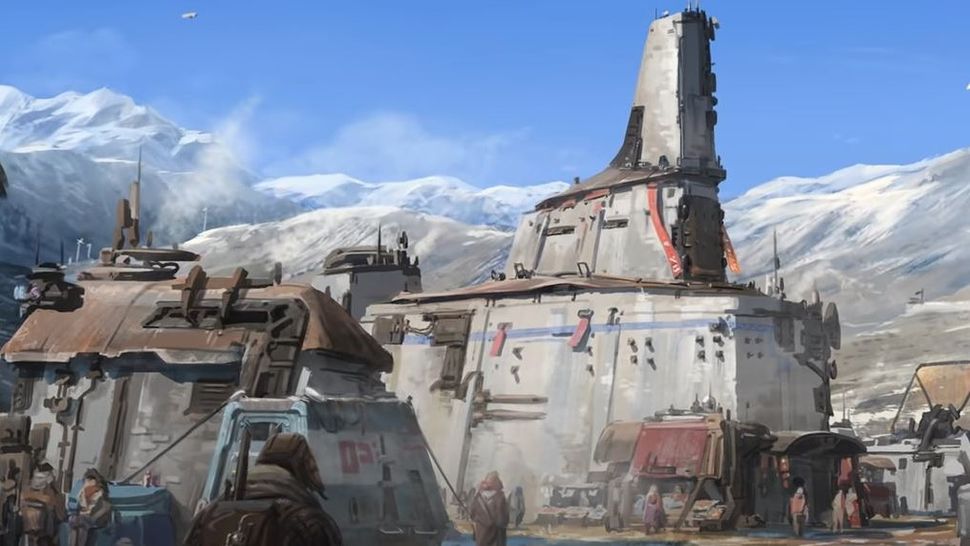 Another teaser trailer and developer chat showcases some more artwork and footage form Starfield. And it's looking like it'll be a heady mix of Skyrim open-world/open-galaxy exploration with the hard sci-fi setting of TV series The Expanse.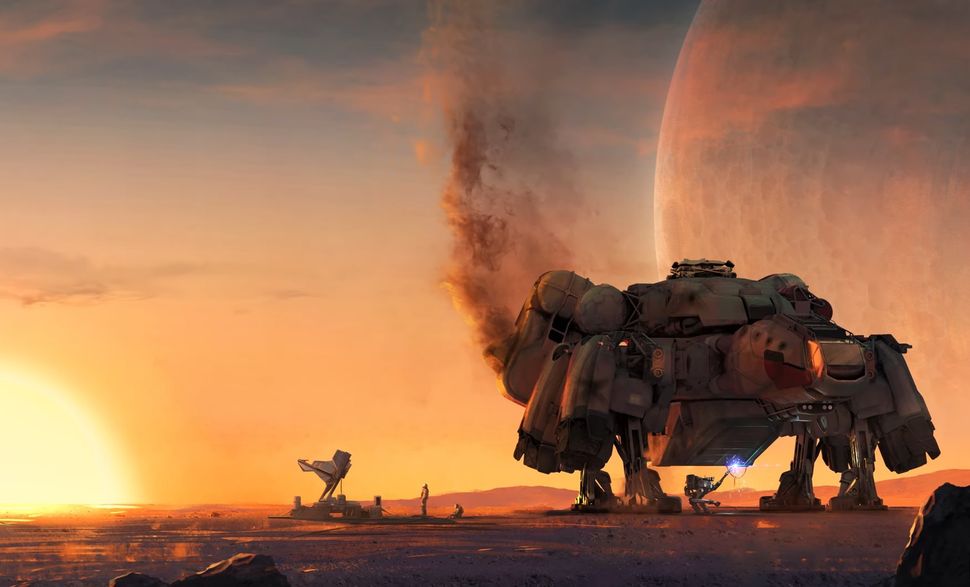 Rather than opt for glistening spaceships and clean interiors, Starfield seems to favor function over form with ships that look like they could be conceivably designed by NASA.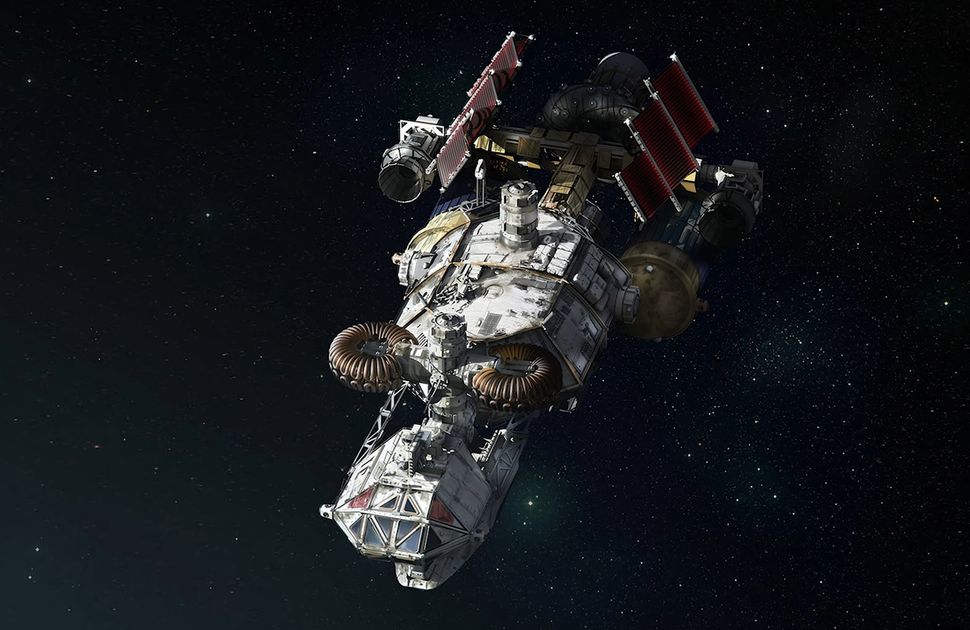 Interiors aren't festooned with holographic panels or smooth surfaces, but instead seem to be using every bit of surface space as storage with an emphasis on practicality not sci-fi glamour.
We've had plenty of traditional sci-fi games in the pass, notably most recently with Mass Effect Legendary Edition. So a game in a grittier, more realistic sci-fi setting is definitely compelling and almost a breath of fresh air, well metaphorically speaking,
Starfield Xbox Series X and PC exclusive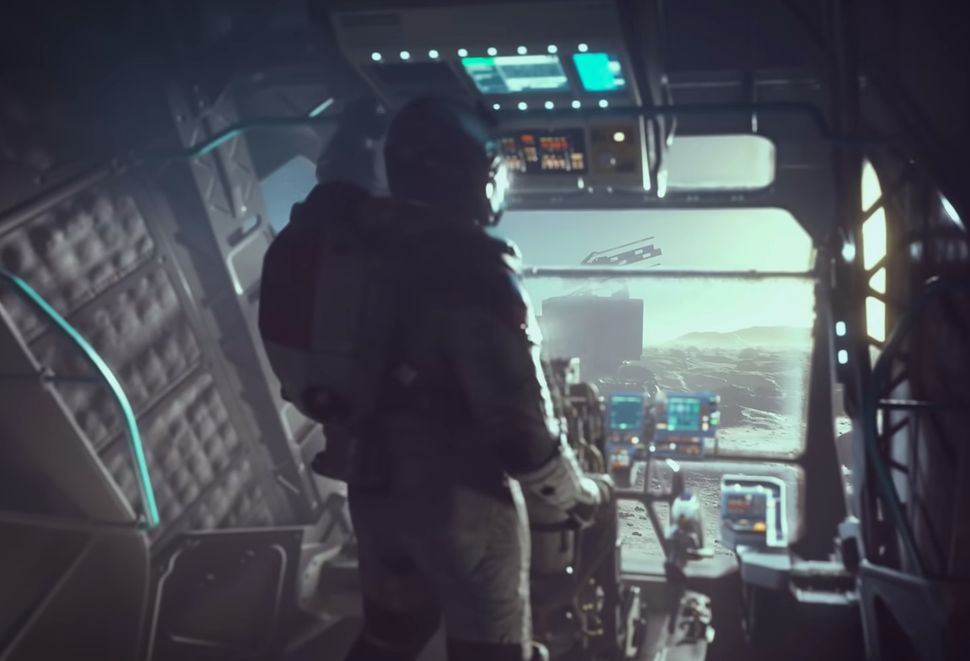 If you've found an Xbox Series X restock or have one of our best gaming PCs, then you're in luck as Starfield will be an exclusive game for those platforms.
We're afraid to say PS5 owners are all out of luck. But then they do get Deathloop, which is a Bethesda-made exclusive coming to Sony's new games console.
As for performance, Starfield is set to run at 30 frames per second on the Xbox consoles, due to the advanced nature of the game. Expect powerful the best gaming PCs to push into 60 fps territory and beyond.
Starfield system requirements
As posted on the Starfield store page, the PC requirements for the game are somewhat demanding. But if you have a reasonably modern gaming desktop or gaming laptop you should be able to run Starfield.
Minimum specs
OS: Windows 10 Version 22H2 (10.0.10945)
Processor: AMD Ryzen 5 2600X or Intel Core i7-6800K
RAM: 16GB
Graphics: AMD Radeon RX 5700 or NVIDIA GeForce 1070Ti
DirectX: Version 12
Storage: 125GB available space and SSD required
Recommended specs
OS: Windows 10/11 with Updates
Processor: AMD Ryzen 5 2600X, Intel i5-10600K
RAM: 16GB
Graphics: AMD Radeon RX 6800 XT, NVIDIA GeForce RTX 2080
DirectX: Version 12
Network: Broadband Internet Connection
Storage: 125GB available space and SSD required
With the news of the AMD and Bethesda deal that makes the former an 'exclusive' partner in the making of Starfield, some Nvidia fans are concerned that their GPUs will miss out on key graphical features.
AMD have confirmed Starfield on PC will use FSR 2 image proccessing. Now that the GPU giant is partnered with Bethesda on the sci-fi epic, though, there's no guarantee Nvidia's DLSS 3 upscaling will ever make it into the game. Team Green fans are naturally concerned.
Starfield outlook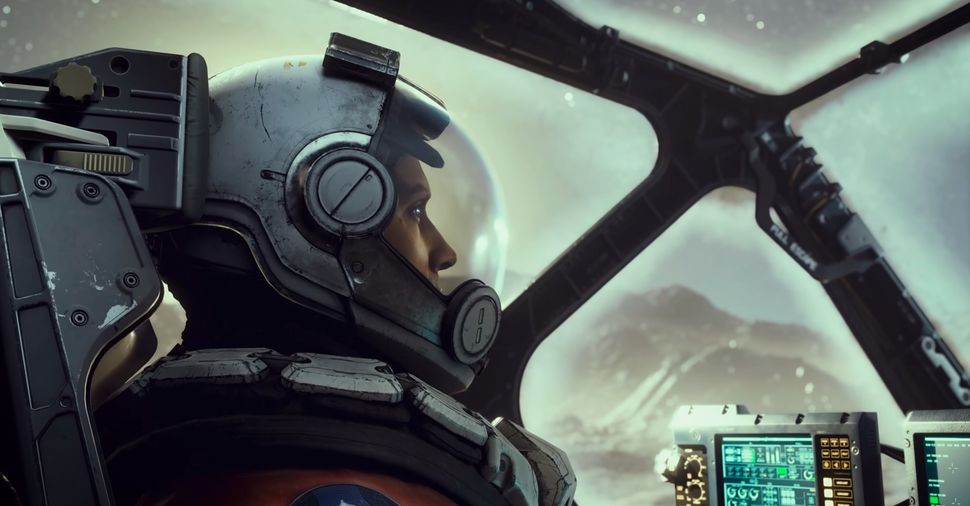 Starfield is Bethesda at its best. While it doesn't revolutionize the open-world genre in the same manner as Elden Ring, Tears of the Kingdom, and The Witcher 3, this is still one of the finest examples the genre has to offer.
What Starfield offers is the pinnacle of the Bethesda open-world design that may just have you playing it for the next 10 years. This ambitious title certainly has the potential to be the next Skyrim in that regard.