The foldable market is heating up, making a Samsung Galaxy Z Flip 5 vs. Galaxy Z Flip 4 comparison more critical than ever. The upcoming Samsung Galaxy Z Flip 5 will need to offer some major upgrades if it wants to rank as one of the best foldables phones — especially since Samsung may not be the only major player in the foldable business for much longer.
The OnePlus V Fold is already confirmed to be arriving in the latter half of this year, while rumors point toward the Google Pixel Fold arriving in the near future. And that's just in the United States. That means Samsung can't afford to stick to minor, iterative changes with the Galaxy Z Flip 5. Thankfully some rumors are pointing toward some major changes from the Galaxy Z Flip 4.
We're expecting Samsung to stick to its traditional release schedule, which means the Galaxy Z Flip 5 isn't likely to arrive before late August. But we've already been hearing rumors on what might change, and how a Samsung Galaxy Z Flip 5 vs. Galaxy Z Flip 4 comparison might shake down.
Galaxy Z Flip 5 vs. Galaxy Z Flip 4: A near-invisible crease
One of the biggest rumored changes for future Samsung foldables is the inclusion of something called the "waterdrop" hinge. According to reports, this hinge will help fix one of the biggest issues with Samsung foldable displays — the all-too obvious crease in the middle of the display where the phone folds shut.
The idea behind this design is that part of the display will be able to roll inside the Galaxy Z Flip 5's body. That means it won't have to fold completely flat, and won't end up developing a crease in the process.
That would bring Samsung's foldables up to the same level as the likes of the Oppo Find N2 Flip — a phone whose crease is barely noticeable. The downside is that Samsung's hinge is reportedly less durable than its rivals. Reports suggest Samsung will rate the display for 300,000 folds. While this is better than the Z Flip 4's 200,000 fold rating, it's not quite as good as Oppo which rates its displays for 400,000 folds.
Galaxy Z Flip 5 vs. Galaxy Z Flip 4: Better chips and performance
The Galaxy Z Flip 4 comes with the Snapdragon 8 Plus Gen 1 chipset, which is commonly available in Android flagships that launched in the latter half of last year. While that chipset is no slouch, we're expecting the Z Flip 5 to come packing the new high-performance Snapdragon 8 Gen 2 for Galaxy. That's the same chip that appears in the Galaxy S23 lineup, offering an overclocked variant of Qualcomm's flagship Snapdragon 8 Gen 2.
The Snapdragon 8 Gen 2 for Galaxy has already proven its worth in benchmarking tests, absolutely thrashing the Gen 1 chip in single- and multi-core CPU tests. It even managed to beat out the iPhone 14 Pro Max's A16 Bionic in graphics testing — though it still lagged behind Apple's top silicon in CPU and video transcoding tests. Still, it's the closest an Android phone has come to Apple silicon in recent years.
It's also possible that the Z Flip 5 will come with UFS 4.0 storage, which offers much faster read/write times than the UFS 3.1 storage found in the Z Flip 4. The only downside is that the smallest UFS 4.0 storage Samsung makes right now is 256GB — meaning any 128GB Z Flip 5 models will be restricted to the old speeds.
Samsung Galaxy Z Flip 5 vs. Galaxy Z Flip 4: A bigger cover display at last
Rumors had suggested that the Galaxy Z Flip 4 might finally come with a larger cover display, but this never came to pass. Thankfully it looks like this might be changing with the Z Flip 5. In fact the cover display could be so large that it could end up taking up almost half of the exterior case.
Leaker Ice Universe claims that the Z Flip 5 will have a 3.6-inch cover display, which is noticeably larger than the 1.9-inch screen on the Z Flip 4. It's also larger than the 3.26-inch display on the Oppo Find N2 Flip, which may give Samsung a small advantage over its Chinese rival.
There's some debate as to what the design will involve, and whether the larger display will envelop the Z Flip 5's rear camera module or not. But no matter what it looks like, a larger screen is a larger screen, and that gives us the chance to do more without having to unfold the phone first.
The likes of the Motorola Razr and Oppo Find N2 Flip let you have access to full apps from the cover display, and with a screen this big, Samsung might finally be able to do the same.
Galaxy Z Flip 5 vs. Galaxy Z Flip 4: A longer-lasting battery
The Galaxy Z Flip 4 does not have a particularly good time with our battery life testing. The phone clocked in at 8 hours 33 minutes with its adaptive refresh rate switched on, and 8 hours 57 minutes when limited to 60Hz. It's far from the worst battery life we've seen on a Samsung phone in recent years, but it's a long way off the 11.5 hours needed to join our best phone battery life list; it's also about 1.5 hours off the pace for the average smartphone.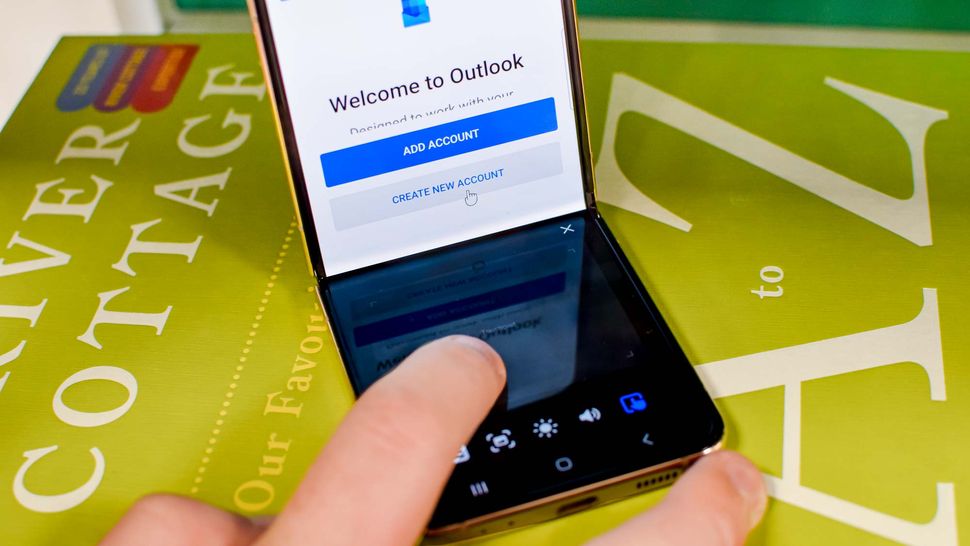 We're expecting that the Z Flip 5 will come packing a much stronger battery life, even if it doesn't offer any additional battery capacity. After all, the Samsung Galaxy S23's battery lasted more than 2.5 hours longer than the Galaxy S22, with a meager 200 mAh upgrade to its battery size. We're expecting that kind of improvement to spread across other Galaxy smartphones.
The Snapdragon 8 Gen 2 is already more power efficient than the Gen 1 chip, which will definitely add some extra time to that battery life. Likewise UFS 4.0 storage is said to use 46% less power than UFS 3.1, despite offering much faster speeds. How much those two upgrades could add to the battery isn't entirely clear, though we hope Samsung has some battery-optimization tricks to help squeeze even more time out of the Z Flip 5's battery pack.
Samsung Galaxy Z Flip 5 vs. Galaxy Z Flip 4: Outlook
There's still a few months before the Galaxy Z Flip 5 is expected to launch, so there's a lot we still don't know about the upcoming phone. But the rumor mill is always working, and we'll likely hear a lot more over the coming weeks — including how the Z Flip 5 will improve upon the Galaxy Z Flip 4.
Hopefully Samsung has realized its days as uncontested king of the foldable market are up, so that it starts offering some more substantial upgrades before someone else starts eating away at its market share.
More from Tom's Guide