Comparing the PS5 vs. PS5 Digital Edition is a simple case of noting that the former had a disc drive and in more expensive, while the latter has no drive and is thus cheaper.
As such, the PS5 costs $499 and the PS5 Digital Edition slashes that price by $100 to cost just $399.
From my perspective, I was willing to spend more on the standard PS5. That being said, I know I'm an outlier on this, so I'll break down the pros and cons of going with each side.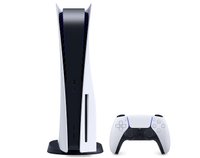 Black Friday 2020 deals
Neither the PS5 nor the PS5 Digital Edition are anything close to cheap, so we're doing the work to find the top Black Friday PS5 deals. Right now, that means savings on games, so your big pricey new console can get decked out with all the gaming you could desire.
PS5 vs PS5 Digital Edition specs compared
Swipe to scroll horizontally
| Header Cell - Column 0 | PS5 | PS5 Digital Edition |
| --- | --- | --- |
| Price | $499 | $399 |
| Optical drive | Ultra HD Blu-ray | None |
| 4K | Yes | Yes |
| Size | 15.4 x 10.2 x 4.1 inches | 15.4 x 10.2 x 3.6 inches |
| Weight | 9.9 pounds/4.5kg | 8.6 pounds/3.9kg |
| CPU | AMD Ryzen Zen 2 | AMD Ryzen Zen 2 |
| GPU | AMD Radeon RDNA 2-based graphics engine with ray tracing acceleration | AMD Radeon RDNA 2-based graphics engine with ray tracing acceleration |
| SSD | 825GB with 5.5GB/s read bandwidth | 825GB with 5.5GB/s read bandwidth |
PS5 vs. PS5 Digital Edition price
It was obvious the all-digital PS5 would cost less than the regular model; what we didn't know was how much less. Prevailing wisdom suggested it'd be a difference of $100 between the two models and, lo and behold, that's what we got.
I totally understand why many gamers may prefer to go digital for PS5. That extra $100 is enough for nearly two full-priced games, or could be invested in extra controllers or other accessories. Plus, we live in economically uncertain times, where even the thought of buying a new console might be a lot for people to process, when whole industries have paused and are only now coming back.
Why you should buy the PS5 with disc drive
Not to be a contrarian, but I'm of the belief that I'll want to own a physical copy when a movie or video game is really important to me. In the age of streaming, it makes sense to buy optical media for movies that you want to own forever. First of all, the Movies Anywhere program means that most Blu-ray purchases come with codes for digital copies, that work across all platforms.
And while a digital purchase should give you a license to stream the movie online forever, the legal fine print can always change that around. Plus, most streaming devices don't have a capacious enough hard drive to keep every movie saved locally — if the apps you use even allow for downloads. Instead, relying on digital purchases in turn forces you to rely on your internet provider for quality download speeds.
If I sound like am a hoarder, that's probably an accurate read on me. But tell me you've never felt the pain of trying to find a show or movie that isn't available to stream. I remember my colleague Marshall Honorof telling me about how much of a pain it is to find David Attenborough's nature documentary series, The Life of Mammals, which is seemingly being lost to the digital ether, only preserved online in grainy and illegal means.
You also stand a better chance to save on game purchases by being able to play discs as well as digital copies, potentially resulting in a scenario where a $499 PS5 with a disc drive pays for that $100 premium itself, over time. After all, the more potential vendors to purchase from — whether second-hand or not — the more opportunities there are to save. Come Black Friday and the holiday season, we still expect to see physical-only deals for some titles, and there's no indication that's going away anytime soon.
And then there's the other reason why I'm not buying the digital edition: the PS5's backwards compatibility. If you happen to have a large library of physical PS4 games, you won't be able to play any of them on your disc drive-free PS5 Digital Edition.
That means if you have any desire to carry your PlayStation collection with you, you pretty much have to go with the pricier PS5. Ditto for games coming out cross-gen, as the PS5 supports free upgrades for titles like DIRT 5, but only if you own the disc for the PS4 version.
These games will be enhanced on PS5, but the only way to play them on PS5 without having to buy them again is to copy their discs to your PS5's hard drive. And the only way to do that is to have a PS5 with a disc drive in the first place.
Why you should buy the PS5 Digital Edition
All that being said, I can't help but think about how much time and effort I spent trying to fix my PS4's eject button, which used to randomly spit out discs. The more moving parts in a piece of hardware, the higher chance of something breaking.
If you're trying to reduce the amount of possible upkeep, the best advice we can give is to get the PS5 Digital Edition. But don't expect the PS5 Digital Edition to be worry free. Many an Xbox 360 owner can tell you about the "Red Ring of Death" — and that had nothing to do with its disc drive.
Ultimately, the PS5 Digital Edition is the cheapest PS5 you can get, and is a good fit for gamers who mainly buy digital and don't have a stack of physical PS4 games lying around. But keep in mind the pros of having a disc drive before you decide.