Samsung Unpacked recap: Galaxy Z Fold 3, Z Flip 3, Galaxy Watch 4 and more
Two new foldable phones, a Wear OS-based Galaxy Watch and new wireless earbuds debut at a packed event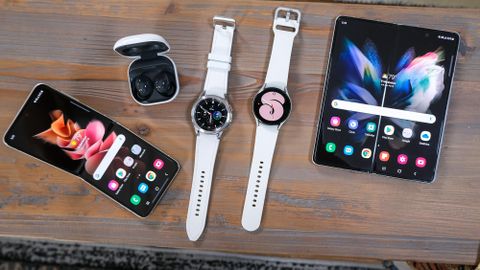 (Image: © Tom's Guide)
As promised, Samsung ushered in a new wave of foldable phones today (August 11) during its fourth Galaxy Unpacked event of the year. But the new handsets had some company on stage, as we also saw the latest Galaxy Watch plus an addition to the Galaxy Buds line of wireless earbuds.
Those are four big product announcements, making for a pretty packed day of news. Speaking of packed days, the next one to circle on your calendar is August 27, as that's when the Galaxy Z Fold 3, Galaxy Z Flip 3, Galaxy Watch 4 and Galaxy Buds 2 hit retail shelves.
Are these latest Samsung offerings worth your time and money? You can read more about each product at the linked hands-on reviews above, but here's a quick recap o everything Samsung announced during Galaxy Unpacked today.
Galaxy Z Fold 3: The third version of Samsung's initial foldable device looks a lot like its predecessors, with a phone-sized device unfolding to reveal a tablet-style 7.6-inch screen. But Samsung made some critical changes to the Galaxy Z Fold 3 — both the interior and exterior displays have a faster 120Hz refresh rate, and the foldable adds support for Samsung's S Pen. The camera on the interior display is an under-display shooter, meaning it disappears from view when not in use. And Samsung looks to make its foldable phone more durable with an IPX8 water resistance rating.
The Galaxy Z Fold 3 costs $1,799 — a lower price than last year's model — and Galaxy Z Fold 3 pre-orders are now underway.
Galaxy Z Flip 3: Like the Galaxy Z Fold 3, Samsung's foldable flip phone should be more durable, thanks to its iPX8 water resistance rating. (We've got a look at how the new foldables match up in our Galaxy Z Fold 3 vs. Galaxy Z Flip 3 comparison.) The big change here is outer display on the Galaxy Z Flip 3 — unlike the 1.1-inch strip on the original phone, the new screen is now 1.9 inches, making it easier to handle notifications without having to open the phone. Otherwise, the Galaxy Z Flip 3 looks a lot like its predecessor, though with new colors and a more powerful processor than before.
Samsung has dropped the price on the Galaxy Z Flip 3 to $999 — the first time you can get a foldable for less than $1,000. Galaxy Z Flip 3 pre-orders are underway.
Galaxy Watch 4: Samsung is combining its own Tizen software with Google's Wear OS for an entirely new platform for smartwatches. The focus with the Galaxy Watch 4 is on health-tracking features, highlighted by the ability to measure body composition. You can choose between two versions — the $249 Galaxy Watch 4 and the fancier $349 Galaxy Watch 4 Classic.
Galaxy Buds 2: The latest wireless earbuds from Samsung offer active noise cancellation in a more affordable $149 package.
Here's a blow-by-blow account of the Galaxy Unpacked event as it happened.
Get the Tom's Guide newsletter!
Instant access to breaking news, the hottest reviews, great deals and helpful tips.
Thank you for signing up to Tom's Guide. You will receive a verification email shortly.
There was a problem. Please refresh the page and try again.