Google Pixel event recap — Pixel 7, Pixel Watch, Pixel Tablet and latest news
Here's all the big Google product news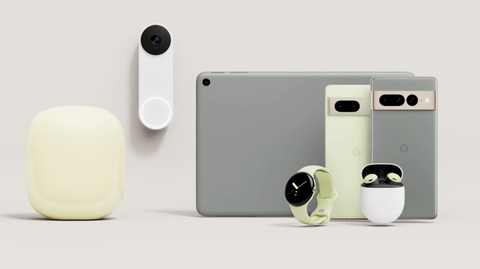 (Image: © Google via YouTube)
The Google Pixel event has just unleashed a wave of new Google devices, and there's a big theme around intelligence and being helpful to users.
The highlights are the new Pixel 7, Pixel 7 Pro and Pixel Watch (the first-ever Google smartwatch), but we also got to learn more about the Google Pixel Tablet.
For the Pixel phones, Google is focusing on sleeker designs and especially better camera quality and video features. I'm personally excited to see the faster new Night mode, Photo Unblur feature, as well as the macro mode and Super Res Zoom on the Pixel 7 Pro.
Meanwhile, the Pixel Watch touts the best heart rate monitoring in a smartwatch along with Fitbit and Google features coming together on your wrist. The Pixel Tablet doubles as a smart display and speaker with the dock stand accessory, so it should be useful even if it's across the room.
Here's everything announced at the Google Pixel event.
Google event products
Pixel 7 Pro: Google's newest $899 (£849 / AU$1,299) flagship is sure to impress. The Pixel 7 Pro gets a Tensor chipset, 6.7-inch OLED display and lots of camera upgrades. These include a powerful 5x telephoto lens and new macro focus mode for closeups. The Pixel 7 Pro also gets its Cinematic Blur for video, which utilizes Tensor's power to add an artistic blur effect and shallow depth of field to your videos. The Pixel 7 Pro can also lock on your subject while zoomed in with photos and videos.
Tensor also powers the new Photo Unblur, which can unblur your photos much like Magic Eraser can remove things. Night Sight also got an upgrade and is now two times faster than before, meaning you should get more stable low-light shots. Finally, the Pixel 7 Pro has Face Unlock.. It works in tandem with the fingerprint sensor to provide authentication to unlock your phone using machine learning to recognize your face.
Pixel 7: Don't discount the $599 (£599 / AU$999) Pixel 7. While it lacks the Pixel 7 Pro's larger and higher-res screen, the 5x telephoto camera, and 12GB of RAM, the Pixel 7 with its 6.3-inch 90Hz OLED display ought to still provide an excellent value. Thanks to the Tensor G2 chipset, you'll get flagship-level performance with a swath of AI and machine learning smarts. You get all of the same software goodness that the Pixel 7 Pro gets.
Google Pixel Watch: Google's first smartwatch is finally official. The Pixel Watch is positioned as the ultimate accessory for Pixel phone users, bringing the best Google services to the Wear OS experience. Think: Gmail, Google Maps, Google Wallet, YouTube Music and more. But that's only half the smartwatch's story — fitness tracking is entirely backed by Fitbit. The circular Pixel Watch comes in three colors and one size, starting at $349 (£339 / AU$549) for the GPS-only version and $399 (£379 / AU$649) for the model with cellular support.
Google Pixel Tablet: The new Google Pixel tablet features a soft-touch design that's comfortable to hold and Android 12L, which is designed to give you a better tablet experience. This means more split-screen apps and more apps that take advantage of a larger display. And because this slate is powered by a Tensor chip, you'll be able to leverage many of the same photo and video features offered by the Pixel 7. The coolest part is the charging dock, which transforms the Pixel Tablet into a smart display with more powerful speakers.
How to watch the Pixel event
The Google October event was livestreamed on October 6 in the U.S. and U.K. and veery early October 7 in Australia.
You can re-watch the event on YouTube (opens in new tab) and we've embedded the video for the event below. But do read this live blog as we have all the latest news as well as our thoughts on Google's latest devices and smart software.
Thank you for signing up to Tom's Guide. You will receive a verification email shortly.
There was a problem. Please refresh the page and try again.