Editor's Note: The iPadOS 16 public beta is available now, which means you brave souls can install an early, unfinished version and try it out for themselves. We did just that, so check out our iPadOS 16 review for our impressions of the beta and don't miss our guide to how to download the iPadOS 16 beta! Our original story follows:
Apple unveiled the new features coming to iPadOS 16 during its annual WWDC event in June. This time around the updates focus on improved multitasking and take many cues from new features coming to macOS 13 (otherwise known as macOS Ventura) and iOS 16.
New iPad features include Collaboration, where you can add folks to collaborate in real-time via first and third-party video apps. A new Freeform feature in iPadOS 16 allows you an others to jot down notes or draw on a virtual whiteboard, while Stage Manager makes it easier to work with a connected external display.
These new features seem promising and may deliver on the notion of turning the iPad into a desktop replacement.
Here's a closer look at everything that's new in iPadOS 16.
iPadOS 16 at a glance
iPadOS 16: Release date and beta
Apple has officially given iPadOS 16 a release date: October 24th, 2022.
An iPadOS 16 developer beta was made available during WWDC. Apple released the first public beta on July 11, though we strongly recommend you back up your Mac before installing beta software.
iPadOS 16: Compatibility and supported devices
In the fine print of its iPadOS 16 announcement, Apple says that the software update will work with the iPad (5th generation and later), iPad mini (5th generation and later), iPad Air (3rd generation and later), and all iPad Pro models. Based on iPadOS 15 compatibility, that means the 2nd generation iPad Air and fourth generation iPad Mini are losing support with the new update.
It's also worth noting that not every iPad capable of running iPadOS 16 will support every feature. We'd imagine some features are dependent on having an M1-powered tablet. Those details will become apparent as we spend time with the beta.
iPadOS 16: New features
iPadOS 16 brings a slew of new multi-tasking features.
One new feature is called Collaboration, which allows you to add and communicate with people on apps like Safari, iWork suite and even third-party apps. You're able to share documents, photos and videos with a group. It's also possible for group members to edit and add notes to those files. You'll be able to see who joins a Collaboration session and can also see who is currently updating a document.
Collaboration extends to other apps such as Messages, allowing you to share content from Files, Keynote, Numbers, Pages, Notes, Reminders, and Safari, as well as third-party apps in a group chat. Sharing that info gives everyone access, and you'll be able to see updates and changes at the top of the Messages window. (Like iOS 16, Messages in iPadOS 16 gain the ability to edit and recall messages, mark conversations as unread and watch videos via SharePlay from within the message appl.)
Another upcoming feature is called Freeform. This app lets users interact with a virtual whiteboard. Apple says this feature is great for brainstorming and collaborating. You can use an Apple pencil to jot down notes or even draw on the aforementioned board. It's also possible to drop photos, videos and documents into a specific group using the whiteboard feature.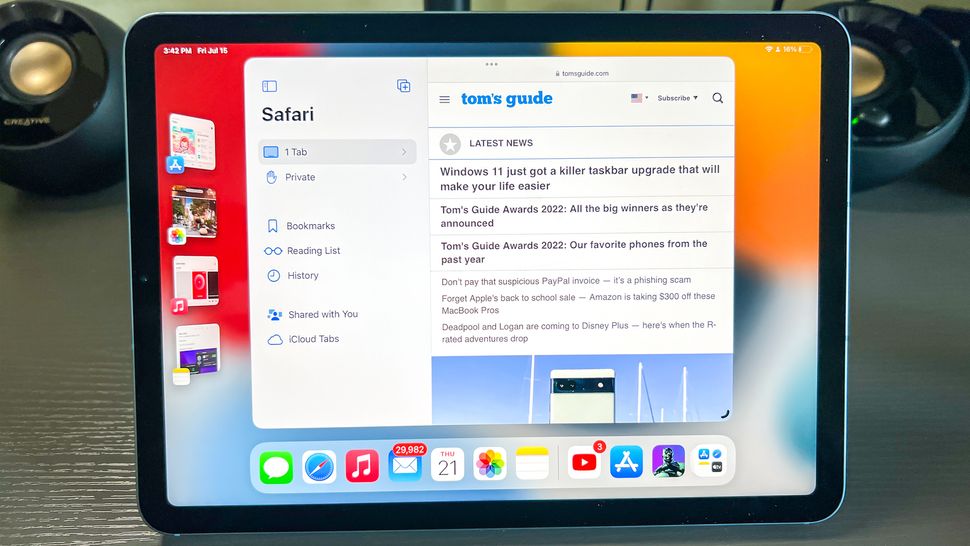 macOS Ventura's Stage Manager feature is also making its way to iPadOS 16. Stage Manager allows you to resize windows as you would on a Mac (or PC) and has a visible dock on the screen that makes it easy to access apps. You can switch between open apps, with unused apps being moved to the side.
Stage Manager's best feature is how it lets you plug your iPad into an external display so that you can effectively have two screens. You can create groups of three or four windows on each display and have a total of eight apps running on your iPad and external display. This feature will no doubt be useful during presentations.
Originally, Stage Manager was only available on M1-powered iPads. While, admittedly, Apple explained why only M1 iPads can run the feature, it was still disappointing. However, the latest developer beta of iPadOS 16.1 is expanding the feature to four older iPad Pro models.
While this is good news, unfortunately, Stage Manager is also getting a downgrade. These four older iPads will not be given external display support for Stage Manager. Additionally, the M1-powered iPads that currently do have external display support for Stage Manager are losing it in iPad OS 16.1 beta 5. Apple does say that we will eventually get the feature back.
iPadOS 16: Other additions
The Weather app has been missing in action from iPads since the dawn of time, but iPadOS 16 brings it to Apple's tablet. (A developer API will allow app makers to build weather info into their software as well.)
Mail is getting some features that sound straight out of Gmail's playbook. New Smart Tools let you cancel the delivery of a message before it reaches a recipient's inbox, schedule emails, and resurface emails with a Remind Later feature. Apple says that search in Mail will be improved as well.
Apple promises desktop-class apps for the iPad, bringing over features such as consistent undo and redo experience and a better better find-and-replace experience. You can also view folder sizes in Files. Consider these more steps to make your iPad more like a desktop experience.
If you've got an iPad Pro, you'll be able to take advantage of Reference Mode, which lets the 12.9-inch model match the color requirements in workflows like review and approve, color grading, and compositing — definitely a welcome addition for pros who use their iPad as a second screen. Display Zoom on M1-powered iPads lets you increase the pixel density of the display to see more in different apps, while Virtual Memory Swap can expand available memory.
A lot of iOS 16 additions also make their way to the iPad, including live text support for video, a My Sports section in Apple News with scores and highlights, on-device dictation and more. Game Center is getting an activity section on the dashboard so that it's easy to see what games your friends are playing and what achievements they've racked up.
iOS 16 Safari is also getting many new features, some of which are common to iPadOS 16.
iPadOS 16: Outlook
iPadOS 16 should make iPads feel more like proper desktops. This is something many have long hoped for and that Apple seems to be delivering on. As we said, there are a good deal of folks who use iPads for work or as their sole computing device. These multitasking features should also take better advantage of the M1 chip housed within the iPad Pro and iPad Air.
iPadOS 16 seems promising but we'll need to go hands-in with it to see how well these new features hold up under real-world conditions. Hopefully, it won't be long before the developer and public betas go live.
Stay tuned to this page for more iPadOS 16 updates.