The iPhone SE 3 has a high bar to clear. For a mere $399, the iPhone SE (2020) delivered the same powerful A13 Bionic chip in a compact body. Despite some weaknesses, the phone was overall an incredible value.
We had expected the iPhone SE 3 to arrive earlier on in 2021, but it now look like the phone will provably make its debut in 2022, as this year looks to be all about the iPhone 13.
The iPhone 12 mini's struggle to sell well suggests that there could be a limited appetite for a premium small phone. But the iPhone SE 3 should have a strong value component that will be hard to ignore.
With that in mind, here's what we know so far about the iPhone SE 3.
iPhone SE 3 news (updated September 13)
iPhone SE 3 release date speculation
As mentioned, we had been expecting the iPhone SE 3 to arrive this year, but going by the more recent rumors and tips it looks like the phone could arrive in 2022.
A supply chain report from DigiTimes Asia claims that the iPhone SE 3 won't be arriving until early 2022. When in 2022 isn't exactly clear, though sources claimed that it would be in the first half of the year. Similarly analyst Ming-Chi Kuo has also said that the iPhone SE 3 would arrive at some point in early 2022, though didn't elaborate any further.
iPhone SE 3 potential price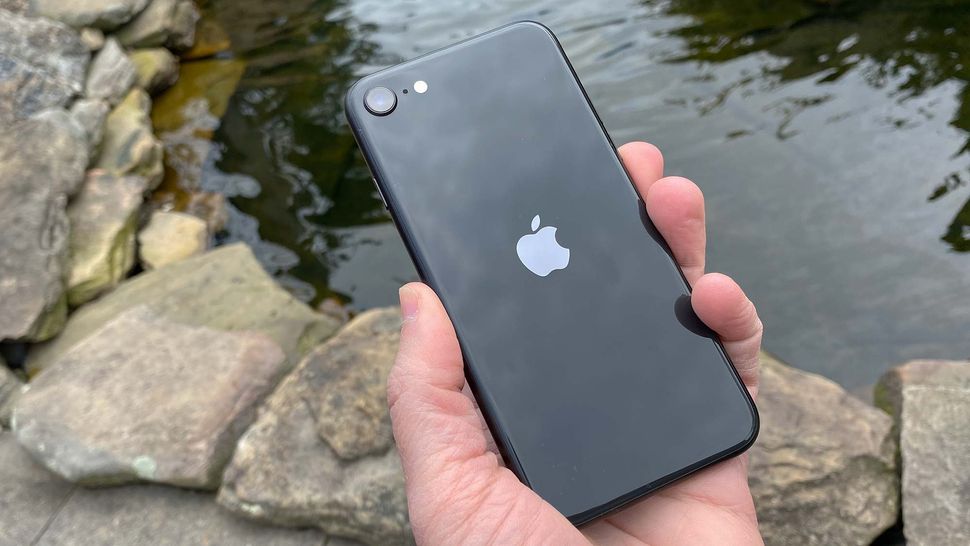 We don't know much about the iPhone SE 3's price right now, but we think Apple will still aim for that $399 price point. It's the price-to-performance ratio that makes the SE (2020) so appealing for a lot of people, and it would be foolish of Apple to buck that.
One leaker has the iPhone SE 3 priced at 3,499 yuan, which converts to $542. That seems steep to us and such currency conversion are rarely accurate.
If there is a iPhone SE 3 Plus or iPhone SE Plus with a larger display, we could see that handset costing $499. But then it would need to be a replacement for the iPhone XR, which remains one of the best iPhones because of its $499 price.
iPhone SE 3 specs
The iPhone SE (2020) packed some hard-hitting specs considering its price — no Android phone could compare. The A13 Bionic is still a great chip, but it may be getting a bit dated by the time the iPhone SE 3 comes around.
But a recent claimed leak has the iPhone SE 3 pegged to get the Apple A14 Bionic chip, a rather powerful system-on-a-chip found in the iPhone 12 range.
Screen size and resolution remain unknown for the time being, but rumors suggest either a 5.5-inch or 6.1-inch display. And the display might be an LCD panel rather than OLED, which would be a tad disappointing given how a plethora of affordable Android phones have OLED screens.
The current storage options for the iPhone SE are 64GB, 128GB and 256GB. The iPhone SE 3 would likely stick with the same options, though Apple could make the base option 128GB since it would be saving costs by not including a charger. This trend started with the iPhone 12 and we don't see it going away.
iPhone SE 3 design
The iPhone SE (2020) used the same exact body as the iPhone 8. It was an effective cost-saving measure, even if that phone's design looks severely outdated by today's standards.
Concept renders of the iPhone Se 3 see it more as a reimagined iPhone XR, with the phone adopting Face ID via a display notch and dropping the Touch ID-equipped home button.
This design is certainly sleeker, but we'd be curious to see if Apple didn't go another direction, say making use of a punch hole selfie camera and putting a fingerprint scanner in the phone's power button similar to the iPad Air 2020.
iPhone SE 3 cameras
The iPhone SE 2020 takes good-looking photos, thanks to Apple's computational photography, but it packs only a single lens. We'd like to see Apple add an ultrawide lens for the iPhone SE 3.
Apple also needs to give the iPhone SE 3 a night mode to better compete with the Google Pixel 4a. The front camera could also use an upgrade on the iPhone SE 3, as the current selfie shooter is stuck at 7MP.
iPhone SE 3 battery and charging
A notable weakness for the iPhone SE was the battery life. It couldn't match the iPhone 12 and iPhone 11 Pro in our best phone battery life list. In the Tom's Guide battery life test, the iPhone SE managed 9 hours and 18 minutes.
However, this runtime did beat the Pixel 4a, which lasted only 8:55. We expect that the iPhone SE 3 will sport a bigger battery, but nothing has been confirmed yet.
iPhone SE 3 name: Will it be the SE 3 or the SE Plus?
We've heard about an iPhone SE Plus, which may or may not be the same as the iPhone SE 3. Rumours suggest that this may be a larger affordable iPhone and it's difficult to tell if it's actually the iPhone SE 3.
Right now, we just don't know. Apple could release two new models, a smaller version and a larger one. Both handsets would target the affordable mid-range market. We'll just need to wait for further leaks on Apple's plans.
iPhone SE 3: What we want to see
As good as the iPhone SE (2020) is, we'd like to see a few things improved for its successor.
5G: Now that other phone makers are releasing 5G phones for under $500 and even under $400, it's time that Apple does the same for its budget handset. Although 5G networks are still be deployed, shoppers deserve future-proof connectivity.
OLED display and higher resolution: The LCD on the iPhone SE (2020) is fine, but we'd like to see a better OLED display on the iPhone SE 3. This would mean punchier colors and deeper blacks with better contrast. We'd also like to see a bump in resolution. The pixel density on the iPhone SE (2020) isn't all that great either at 1334 x 750.
Better battery life: Like we said above, the battery life on the iPhone SE (2020) is just alright. It doesn't hit the 10-hour mark average that we like to see in our battery tests, but it can get through a day with light to medium use. For the iPhone SE 3, we hope that Apple uses a bigger battery.
More cameras and Night Mode: The iPhone SE (2020) uses a single 12MP wide-angle camera. It produces decent photos, but in some cases Apple falls behind the Pixel 4a. If the iPhone SE 3 adds an extra camera, we'd expect it to be an ultrawide sensor like you find on the iPhone 12 mini and iPhone 12. We also really want Night Mode since the SE (2020) lacks it.
Slimmer bezels: The iPhone 8 was a nice device for its time, but it predated the radical redesign that came with the iPhone X. As phones use slimmer and slimmer bezels, the iPhone 8 body begins to look old and out of fashion. We hope that Apple will update the design for the iPhone SE 3 and make it look more modern. Other affordable phones, like the Pixel 4a, look really nice in comparison.