The current iPhone SE may not cost much, relatively speaking, but it's still a good idea to grab one of the best Phone SE (2022) cases. Money doesn't grow on trees — even the $429 the iPhone SE cost you — and a case is a great way to avoid damage leading to costly repairs or having to replace your phone entirely.
Our iPhone SE drop testing shows that as tough as this iPhone is, you can rack up some damage when your phone tumbles to the ground. And that's not even considering things like scratches from items in your pocket or smudges from your fingers. Get the best iPhone SE (2022) cases, and those issues become less of a concern.
Even better, you've got a lot of choices when it comes to cases for the iPhone SE (2022), especially since that phone's dimensions match the iPhone SE (2020). That means cases that fit the previous generation will work with the newer model.
From simple bumper cases to more elaborate accessories. here are the best iPhone SE (2022) cases we've come across in our research.
The best iPhone SE (2022) cases right now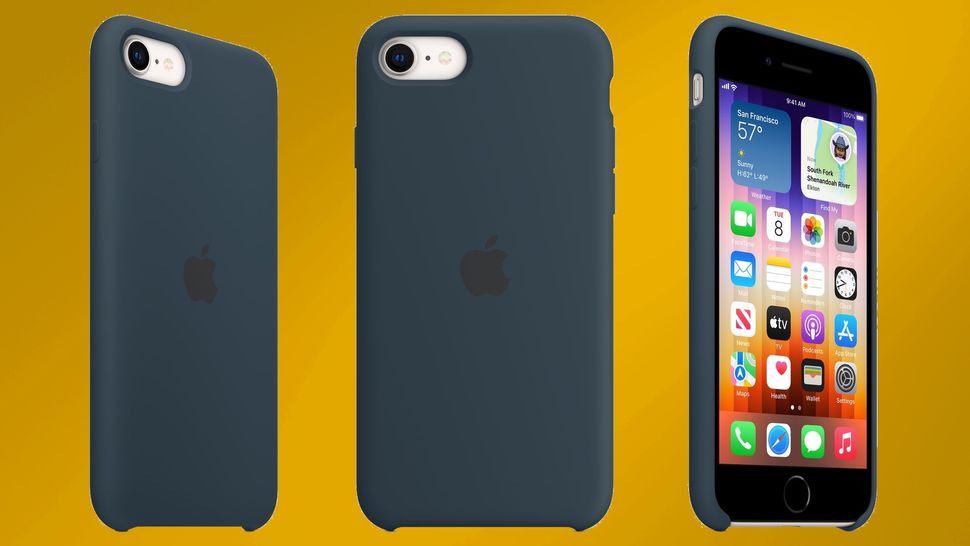 Who better to design a case for your new iPhone SE than the company that built the phone itself. Apple's iPhone SE Silicone Case is notable for how well it fits your handset, slipping right over all the external buttons on the phone. While it sports a basic look, you can expect some drop protection from this case — there's a microfiber lining on the inside of Apple's iPhone SE Silicone Case to keep your phone secure.
You can still wirelessly charge your iPhone SE, even with the case still on, and four color options give you a choice in how to augment the look of your new phone.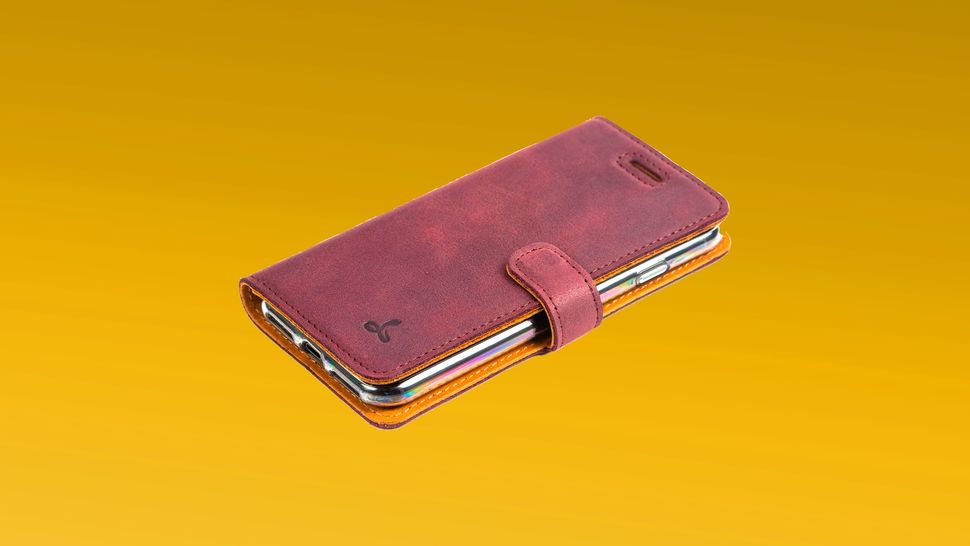 When it comes to style points, it's hard to top Snakehive's Vintage Leather Wallet. As the name would tell you, this iPhone SE case is made with genuine leather, with a choice of seven different colors to spruce up your phone's look. (The Snakehive case is listed for the iPhone SE 2020, but don't worry — it fits the new model, too.)
The Vintage Leather Wallet is pratical as well as pretty, as it has three credit card slots and a place to slip in some loose cash. The case has a built-in stand for viewing movies on the iPhone SE's 4.7-inch screen, too. In addition to drop protection from the leather exterior, a plastic lining on the inside offers scratch protection as well.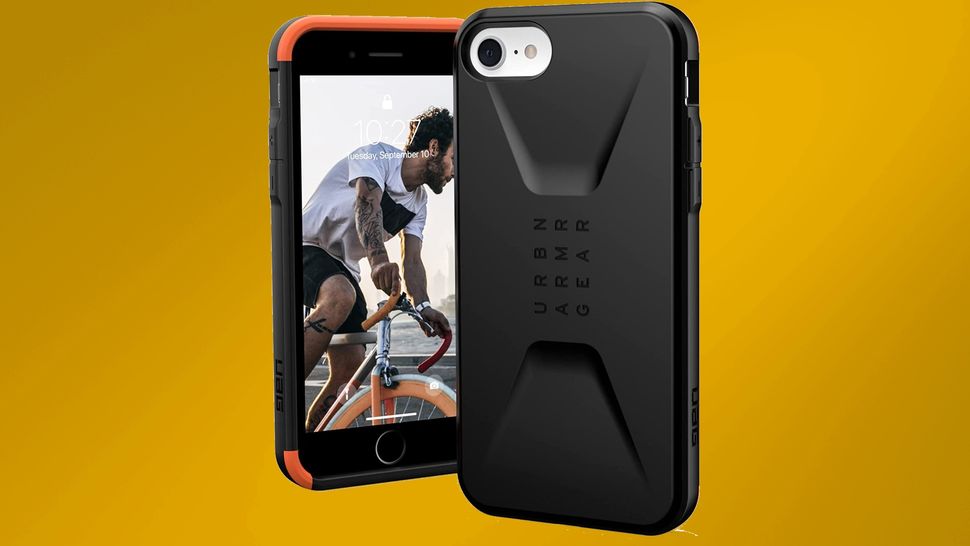 You don't have to fear damage from drops if you squeeze your iPhone SE into Urban Armor Gear's Civilian Protective Cover. The case features a shock-absorbing soft core along with impact-resisting bumpers. There's also a raised ridge around the phone's bezel to keep its screen from hitting the ground.
Urban Armor Gear says the case has been drop-tested to 20 feet, so you can have confidence that your iPhone SE will survive most spills. Even with all this protection, the Civilian Protective Cover is lightweight enough to let you still use Apple Pay and charge your phone with most wireless chargers.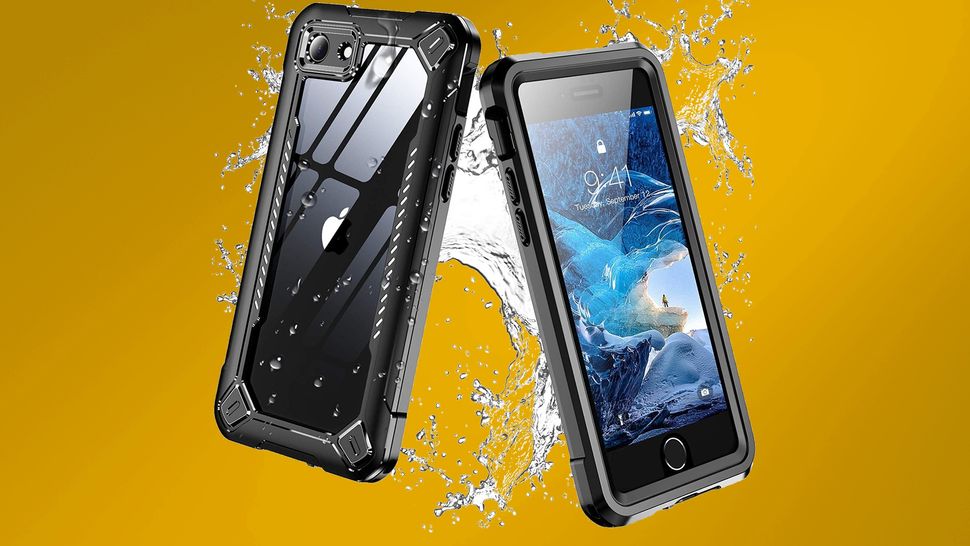 Lots of the best iPhone SE (2022) cases promise protection against drops. But Temdam's Waterproof Case throws in protection from the life aquatic as well. Temdam says its case is waterproof up to 6.6 feet for an hour. And while you're underwater, you can even snap photos or capture video. (You may want to fire up the camera before taking a dunk, though.)
There's drop protection up to 6 feet, too, so you can take your iPhone SE along on all sorts of outdoor activities. And a camping snap hook lets you attach the case to your belt or clothing, freeing up your hands.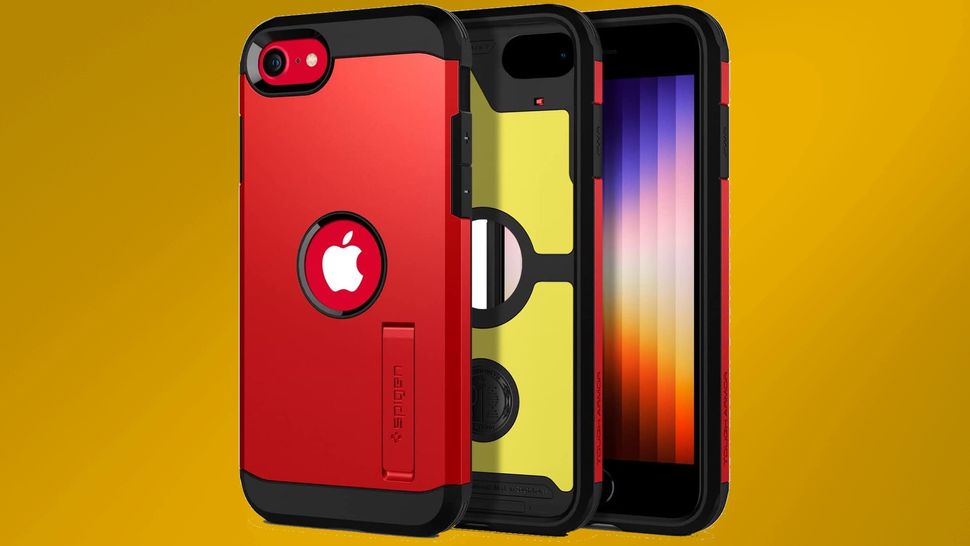 One of the bummers about enclosing your phone in a case is that you're hiding its true beauty under layers of protection. Spigen gets around that with Tough Armor case for the iPhone SE (2022). While the case offers military-grade protection, there's still a hole right on the back that lets the Apple logo and a pop of color shine through.
You won't be compromising protection by offering the world a glimpse at your iPhone. The Tough Armor uses polycarbonate and thermoplastic polyurethane materials to guard against drops and scratches, and raised edges protect the screen and camera. An included kickstand adds another degree of functionality to this iPhone SE case.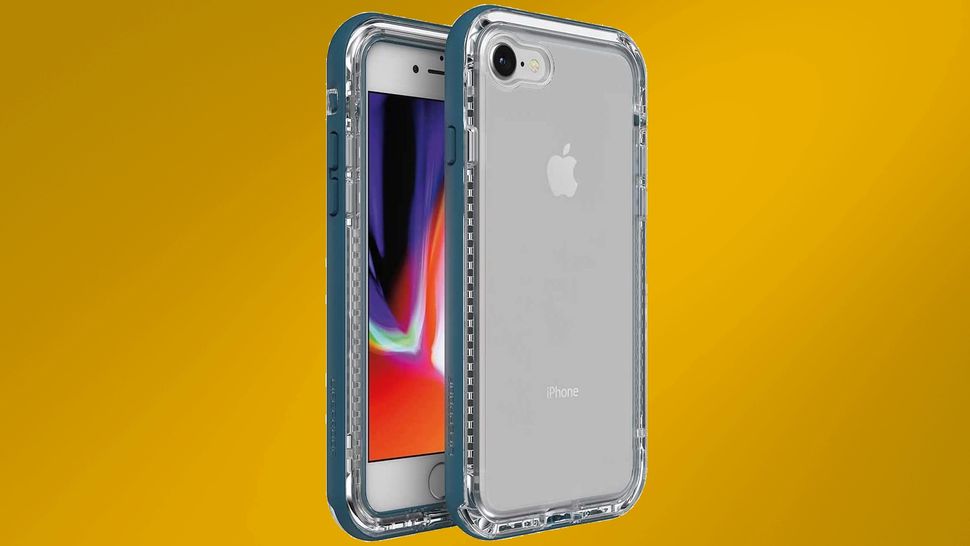 Lifeproof's Next case offers all kinds of protection for your iPhone SE, keeping it clear of dust, dirt and debris. There's also drop protection up to 2 meters (about 6 feet), though the case does not come with a screen protector.
The back of the LifeProof Next is clear, letting your iPhone's inner beauty appear, and the ring around the two-piece case features a stripe of color — your choice of different shades of blue. LifeProof uses recycled plastics in its cases, so you also know that you're buying an environmentally sustainable accessory.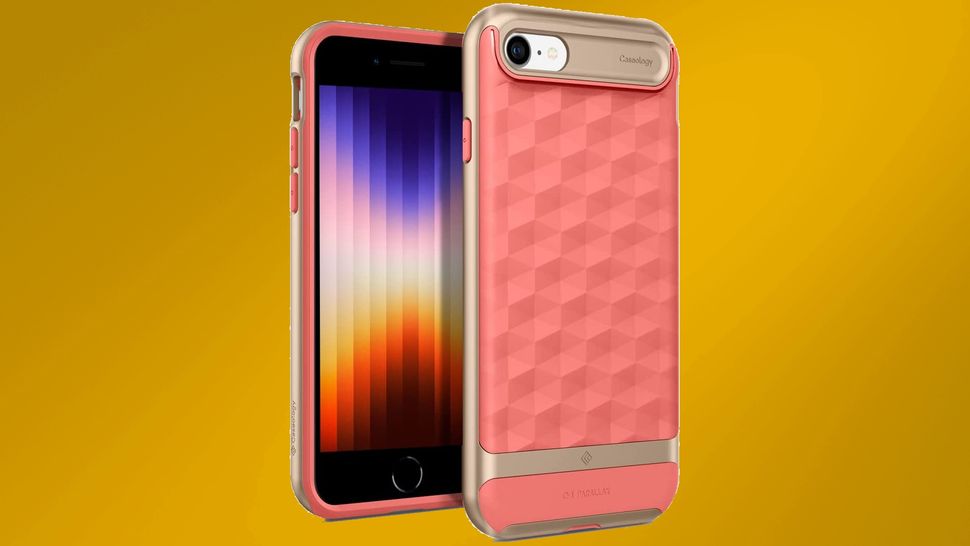 Any time we look at phone cases, Caseology's Parallax usually lands high in our rankings. It's likely because the Parallax looks unlike anything else out there with a 3D design that's meant to make your phone more grippable. (We have heard complaints from some reviewers that the sides of the case are a little bit slick.) Throw in a multitude of color options, and you've got an eye-catching accessory for your iPhone SE.
But the Caseology Parallax is more than just a pretty face. It's got dual-layered bumpers that can absorb shocks, and Caseology says this accessory has been drop-tested to prove its durability. Plus, it can work with wireless chargers, so you can keep your iPhone SE charged up without having to remove it from the case.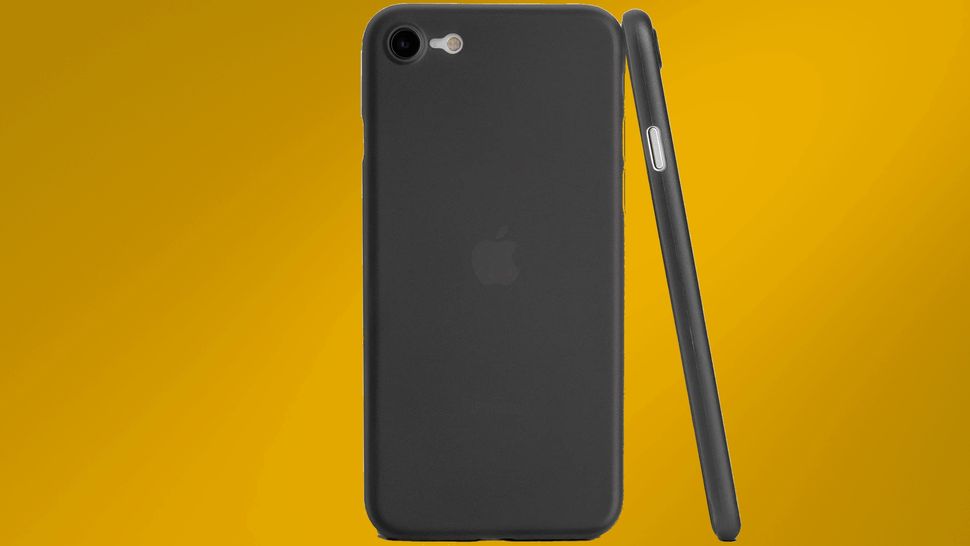 When you want protection, but don't want to add a lot of bulk onto your iPhone SE, turn to the Totallee Thin case. It's a mere 0.02 inches thin, and if you get the clear version of Totallee's case, your iPhone SE remains visible.
The case may be thin, but you can expect protection from bumps, scratches and dirt. There's a lip around the camera lens cutout to keep your iPhone SE's single rear camera from coming into contact with surfaces. And because this case is designed specifically for the iPhone SE, it will snuggly fit around the 2022 model.
The OtterBox Symmetry Series for the iPhone SE has a simple but effective way of guarding against the smudges and schmutz of daily living. This iPhone SE case comes with its own cleaning cloth, letting you wipe away any dirt and detritus that gets on your phone.
You've got a choice of two colors — Muted Waters (a sort of blue/green blend pictured above) and the hot pink of Saltwater Taffy. Otherwise, this is a very basic bumper case that's easy to slip your iPhone SE in and out of. It promises shock-absorbing material and raised edges that keep the screen safe from contact.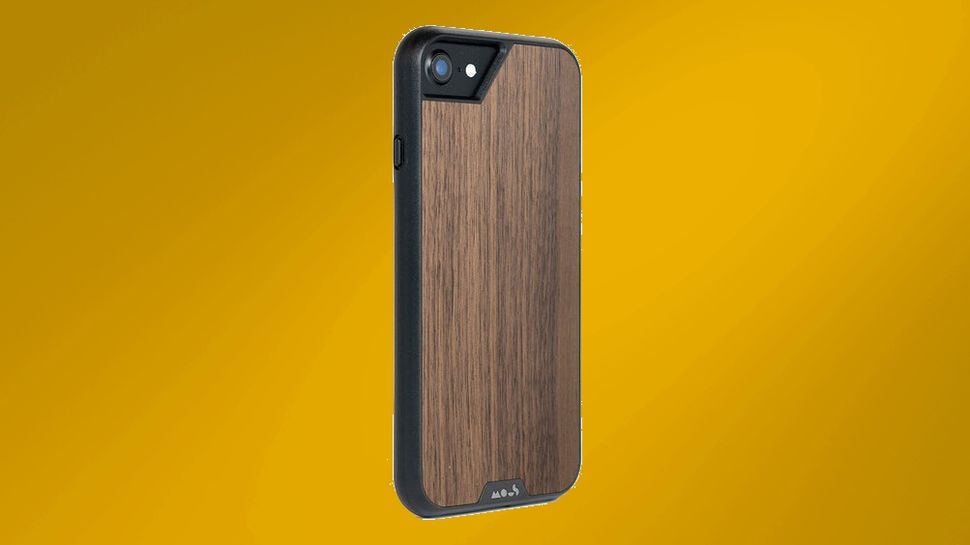 For protection with a different look, consider the Limitless 2.0 case from Mous. You can opt for a case that comes with a bamboo or walnut finish or pick more conventional looks like Aramid fibre or black leather.
Whichever design you opt for, you can expect drop protection that rivals any of the best iPhone SE (2022) cases. And while the new iPhone may not include MagSafe support, Mous equips its case with AutoAlign magnetic mounting technology that lets you use different Limitless 2.0 accessories like an attachable wallet or mount.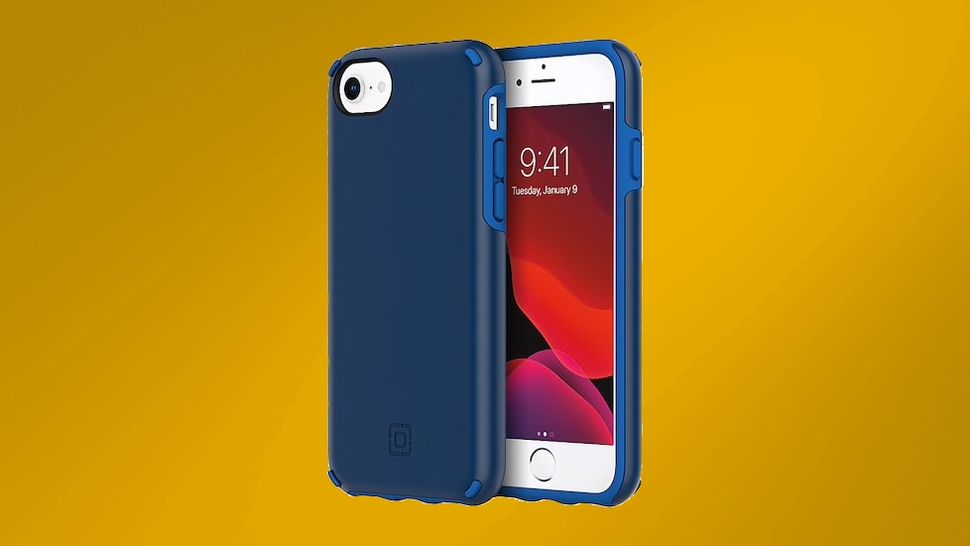 You don't need to add a lot of bulk to your iPhone SE to make sure it stays protected. The Incipio Duo is a slim, two-piece protective case that manages to provide 12 feet of drop protection. Incipio also treats the Duo with an antimicrobial treatment that the case maker says can prevent 99.9% of surface bacteria.
While the look of the Incipio Duo is as minimalist as it comes, you're not sacrificing color. You can opt for one of four different color options for your case.
How to choose the best iPhone SE (2022) case for you
When shopping for a case, make sure that it's specifically built for the iPhone SE. Fortunately, cases that fit the 2020 model also work with the iPhone SE (2022), as Apple hasn't changed the size. Still, most case makers will specifically note compatibility with Apple's new phone, so confirm that your choice will fit the 2022 model.
Otherwise, you're looking for the factors that normally guide shopping for phone cases. Start by seeing what kind of drop protection a case offers and whether there are additional features like kickstands, slots for credits cards and cash and other add-ons. It's helpful to also know if your would-be iPhone SE case is backed by a warranty.