As an ex-F45 trainer, I felt pumped to jump into F45 Wahlberg Week — a jam-packed week of workouts designed by Mark Wahlberg, whose growing brand involvement has elevated the franchise's visibility in the US.
Famously, Wahlberg loves F45, and Wahlberg Week is a special fitness week exclusive, comprising seven workouts — one for every day of the week — spanning April 17 to April 23, 2023. Formed of cardio, strength, and hybrid sessions, each day focuses on a different component of fitness that targets specific muscle groups across the body.
In a collaborative effort, Wahlberg and Gunnar Peterson — Chief of Athletics, who famously partnered with David Beckham on a similar F45 project — designed the workouts based on Wahlberg's famous training techniques. I visited several studios, including F45 Wimbledon, and got stuck into seven days of vigorous Wahlberg-style training wearing the best cross training shoes for exercise — here's my verdict.
What is Wahlberg Week at F45?
The one-off fitness week was inspired by Wahlberg's training (without the 4 am wake ups) spanning strength, cardio, muscular endurance, mobility, and recovery, and using overload training principles to fatigue specific muscle groups. Sessions last 45 minutes (except for Saturday, which lasts 60 minutes), and the focus muscle group includes the legs, core, triceps, biceps, back, shoulders, and chest.
Here's a breakdown of how the week plays out:
Monday, April 17: Underdog (cardio, chest focus)
Tuesday, April 18: High Roller (resistance, leg and squat focus)
Wednesday, April 19: Patriot (cardio, tricep focus)
Thursday, April 20: Southpaw (muscular endurance, shoulder focus)
Friday, April 21: Swagger (hybrid, core focus)
Saturday, April 22: Blue Arrow (Hybrid, back and biceps focus)
Sunday, April 23: Horizon (full-body resistance and recovery).
I trained like Mark Wahlberg every day for a week — here's my results
What a week.
Day 1: Underdog
I wasn't sure what to expect hitting the studio for Wahlberg Week, but within the first five minutes, I was instantly reminded how much the warm-ups still suck. They've been a bugbear of mine for years, but dated warm-ups aside, the first workout of the week felt awesome.
The brand has had to pivot in recent years to compete with brands like CrossFit or Barry's Bootcamp, which have taken the fitness industry by storm. Gone are the cranky old exercise bikes (we used to pin ours down with dumbbells), replaced with C2 bikes, ski ergs, and more technical lifts (think hang clean and presses and snatches) — worlds away from A-taps and high knees (but fear not, those still feature during warm-ups).
Underdog includes one pod of 18 exercises — nine A and B stations — moving through each lane for one lap, working for a sweaty 90 seconds, and resting for 30 seconds. Between them, we repped out 5-10 push-ups before starting the next set, switching between wide and regular push-ups for chest and tricep burnout.
That's a lot of push-ups, and boy, could I feel it the next day.
Day 2: High Roller
In theory, this resistance workout should have been brilliant (more on why it didn't work later). Six strength exercises form one pod: barbell Romanian deadlifts, underhand grip chin-ups, kettlebell rack squat, dumbbell flat bench press, barbell rows, and dumbbell seated overhead press.
Using a you-go-I-go format, we alternated working sets with a partner, completing 10 reps of an exercise in 40 seconds. During the 20-second rest period, we performed 10 synchro bodyweight squats then my partner took their turn for 40 seconds. We did three sets each to find a 10-rep max (10RM) for each lift.
The workout was brutal, and by the end, we had accumulated around 360 bodyweight squats each for total leg burnout. It was great to test my 10RM for exercises I hadn't done in a while, and it challenged me to push closer toward failure.
Day 3: Patriot
Patriot involves three laps of 10 cardio stations, working 45 seconds with 20 seconds of rest. Between stations, each member must do three diamond push-ups (an exercise renowned for tiring out your triceps).
Exercises like ski erg, rowing machine, jumping rope, shuttle sprints and box jump burpees ramp up your heart rate, and between each round, trainers asked us to measure heart rates (manually or using one of the best fitness trackers).
This was one of the toughest ones, and as I stumbled onto the street after, I hoped that Patriot was the worst to come (it wasn't). But I'm still frustrated with the lack of follow-through on measuring heart rate — it was unclear why we were doing it.
When speaking with one of the trainers, he explained it was to measure recovery. But many people (especially new members) might not know how heart rate recovery works or how to interpret the metrics. And with no explanation given before, during, or after, I'm not sure anyone knew the point.
This could have been improved by encouraging members to work within particular heart rate zones (aerobic and anaerobic exercise, for example), competing against others on a leaderboard, or repeating the process further into the week.
Day 4: Southpaw
Southpaw was a belter and left me with post-workout trembles. The resistance-based program includes nine stations with a primary and secondary movement. In each pairing, the first move is a 90-second activation mobility exercise that targets the muscle groups needed for the second exercise — a strength move. The aim of the game was muscular endurance, and we worked for two minutes per strength exercise.
For this session, the goal is to work at 50% of your 10RM, lifting a much lighter weight than you would for strength training and working your muscles toward fatigue.
But typical of F45, they missed a trick. Only three of the strength exercises from High Roller (the 10RM workout) are featured in Southpaw, and if you're not a regular member, you might not know your 10RM for some exercises, leaving you lifting too light or heavy.
When I spoke to a trainer about this, he said the repetition might make members bored, but what's the point if you don't repeat the same exercises? I'm still mulling this one over, but I loved the addition of activation exercises and properly preparing your muscles for weightlifting.
Day 5: Swagger
Swagger was a nice switch-up — a core-focused workout designed to test your power output — using five pods and three exercises per pod. We worked the first lap for a challenging 55 seconds, followed by two back-to-back Tabata sets (20 on, 10 off).
Power exercises are great for testing your explosive strength, so moves like seated chest throws (throwing a heavy ball from your chest), broad jumps, and kettlebell swings are great additions. These workouts recruit the type II fast-twitch muscle fibers responsible for short sharp bursts of exercise. Slow-twitch recruitment happens during muscular endurance, so the exercise programming seemed well-considered.
Day 6: Blue Arrow
Blue Arrow was my favorite workout and preferred way to train. Considering F45's famous tagline: "Team training, life-changing,' I was surprised a group workout hadn't cropped up sooner.
The workout has two pods — an outer pod of strength-based exercises and an inner pod of team cardio tests. The outer pod included six combo stations, with 30 seconds on a primary move (think bicep curls) and 30 seconds on a secondary exercise (like reverse curls), designed to torch the back and bicep muscles.
In typical F45 fashion, some of the moves were unnecessary. For example, I don't think I'll ever need to perform single-arm bicep curls from the bottom of a squat, but the exercises were otherwise well-programmed.
The inner pod boasted three seven-minute stints on the ski erg, C2 bike, and rowing machine in teams of two or three people. The goal? Accumulate as much distance as possible between us, working on a you-go-I-go basis, with scores going into the leaderboard after each round. Once seven minutes were up, we switched back to the outer pod, alternating between cardio machines after every switchover.
I was cooked after this session, and the team spirit was incredible. That is exactly what I look for during a team-based workout, and I felt pumped, pushing toward maximum potential with nowhere else to go but through the pain.
Day 7: Horizon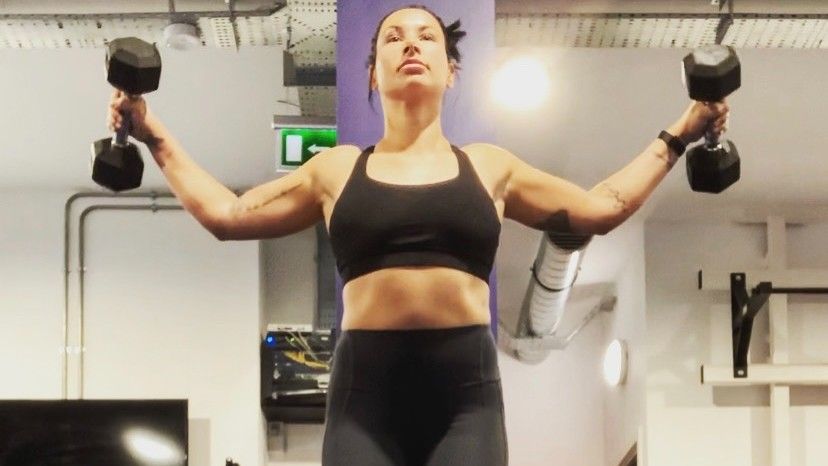 Ah, we made it. The last workout of the week incorporated drop sets — decreasing the work by 10 seconds per set and increasing rest. Horizon mixed slow, controlled strength exercises with recovery peppered in, finishing strong with a full-body resistance workout and a restorative stretching session to ease you into the week ahead.
Verdict
I was pleased to see more technical lifts, upgraded kits and the injection of team-based workouts, which shows F45 is adapting with the fitness industry. Frustratingly, I find F45's inconsistency troubling — some exercises have no place being there, and they've missed some crucial formatting points and easy wins along the way.
Overall, I enjoyed Wahlberg Week — it was inspiring, challenging and tough. But if you need me, I'll still be mulling over who coined 'dynamic seated glute rocks' as an exercise or why I'd choose sandbag snatches over using dumbbells or barbells.
More from Tom's Guide