Today (April 14), the Apple TV 4K is gaining an upgrade that NFL Red Zone subscribers have loved for years. Tom's Guide has learned that a multiview feature is debuting for MLB Friday Night Baseball (tonight) and MLS Season Pass (tomorrow, April 15).
Multiview makes it easy to watch up to four games at once, so you can keep track of more than just a single game at the same time. And you control which game's volume you're hearing by selecting it with your remote. The only catch will be that you need to be on the latest tvOS beta, version 16.5. We've got update instructions below.
Sports-focused live TV streaming service Fubo has offered multiview for a while (only on the Apple TV), and YouTube TV has been testing a limited version of this feature. Apple, much like Fubo, will let you pick the games you want to see at the same time.
When watching two games at once, you can either have both at the same size, or opt for one to be larger than the other. And if you go for four streams at the same time, you'll have the option to have them evenly split apart, as YouTube TV does here:
But if you prefer one game over the multiple other games, you can opt to move that game to take up the majority of your screen. The other games stack on the right side of your screen.
Rumors of Apple TV getting multiview started when folks found references to it in iOS 16.5 beta code. This is an upgrade to the Picture-in-Picture mode is currently available in the app, but that only allows the user to see a second stream in a small pop-out box. This upgrade will support up to four streams, displayed in a grid format. The code references were first spotted by Steve Moser, but Apple has not issued a confirmation or an announcement.
How to get Apple TV 4K's multiview
1. Sign up for Apple TV Plus and/or MLS Season pass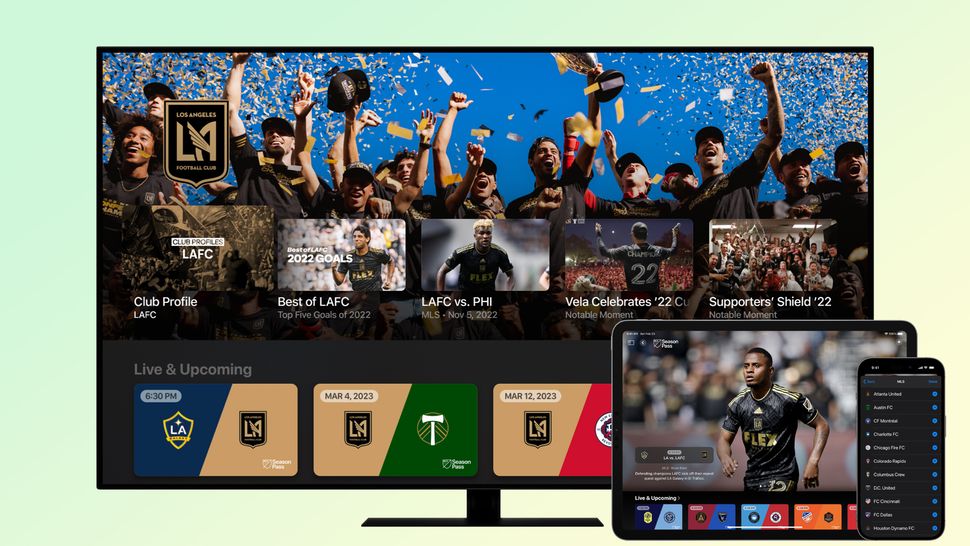 Of course, this feature is currently limited to Apple's own sports streaming that it provides: MLS Season Pass and MLB Friday Night Baseball.
Sign up for one (Friday Night Baseball games are included in the Apple TV Plus ($6.99 per month), and MLS Season Pass ($12.99 per month for Apple TV Plus subscribers, $14.99 for those who are not already in).
2. Update your Apple TV to the tvOS 16.5 Beta
On the Apple TV, open the Settings app, and then select System. Then, select Software Updates. Now, select Get Beta Updates. You'll get a confirmation screen, followed by an update process.
Then, after you've updated to the tvOS 16.5 beta, tune into MLS Season Pass or MLB Friday Night Baseball and look for a grid icon on the right side of your screen, above the timeline — near the other buttons.
The TV app will then show you other matches you can add to your multiview experience. The different grid views will be available via on-screen buttons, and look for the More Matches button to add a third and fourth live game view.
Analysis: Please, Apple, make this a standard Apple TV feature
News watchers who want an eye on all of the major cable news networks would probably also love this functionality on big news days. But I'm hoping multiview can expand in the future.
As an Apple TV power user, and one who watches a whole lot of programming on a variety of apps, I'm desperate for Apple to offer multiview across different apps. This would probably rely on the apps themselves to agree to this, but I've often found myself wishing I could have YouTube, YouTube TV, Twitch and other apps running simultaneously.
If any of the best streaming devices has the power to run such a feature, it would definitely be the Apple TV 4K. Its A15 Bionic chip makes for one of the fastest user experiences on any streaming device
More from Tom's Guide