Whether you're a seasoned gardener or new to planting, having the best tools can make all the difference. While we might have our favorites we swear by, there are some underrated gardening tools you didn't know you needed. In fact, some of these often go ignored or deemed unnecessary.
These may not be the most popular of gardening tools, but they're guaranteed to make your tasks manageable and easier. In addition, these will help to make growing season for plants and veggies go smoothly.
So, before you get to work outdoors, here are 7 gardening tools you didn't know you needed, to make lightwork of chores.
Want to give your plants the best care? Here's when should you replace mulch — and why it's essential.
1. Kneeling pads
If you're often digging in the soil or removing dandelions for long periods, you can benefit from kneeling pads or knee pads. These essential tools can provide much much-needed support, protection and comfort. The result is you can garden comfortably on hard or uneven surfaces for longer.
Typically, kneeling pads are lightweight padded mats with a hanging hole or handle for ease of storage and transportation. There are various types and styles available to suit your needs, much like this Thick Kneeling Pad ($12, Amazon), which should be of some help.
Alternatively, you could opt for knee pads that sit over the knees, so that you can easily walk around the garden without carrying a pad. In any case, these will prevent any troublesome aches, pains and even help keep from getting grass stains on your pants!
2. Bypass pruners
When it comes to pruning our beautiful florals and shrubs, not all pruning shears are the same. And you'll certainly need one of the best bypass pruners to get the job done well. These essential tools are designed with two sharp blades that bypass each other to create a precise and clean cut.
Unlike anvil pruners (crushing action), pointed bypass pruners will allow you to cut near the bud, without damaging or crushing the stem.
This makes it the perfect tool for pruning rose bushes, snipping fresh herbs, flower cuttings or any other living stems ½ inch or less in diameter.
3. Seed tape
Sowing seeds can often be a tricky task, and can take a lot of time and patience. So why not opt for seed tape instead? This is essentially pre-sown single or multiple types of seeds already spaced between thin layers of tissue, at the perfect distance for growing.
To plant the seeds, simply cut or tear off the length of seed tape equal to your row and plant the seed tape at the right depth. As the plants begin to germinate, the biodegradable tape holding the seeds will dissolve. Again, this is another underrated tool found in gardening centers, that can make the time-consuming task of sowing a breeze!
4. Soil pH meter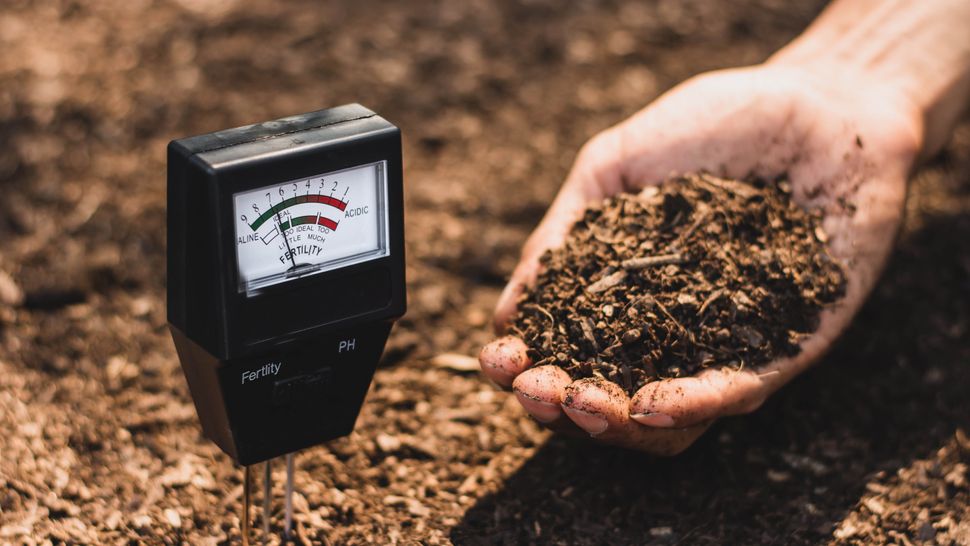 Before you start planting our seasonal flowers or veggies, it's always a good idea to test the quality of the soil first. Checking the soil pH levels will indicate how acid or alkaline your soil is which can make all the difference to your gardening results. In addition, knowing this will help to optimize growth, improve their nutritional balance and produce healthy plants and produce.
Ideally, garden soil pH balance should be between 5.8 and 6.5. Levels below or above will result in growth problems, but can be adjusted by elements such as garden lime.
If you want to be sure, invest in a soil tester like this SONKIR Soil pH Meter, MS02 3-in-1 Soil Moisture/Light/pH Tester ($9, Amazon), for a healthy garden.
5. Watering wand
If you want to make lightwork of watering your garden (without a sprinkler or drip irrigation), a watering wand can make all the difference. Unlike conventional watering cans, this wand-like tool simply attaches to the end of a hose, near their handle. The water will flow through the wand to a water breaker/sprinkler head, spraying out in a rain-like shower for your garden.
Water wands come in handy, especially for reaching high places such as hanging baskets, shrubs, tall rose bushes and even lawncare. What's more, you can swap out different nozzles and spraying types to suit your specific plants and garden needs.
We can recommend this GREEN MOUNT Watering Wand, 24 Inch Sprayer Wand ($26, Amazon), to easily reach all plants.
6. Hand weeder
While pulling out weeds by hand can be effective, it can be a tedious task if you have plenty to deal with. Invest in a hand weeder or weeding trowel to remove the weeds, and save so much time.
Simply stick the hand weeder into the ground and move around the base to loosen the soil. Whilst holding the weed by the stem with one hand, use your other hand to push the tines of the hand weeder into the soil at a 45-degree angle about 3 inches away from the base. Then, push the handle of the hand weeder straight down toward the ground, acting as a lever to lift the weed's roots out of the ground. Hand weeders such as this Garden Guru Dandelion Weeder Tool with Ergonomic Handle ($16, Amazon), will do all the hard work for you.
These will ensure you get rid of the entire root, and not just the top part of the plant — which would only grow back again!
7. 5-gallon buckets
This may not be an exciting tool, but five-gallon buckets are one of the best gardening tools you didn't know you needed! In fact, most gardeners swear by them for their many uses.
From using it as a bucket to throw in your weeds to carry to the compost heap, collecting your fresh herbs or flowers, or even storing your hand tools in, the humble bucket is incredibly handy. What's more, you can even grow a wide range of fruits and vegetables in your five-gallon buckets. They are deep enough to accommodate the roots of most plants, and great to place in compact spaces on a patio or porch.
Plus, they are cheap and cheerful to buy from your local gardening center. Just ensure you drill holes at the bottom to provide good drainage when planting, and avoid these common repotting mistakes.
More from Tom's Guide