As someone who writes for a tech site, I'm always interested in the latest gadgets, especially ones that will make chores around my home easier. It's one of the reasons why I like testing robot lawnmowers; my front yard is not only somewhat steep, but designed in a way that I have to carry a regular lawnmower up several steps to even get it on the grass. Having a robot that can mow it without my help is a godsend.
However, when I saw the Scotts Outdoor 5-Blade Push Reel Lawn Mower on sale on Prime Day for nearly 50% off, I jumped at the offer. So why did I swap a robot lawnmower for one that requires me to mow the lawn myself? Here are 5 reasons why I went with a push mower.
1. It's small and light
The biggest issue I have with mowing my front lawn is that it's steeply sloped, and the only way to get a lawnmower onto the lawn itself is by carrying it up some stairs. When I moved into my house, I picked up an electric lawnmower; while it's much lighter than a gas-powered lawnmower, it weighs 40 pounds, and is still a pain to lift.
The Scotts lawnmower I bought, though, weighs just 18 pounds. That's a heckuva lot lighter, which means it's not only easier to get up the stairs, but also maneuver around my yard.
2. It's cheap
To get around mowing my front lawn myself, I've tried two robot lawnmowers on my front yard — the Husqvarna 435X AWD and the Husqvarna 415X; only the 435X, with its four-wheel drive, was able to handle the slope of my yard without getting stuck. But the 435X costs $4,000, which is overkill for the size of my front lawn, which is a mere 40 x 20 feet, give or take.
At its regular price, the Scotts push mower I purchased costs $120. On Prime Day, it was discounted to $61 — nearly half off. Still, even if I was paying full freight, that's about half the price of an average electric lawnmower.
Then, there's the incidental costs; because it's manually operated, I don't have to pay for gas or electricity to power it. Nor do I have to pick up an extra battery.
3. It's quiet
There's nothing that says suburbia like the drone of lawnmowers on Saturday morning. As more and more people are switching to electric lawnmowers, the noise isn't as loud, but it's still there. However, a hand-powered push mower is virtually silent, as there's no motor; all you're left with is the sound of grass being sliced. The only other type of lawnmower that's this quiet is a robot lawnmower, but those cost far more.
4. It's easy to maintain
Another advantage of simpler hand-powered mowers is that they're far easier to maintain. Unlike other mowers, which have engines and electronics, the only thing you really need to take care of on a manual mower is to sharpen the blades every now and then. You do know how to sharpen lawnmower blades, right?
Apart from that, you just have to make sure that you store it in a dry place when you're not using it, and oil the moving parts when they get squeaky.
5. It's eco-friendly
I touched on this a little earlier, but because a push lawnmower doesn't require any power other than your own, you're not using any resources, such as electricity or gas, which makes this the greenest way to cut your lawn.
The model I chose also deposits the grass clippings right on your lawn (though versions with grass bags are also available). If the clippings are short, they're great for re-feeding your lawn, as the clippings will break down and provide nutrients to your grass; it's essentially feeding itself. Here are some other ways you can reuse grass clippings, if you don't want to leave them behind.
Should you get a push mower?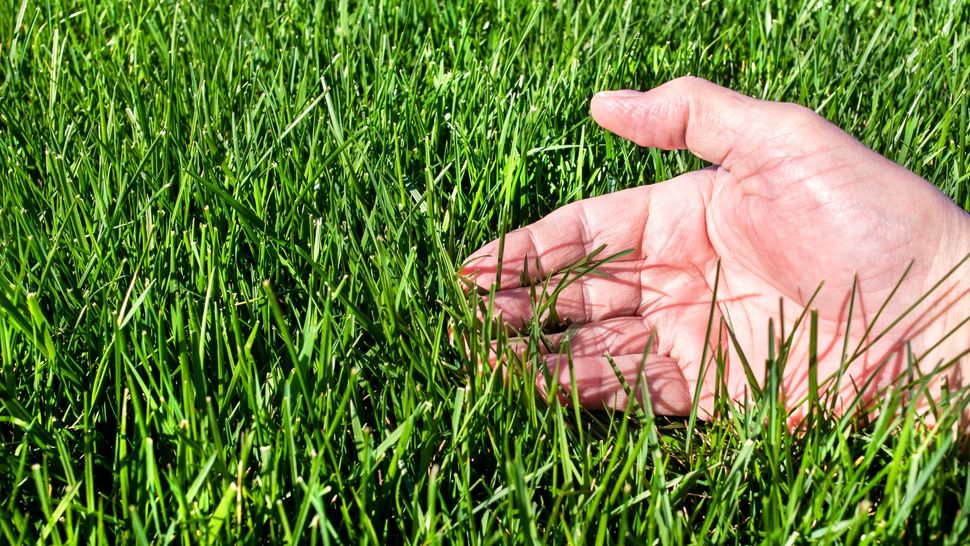 I would not recommend a push mower for everyone; if you have a large yard, you'll want the convenience that comes with a power mower. However, if you have a small plot — especially one that's hard to reach — a push mower could be just the thing. It's lighter and easier to maneuver, it's a lot cheaper to use, and it's much easier to maintain.
More from Tom's Guide