Looking for some of the best noise-canceling headphones? I scour the web every day for great tech deals, and some of Bose's finest just got a big price cut.
The Bose QuietComfort 45 headphones are $279 at Amazon right now. They've been slashed $50 off their usual price, and they offer some of the best noise-canceling of any headphones we've tested. It's a headphone deal I would snatch up right away.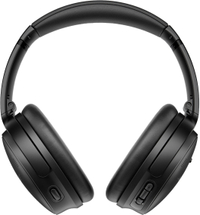 Bose QuietComfort 45: was $329 now $279 @ Amazon
Stylish and comfortable to wear, the Bose QuietComfort 45 headphones offer exceptional noise cancelation, along with excellent sound quality packaged inside a great-looking set of headphones. The same deal can be found at Best Buy.
As you'll see in our Bose QuietComfort 45 review, these headphones earned a spot on our best headphones and best noise-canceling headphones lists. They have great sound quality, strong ANC and a sturdy design.
As you'd expect from Bose, the QuietComfort 45s deliver a great audio experience. We found that the headphones produced sharp, clean and vibrant sound, strong bass and no distortion.
The ANC is just as good: low and medium range sounds were fully blocked out, while high range sounds were a small distraction. The downside to the Bose QuietComfort 45 headphones is that the ANC can't be turned off, and this means lower battery life. But if you were going to be using the ANC most of the time anyway, it's not such a big deal.
You'll get 24 hours listening time out of these headphones with ANC on, which is an improvement over the 20 hours the Bose 700 offer on the same setting. In addition, a 15-minute quick charge will get you 3 hours of listening time on the QuietComfort 45s, which is great.
The Bose QuietComfort 45 headphones have a lot in common with the highly revered Bose 700 headphones, and that's a great thing. Can't decide which to buy? Well, the Bose 700 allow you to turn off the ANC, but the Bose QuietComfort 45 cost a lot less (especially now that they're on sale.) If you want the full lowdown, check out our Bose 700 vs Bose QuietComfort 45 face-off.
I can't recommend the Bose QuietComfort 45 headphones enough, especially if you need top-notch noise cancelling. But if you're looking for more options, stay tuned to our headphone deals coverage.