Black Friday deals are earlier than ever this year, and the robot vacuum sales are no exception. While this tech tends to come at a premium price, now's your chance to get it at a discount. That means you can get the latest features without breaking the bank.
One deal which has caught my attention comes from iRobot. Right now you can get the iRobot Roomba i4 EVO for just $188 at Amazon, down from $399. That's a 53% savings, which takes it to the lowest price it's ever been. Considering all you get with this model, that's an amazing price — here's everything you need to know about this robot vacuum.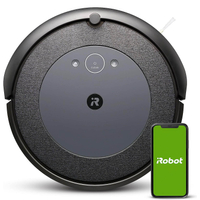 iRobot Roomba i4 EVO: was $399 now $188 @ Amazon
LOWEST PRICE! The Roomba i4 EVO is packed with useful features. Dirt Detect Technology will make it clean more thoroughly where heavy residue is detected, while the Wi-Fi connectivity allows you to direct it to clean specific rooms via voice control. It will even learn from your habits and make recommendations, such as increased cleaning during pollen season.
The iRobot Roomba i4 EVO makes for a good entry-level robot vacuum, but with some premium features. The Dirt Detect Technology means it can sense where your floors are predominantly dirty, and focus its attention for a clean sweep. As it cleans in a practical back and forth motion, while avoiding any obstacles, you don't need to worry about it missing a spot either.
It also features a 20% larger battery versus the other Roomba i series models. Although, should it fall short, it will simply return to its dock to charge and then pick up where it left off. It uses two rubber brushes rather than bristles to prevent pet fur from sticking, and with a 0.4 liter capacity, the dust bin can hold a decent amount of debris before needing to be emptied.
While affordable, this robot vacuum still comes with Wi-Fi connectivity and all of the benefits that that provides. For instance, you can use voice control to direct it to clean specific rooms, or just ask it to do a once over. You can also create and fine tune schedules on the iRobot app to suit your routine — so it only cleans when you're out walking the dog for instance. It's also nice that this robot vacuum can learn from your preferences and make personalized suggestions. If you own pets, it may suggest additional cleaning while they're shedding.
Ultimately, the i4 EVO provides a lot for the $188 price tag. If you're new to the world of robot vacuums, it's an affordable first model, but with plenty of features to show you what they can really do. If you want something more premium, take a look at our list of the best Roombas for other options.