Prime Day deals are flooding in for Amazon's October sales event, with discounts on a huge range of tech, from vacuum cleaners to games consoles.
The Keychron K2 V2 mechanical gaming keyboard is currently 20% off at Amazon, exclusive to Prime members. That's the joint lowest price we've ever seen it, and you can take it from me that this keyboard is definitely worth scooping up if you're in the market for a new set of keys.
Why take it from me? Because I own one and absolutely love it. In fact, I'd say it's easily the best mechanical keyboard I've owned.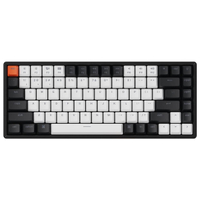 Keychron K2 V2 mechanical keyboard: was $109 now $87 @ Amazon
The Keychron K2 V2 hot-swappable wireless mechanical keyboard may be small, but is a lot of keyboard for your money. Right now, as part of Prime Day deals, it's currently on sale at 20% off and the lowest we've ever seen it, exclusively for Prime members. The K2 has so much about it to love, and I'd definitely recommend it to anyone needing a compact wireless mechanical keyboard.
A few months ago, after my Corsair K60 mechanical keyboard broke, I decided to take a punt on smaller manufacturer Keychron. I bought the K2 V2, which had decent reviews online. And oh boy, do I love this keyboard.
I don't actually own the exact model linked above, and instead own the slightly cheaper non-hot-swappable version, which means I can't easily change the switches. If you don't care about changing switches, the non-hot-swappable version is also 20% off at Amazon. I'd definitely recommend the hot-swappable version, as it gives you the opportunity to customize your switches later down the line. But apart from that, and the color of the keycaps, they're the same keyboard.
My love for the K2 springs from numerous sources. Firstly, it looks and sounds great. It's clean and classic looking, but has customizable LEDs underneath the keys. Unlike many LED keyboards I don't find the lighting looks tacky at all. I have it set up to produce a gentle wave of pale turquoise light after each keypress, which looks awesome (especially in the dark). The Gateron Red switches (Blue and Brown are also available) sound great too — with the default keycaps, they produce a nice light clack, which is satisfying but un-intrusive when I take the keyboard into the office. On that note, as a 75% it's super small and lightweight, it fits easily into my work bag.
The aluminum keyboard base results in a premium feel, despite the modest pricetag. And while there were some complaints online from owners of the original Keychron K2 V1 about firmware issues and general quality control, in my experience those haven't carried through to the V2 version on sale here. I've experienced no software, firmware or compatibility issues, and very little in the way of stuttering or missed keystrokes — it's certainly been better in all those regards than my much more expensive Corsair K60.
What I love most about this keyboard, though, is how much it has simplified my home office. It's often billed as primarily a Mac keyboard, but I switch between Mac for work and Windows for personal, gaming and production, and it's fine for both. I have the keyboard hooked up to both simultaneously and simply switch between Bluetooth channels using key strokes, then flick between macOS and Windows key bindings with a slider on the side of the body.
Admittedly, it isn't perfect. The K2 comes with ABS keycaps, rather than PBT. These have a nice light sound to them, but after a few months of heavy use start to go smooth and shiny. Next, the K2 comes with separate macOS or Windows keycaps for things like Ctrl/Cmd or Alt/Opt etc. Obviously you can only use one at a time, meaning you have to pick one and then rely on trial and error when using the other OS — you get used to this, but it'd be nice for the default keys to have both macOS and Windows markings as this would complement how quick it is to switch between the two.
Thankfully, both of those issues can be solved by purchasing a set of dual-marked custom PBT keycaps online, which are readily available and pretty affordable. With those being the only drawbacks, it's really difficult for me not to recommend this keyboard, especially at such a hefty discount.
Stay locked to Tom's Guide for full live coverage of all the best Prime Day deals.