LG is taking a crack at the best gaming monitors with the LG Ultragear 48GQ900-B OLED. OLED tech doesn't come cheap, but this monitor just got a huge price cut.
The LG 48GQ900-B 48" Ultragear OLED is $896 at Amazon right now. After a $600 discount, this monitor is just a hair above its Black Friday price of $850. Stock is low, so snap this deal up while you can.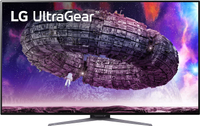 LG Ultragear 48GQ900-B 48" OLED gaming monitor: was $1,499 now $869 @ Amazon
The LG Ultragear 48GQ900-B is a gaming monitor with a gorgeous 4K OLED display. With HDR 10, HDMI 2.1 and a response time of 0.1ms, this monitor has everything you could want. If it sells out, Best Buy has it for $899.
While we haven't reviewed this monitor, we know first hand that LG makes the best gaming TVs. This monitor is basically on par with the LG C2 OLED on paper, but with more fine-tuned features that make it even better for PC gamers.
The OLED display on the 48GQ900-B makes it look fantastic, and it's available at a cheaper price than other OLED monitors like the Alienware AW5520QF. The display is also reportedly anti-glare and low-reflection, so you'll be able to enjoy great visuals even if you're playing in less than ideal lighting conditions.
The response rate on this panel is 120Hz, which while not the highest we've seen should provide smooth-looking visuals for most titles.
Still not impressed? The LG 48GQ900-B has a contrast ratio of 1.5m:1 — or 1.5 million degrees of color between pure black and pure white. And HDR 10 support means you'll be seeing each and every shade the way the game developers intended.
If you choose to get the monitor at Best Buy, you'll get a few freebies for your trouble. They offer a 6-month subscription to Trend Micro security and a 3-month subscription to YouTube Premium with the LG 48GQ900-B.
Looking for more savings? Stay tuned to our Super Bowl TV deals roundup.