I've owned plenty of Bluetooth speakers over the years but none have impressed me quite as much as the Tribit StormBox Micro 2. This small but mighty speaker is one of the best cheap Bluetooth speakers you can buy and thanks to Amazon's Black Friday sale it's now an even bigger bargain.
For a limited time, the Tribit StormBox Micro 2 is on sale for $47 at Amazon. That's a significant saving compared to its full retail price of $79. This Black Friday deal drops the portable speaker down to a new lowest price ever. You'll need to check the 20% off coupon box to get the full discount at checkout.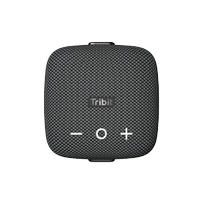 Tribit StormBox Micro 2 Portable Speaker: was $79 now $47 @ Amazon
The Tribit StormBox Micro 2 proves that big sound can come in small packages. It boasts solid audio, weighty bass, IP67 waterproofing and a tear-resistant silicone strap for attaching to your backpack. It's the ideal portable speaker for taking just about anywhere and is currently $49 courtesy of Amazon's Black Friday sales.
As noted the audio experts at Tom's Guide rate this speaker as one of the best budget options you can buy, and I've also got extensive personal experience with the StormBox Micro 2. I've taken it on multiple vacations, it's accompanied me on more hikes than I can count and I even took it to the legendary Glastonbury music festival earlier this year. It's become one of my travel essentials and is still going strong after clocking up thousands of hours of total use.
My favorite aspect of the Tribit StormBox Micro 2 is its portability. It's extremely lightweight and compact which allows it to fit into almost any sized bag or a large jacket pocket. It also sports a tear-resistant silicone strap, which can be used to fix the speaker to a backpack or handlebars for listening to a favorite playlist while on the move.
In our Tribit StormBox Micro review, we were impressed with the audio quality from such a pint-sized device, and this second-generation speaker sounds even better. It's also a remarkably rugged gadget. For starters, its IP67-rated waterproofing means it can withstand complete submersion, and it can also handle snowy and muddy conditions. If you want to soundtrack an adventure in the great outdoors, look no further than the StormBox Micro 2.
When it comes to battery life, Tribit promises around 12 hours of music on a single charge. And even more impressively, the speaker can function as a portable charger. Just connect your device via the USB-C port, and you can juice up another device while still listening to music. You won't get the results you will with one of the best portable chargers, but this nifty feature works great if you need charge in a pinch.
The Tribit StormBox Micro 2 is a Bluetooth speaker designed primarily for travel, but it can still function well within a fixed location. However, if you want a speaker exclusively for home use you should look at this JBL Black Friday sale at Amazon.